Lifesaving Fentanyl Test Strips Are Being Legalized in More States
The paper strips, which can help prevent drug overdoses and death, remain illegal in several states under drug paraphernalia laws from the 1970s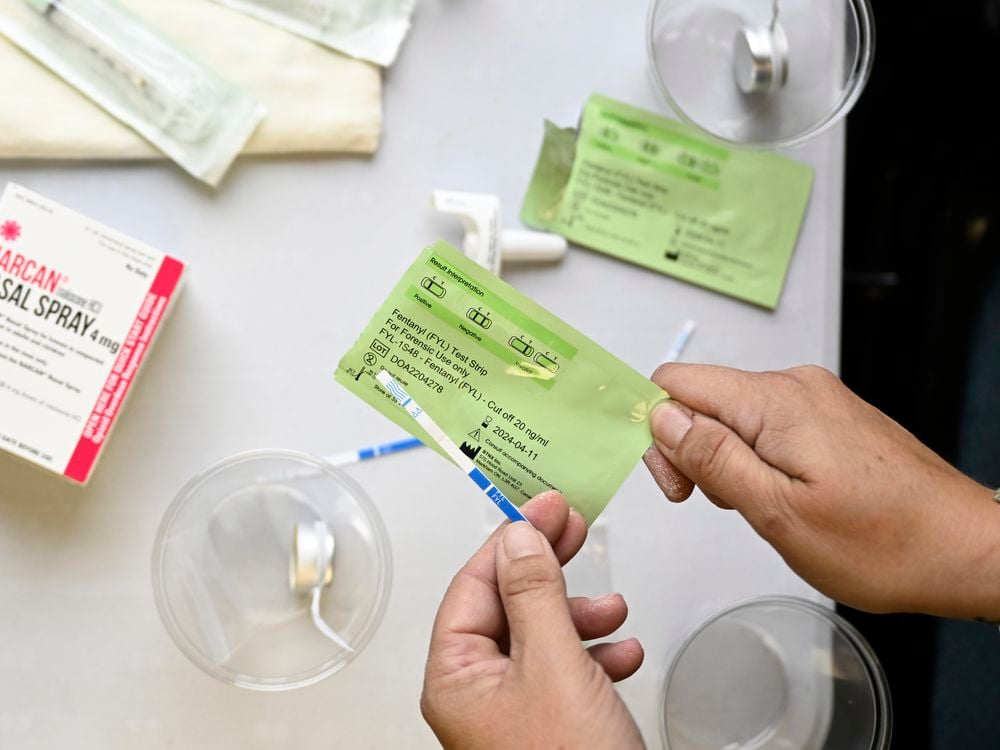 As overdose deaths from opioids continue to rise in the United States, more states are moving to decriminalize test strips used to detect fentanyl in drug supplies. Until recently, the strips were classified as illegal drug paraphernalia in most states under antiquated laws.
"If everyone's objective is to keep people alive, I don't see how criminalizing test strips is going to help," Magdalena Cerdá, the director of the center for opioid epidemiology and policy at the NYU Grossman School of Medicine, tells Kaitlin Sullivan of Everyday Health. "These are lifesaving tools."
Fentanyl, a powerful synthetic opioid, is involved in more fatalities of Americans under 50 than any other cause of death, including cancer, suicide, homicide, heart disease and accidents, per the U.S. Drug Enforcement Administration. Street drugs like cocaine, heroin and methamphetamine may be intentionally or accidentally laced with fentanyl, but it's undetectable by taste, smell or sight. As little as two milligrams can be a deadly dose, depending on the user's body size and drug tolerance, and many people may not even realize their drugs contain fentanyl until it's too late.
In the 12-month period ending in January 2022, 107,375 people in the U.S. died of drug overdoses and drug poisonings, and 67 percent of those involved synthetic opioids.
Fentanyl strips, which cost only about $1 each, are a quick and easy-to-use method the CDC recommends to prevent overdoses and reduce harm. Users can dissolve a small amount of their substances into water before taking them, dip a strip in and wait two to five minutes for the results. If a single line appears, the test is positive. Two lines will appear if the test is negative. These strips can detect fentanyl in any drug that can dissolve in water.
But during the war on drugs in the 1970s, test strips were outlawed as drug paraphernalia, reports Samantha Hendrickson for the Associated Press (AP). By the mid-1980s, every state but Alaska had passed anti-paraphernalia laws, which criminalized testing strips.
By April this year, 36 states plus the District of Columbia had legalized the strips, with 16 states having recently done so since January 2022, reported Sabrina Moreno and Shawna Chen for Axios. Still, 14 states considered the small paper strips illegal at the time—though ten had proposals to change their laws.
Earlier this week, Hawaii's governor, Josh Green, announced his plans to become the next state to decriminalize the strips. Last year, Hawaii saw a record number of fatal overdoses—320 deaths, up from 305 in 2021. The governor's announcement came just two days after a mass overdose in Waikiki, suspected to have been caused by fentanyl, killed two men and hospitalized another three people.
"It is very important to legalize fentanyl test strips," Green tells Paula Dobbyn of the Honolulu Civil Beat. "Fentanyl is 80 times more powerful than morphine, and it suppresses the respiratory system to the point that it is sometimes not possible to resuscitate patients with Narcan. Fentanyl is being laced into other drugs and people are dying, as we saw with the tragic two deaths in Waikiki."
Ohio resident Rodney Olinger, who has used methamphetamines for eight years, calls fentanyl test strips a "blessing," and tells the AP they've helped keep both him and his fiancée alive.
"It's very scary," he says to the publication. "Just a little bit could kill you."