Legos Helped Restore a 3,000-Year-Old Sarcophagus
Lego platforms propped the sarcophagus in place from the inside, allowing the researchers to work on the ancient materials without fear of collapse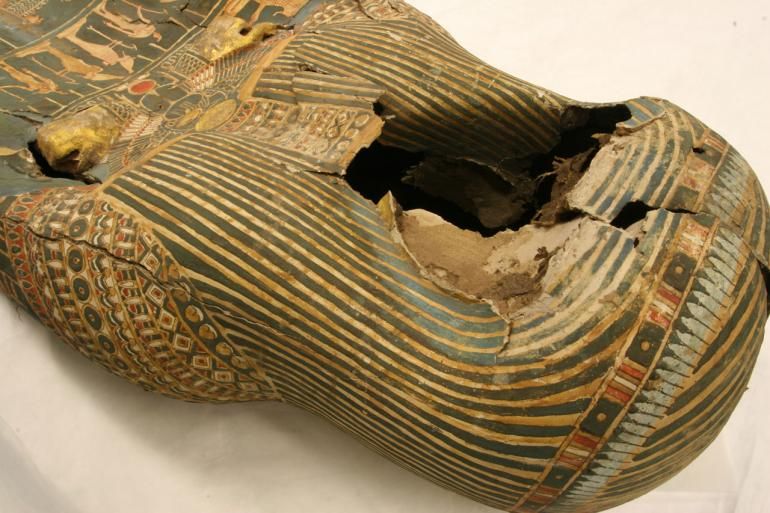 In 1896, a sarcophagus rendering the short-lived pharaoh Hor was taken from Egypt and brought to the Fitzwilliam Museum in Cambridge, England, for display. But the damp and chill of England kicked in, and the sarcophagus began to decay. Eventually, the relic's face and chest collapsed in on itself, and the museum stuck the sarcophagus in the basement.
But recently, a student at the University of Cambridge helped the museum restore it—by using Legos.
Fixing the sarcophagus is tricky, the International Business Times says. It's made out of a delicate papier-mâché-like material, which could be further damaged during the process of fixing it since reshaping the case requires wetting it.
To get around this challenge, David Knowles, a University of Cambridge graduate student, built six small Lego platforms that acted as a sort of mummy jack. The platforms, which are protected with archival foam and can be adjusted for both height and angle, propped the sarcophagus in place from the inside, allowing the researchers to work on the ancient materials without fear of further collapse. The team then moistened and reshaped the sarcophagus back into its original coffin-like form.
The Lego fix proves that "restoring a historical treasure can be child's play," ITV said, in a demo of how the Lego props work. And for those who prefer a more traditional route of building mummies with Legos, there's always the do-it-yourself option:
More from Smithsonian.com:
CT Scanners Crack Open a Mummy Mystery  
Here's What Three Mummies Might Have Looked Like When Alive