Kurt Vonnegut's Unpublished World War II Scrapbook Reveals Origins of 'Slaughterhouse-Five'
Volume features 22 letters from author to his family, photographs of the razed city of Dresden, telegrams and news clippings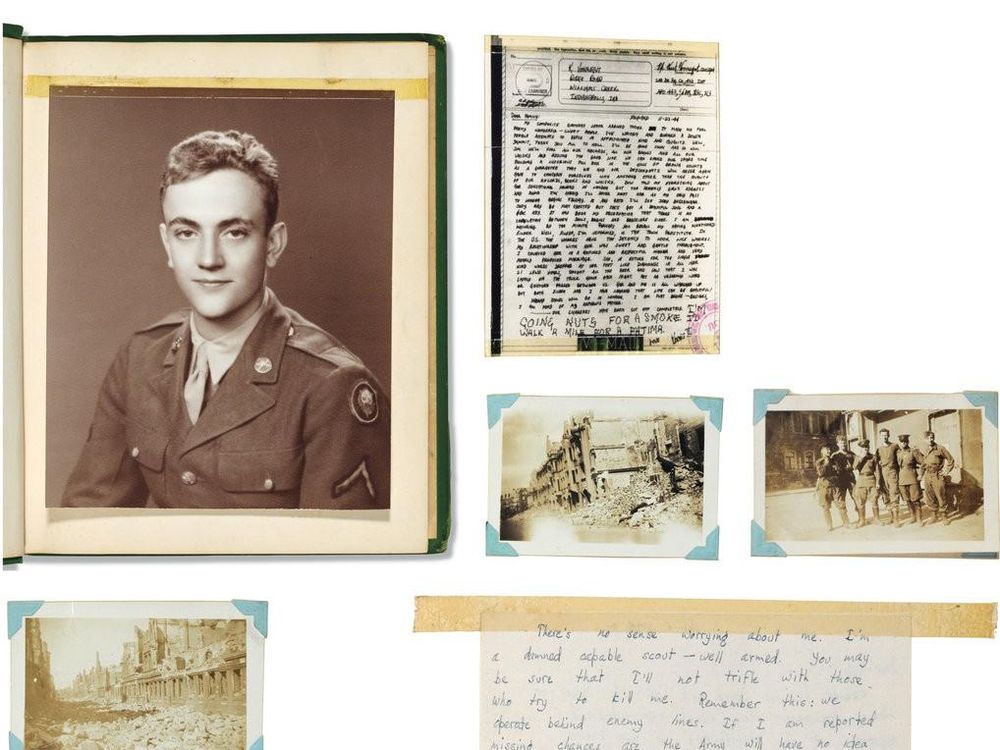 When he was an American prisoner of war in Nazi Germany, Kurt Vonnegut famously survived the 1945 aerial bombing of Dresden by hiding in the meat locker of a slaughterhouse—a harrowing experience that closely informed the plot of his masterful 1969 novel, Slaughterhouse-Five. During his lifetime, Vonnegut commented extensively on this wartime episode, cataloguing the destruction of "possibly the world's most beautiful city" and describing the burial duties undertaken by him and his fellow POWs: most significantly, the retrieval of 130,000 corpses trapped underground, a task that the writer, in typically blunt fashion, later termed "a terribly elaborate Easter egg hunt."
But until now, Lauren Christensen reports for the New York Times, a trove of photographs, newspaper clippings and correspondence compiled by Vonnegut and his family between 1944 and 1945 had remained unseen by the public, carefully hidden in the safekeeping of the author's sister and his father.
The 84-page volume, which sold for $187,500 in Christie's Fine Printed Books & Manuscripts auction earlier this month, includes 22 letters from Vonnegut to his family, photographs the young soldier took of the razed city of Dresden and a January 1945 telegram stating that "Private First Class Kurt Vonnegut Jr Has been reported Missing in Action."
According to Christie's, the notes reflect Vonnegut's "trademark satire and dry humor" under even the most dire of circumstances. In a January 3, 1945, letter composed around two weeks after his capture, he offers a gross understatement: "It's been one helluva holiday season for all of us." And, in a message written two days after his liberation, he declares, "It is a source of great delight to be able to announce that you will shortly receive a splendid relic of World War II with which you may decorate your hearth—namely, me in an excellent state of preservation."
Other letters underscore traumas the author couldn't bear to mask with light-hearted jests. As he says in a May 21 note, "This letter started as a huge joke. … [But] there's nothing funny in watching friends starve to death or in carrying body after body out of inadequate air-raid shelters to mass kerosene funeral pyres—and that is what I've done these past six months."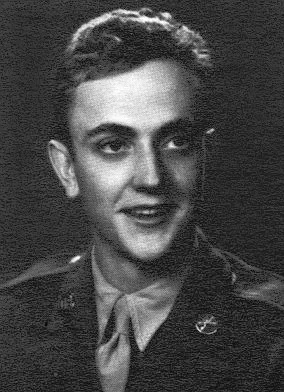 Justin L. Mack of the Indianapolis Star explains that Vonnegut, an Indianapolis native, enlisted in the United States Army in January 1943, when he was enrolled as a chemistry major at Cornell University. Following short stints at the Carnegie Institute of Technology and the University of Tennessee (where he was assigned to study mechanical engineering), he was deployed to Europe with the 106th Infantry Division. Soon after arrival, he was taken prisoner by the Nazis, who were mounting their last great offensive of the war at the Battle of the Bulge, and sent to Dresden alongside fellow POWs.
Writing for Mental Floss, Suzanne Raga notes that Vonnegut spent his days working long hours in a malt-syrup factory. At night, he slept in the subterranean slaughterhouse that ultimately saved his life.
Only one of the letters included in the newly publicized scrapbook had been previously published. Dated May 29, 1945, the retrospective missive—written from a repatriation camp in Le Havre, France—describes the "sadistic and fanatical guards" responsible for watching over the prisoners during their time in Dresden. As the only American with some knowledge of German, Vonnegut became the group's de facto leader, a position he lost after telling the guards "just what I was going to do to them when the Russians came."
Around Valentine's Day 1945, the Americans launched an unprecedented firebombing campaign against Dresden, killing anywhere from 35,000 to 135,000 people—"but not," the author noted, "me." In Vonnegut's Slaughterhouse-Five, an ill-suited soldier similarly escapes death and eventually describes the aftermath of the scene as a desolate landscape "like the moon."
Following his release in mid-1945, Vonnegut returned to Indianapolis. He debuted his first novel, Player Piano, in 1952, but it was his sixth novel, Slaughterhouse-Five, that made him a household name. The main conceit of the novel—that protagonist Billy Pilgrim has become "unstuck in time," leaving him to float through the entirety of his past—makes a somber point: As Jonathan Creasy of the Los Angeles Review of Books lays out, it's that "massacres such as Dresden happened; they always have happened and they always will happen."
Vonnegut himself once darkly stated that the Dresden bombings were so meaningless that he may have been the only individual to have gotten something out of them. "One way or another, I got two or three dollars for every person killed," he once said. "Some business I'm in."
Larger philosophical questions raised by Vonnegut's work aside, the wartime scrapbook offers a glimpse into the burgeoning mind of the author. Many of the characteristics apparent in his later writings are evident in nascent form, but other qualities are wholly singular, affording the volume a unique place in Vonnegut lore.
It remains to be seen whether the scrapbook's new owner will publish the letters and assorted ephemera in full, but if not, fans can at least draw on the excerpts provided by Christie's.
As the author famously concluded, "And so it goes."