Kalman Aron Used His Art to Survive the Holocaust
The artist and survivor sketched portraits of Nazi officers in exchange for extra food and blankets. His death at 93 was confirmed by his son, David Aron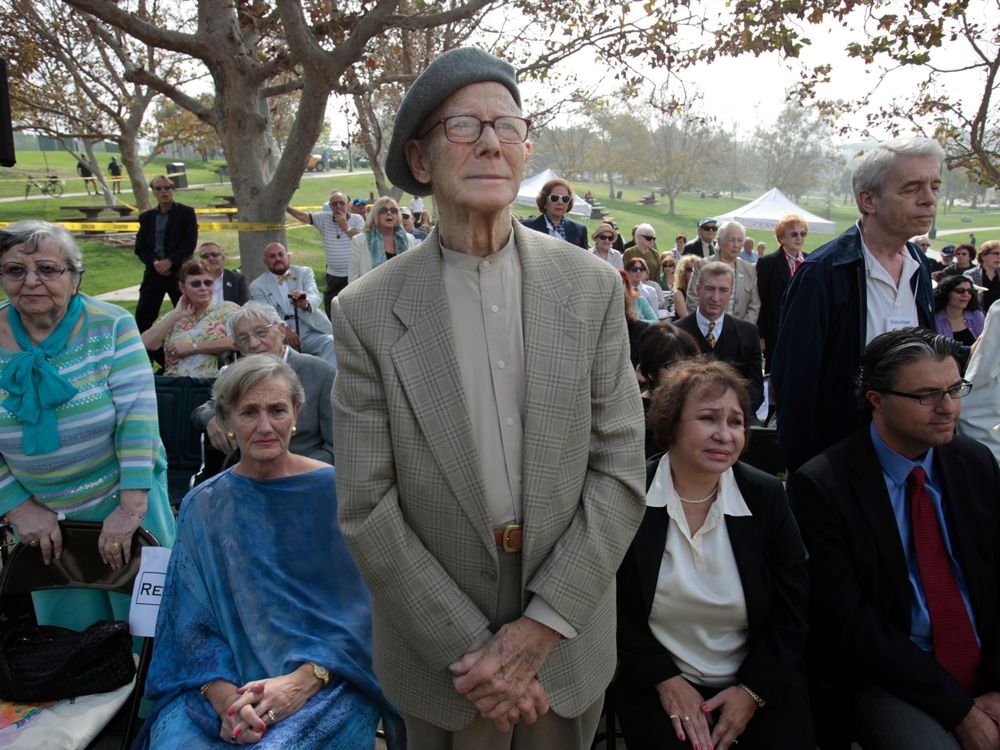 Kalman Aron, the acclaimed artist and Holocaust survivor who traded sketches for food in Nazi concentration camps, has died at the age of 93. Aron's son, David, confirmed his death to Matt Schudel of the Washington Post, saying there was no specific cause of death.
Born in Riga, Latvia, in 1924, Aron's prodigious talent was apparent from an early age. He started drawing when he was just 3 years old, and by the age of 7, he had his first solo art exhibition.
Aron was pursuing his studies when the Nazis invaded Latvia in 1941. According to Sam Roberts of the New York Times, his father was conscripted to a work detail and never came back. Aron, his older brother and his mother were forced to live in a ghetto in Riga. His mother was later murdered during the massacre of more than 25,000 Jews in the Rumbula Forest.
Aron, who was 16 when the Nazis invaded his native country, was sent to a succession of labor and concentration camps. "I survived by disappearing," he told Susan Beilby Magee, author of the book Into the Light: The Healing Art of Kalman Aron. "In the camps, we never knew when a friend might be struck down and die. So one way to protect yourself, to insulate yourself, was to be alone. A deep, stark place of loneliness is where I was."
But Aron also survived with the help of his artistic skills. He sketched portraits of his Nazi captors and their families in exchange for extra food and blankets. He was even excused from forced labor, reports Schudel.
"If I didn't have pencil and paper," Aron said in a 2015 interview with Jane Ulman of the Jewish Journal, "I would have been dead in the ghetto."
When Soviet troops liberated Theresienstadt, the last concentration camp where Aron was held, he was detained because he was considered a Soviet citizen. Afraid that he would be conscripted into the Soviet army, Aron fled to a displaced persons camp in Austria, where his sketches once again shone amidst difficult circumstances. Aron drew the portrait of the girlfriend of an American soldier, who showed the image to a professor at the Academy of Fine Arts in Vienna. Aron was soon after granted a scholarship to the academy and earned his master's degree there.
In 1949, Aron moved to Los Angeles, where he worked illustrating maps. He painted in his spare time, creating haunting images drawn from the difficult memories of his past, rendering his subjects in shadowy grays and blacks. In 1951's "Mother and Child," for instance, Aron painted a woman clutching her baby, their faces almost melding together.
"The idea was showing the anxiety of the mother trying to run away from the ghetto, or camp or wherever she was," he explained in an interview with the USC Shoah Foundation. "[They] are glued together, practically, and she won't let go. I've seen some of the mothers and children during the war, in the camps, where. they were trying to hold on to them as long as they could."
Also in 1951, an interior decorator named Marichu Beilby noticed one of Aron's paintings hanging in a frame shop. She asked the artist to paint portraits of her children, including Susan Beilby Magee, who would go on to write a book about Aron. Marichu Beilby began introducing Aron to her wealthy clients and his career blossomed. He started to paint vibrant, colorful landscapes and portraits, receiving commissions from the likes of Ronald Reagan, the writer Henry Miller and the pianist André Previn.
Though he moved away from the chilling themes and color palettes of his early years in America, Aron told Beilby Magee that his experience during the Holocaust had a lasting effect on his life and work.
"In the camps, I looked at and studied people," he said, according to Roberts of the Times. "The Holocaust gave me an understanding of people that most people won't understand."