Johan van Hulst, Who Helped Save Hundreds of Children During the Holocaust, Has Died at 107
He hid young Holocaust victims in the school where he taught, saving them from near certain death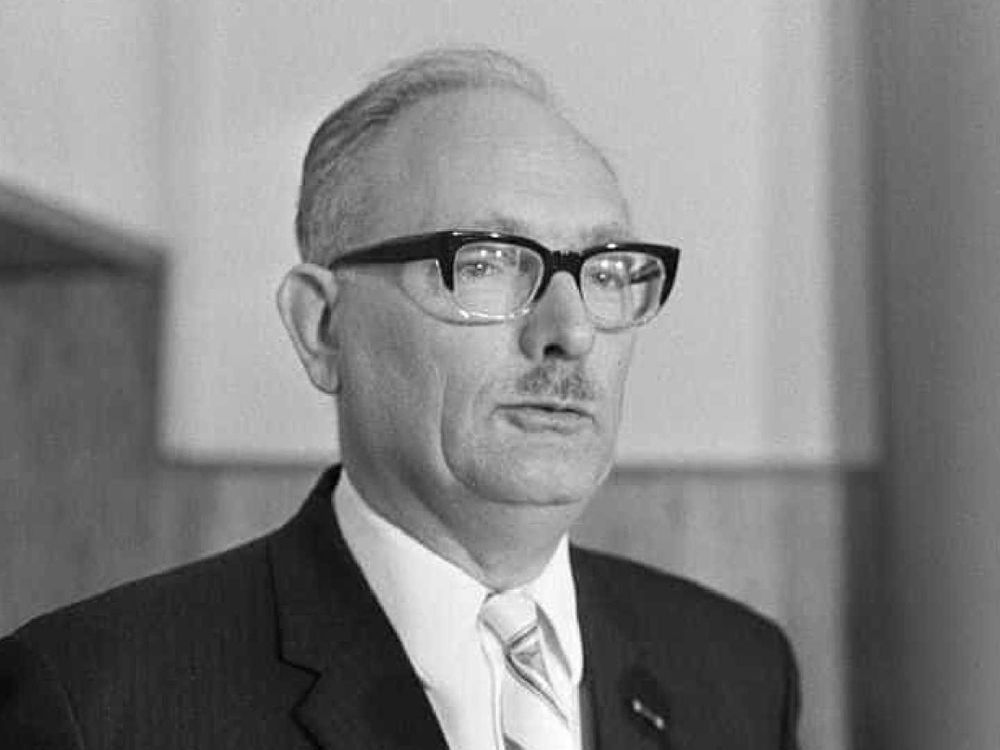 Johan van Hulst, a Dutch teacher who helped hundreds of children escape Nazi persecution during the Holocaust, has died at the age of 107.
In 1943, three years after Germany invaded the Netherlands, van Hulst was working as a lecturer at a Calvinist teacher training college in Amsterdam, according to Roland Hughes of the BBC. The college shared a yard with a day care that had been co-opted by the Nazis as a detainment center for Jewish children awaiting deportation to Nazi camps. Knowing that the children faced near certain death, Henriëtte Pimentel, who had served as the headmistress of the day care since 1926 and was herself a Sephardic Jew, launched a clandestine operation with van Hulst and dozens of resistance fighters to help as many as possible escape.
Day care workers passed the children over a hedge that separated the building from van Hulst's school, and according to the Jewish Telegraphic Agency, van Hulst then hide the children in a room in the college. They stayed there until resistance fighters arrived to smuggle the children away to host families that kept them safe, as Mordecai Paldiel chronicles in The Path of the Righteous: Gentile Rescuers of the Jews During the Holocaust.
Some 4,000 children were held at the day care between 1942 and 1943; according to Paldiel, van Hulst and his collaborators helped around 1,000 escape. Many of the rescued children were babies, writes Yad Vashem. But van Hulst's involvement in this heroic effort forced him into an agonizing moral quandary. Whisking away too many children would have aroused dangerous suspicion. Some had to be left behind.
"Everyone understood that if 30 children were brought, we could not save 30 children," van Hulst told Dutch broadcaster NOS last year, as Hughes reports. "We had to make a choice, and one of the most horrible things was to make a choice."
During the summer of 1943, the operation was almost shut down when an inspector from the Ministry of Education saw the children and inquired whether they were Jewish. According to historian Paul R. Bartrop, the inspector did not take action, though. Instead, he warned van Hulst, "In God's name, be careful."
That September, Pimentel was deported to Auschwitz. (Sephardic Jews were deported later from the Netherlands than Ashkenazi Jews, as Rita Goldberg notes in Motherland: Growing Up With the Holocaust.) Following her deportation, the day care was shuttered. But before the children were sent away, the principal, Virrie Cohen tipped off Van Hulst what was happening for one last-ditch rescue effort.
"Now try to imagine 80, 90, perhaps 70 or 100 children standing there, and you have to decide which children to take with you…. That was the most difficult day of my life," van Hulst later recalled, according to Yad Vashem. "You realize that you cannot possibly take all the children with you. You know for a fact that the children you leave behind are going to die. I took twelve with me. Later on I asked myself: 'Why not thirteen?'"
Van Hulst continued to be active in the resistance throughout WWII. Just a few weeks before the fighting drew to a close, van Hulst learned that the Nazis planned to arrest him and spent the remainder of the war in hiding.
Later in life, van Hulst worked as a politician; he was a Dutch senator for 25 years and a member of the European Parliament between 1961 to 1968. In 1972, Israel awarded him the title "Righteous Among Nations," a designation given to non-Jews who helped Jewish victims of the Holocaust. The Calvinist school where van Hulst once worked and sheltered Jewish children now houses the Netherlands' National Holocaust Museum.
In 2015, Israeli Prime Minister Benjamin Netanyahu thanked van Hulst for his actions during the war. "We say, those who save one life saves a universe," Netanyahu said. "You saved hundreds of universes. I want to thank you in the name of the Jewish people, but also in the name of humanity."