In the 'Heart of the City,' a Tribute to Jay-Z
The Brooklyn Public Library is celebrating the rapper's life and career in a new exhibition, "The Book of HOV"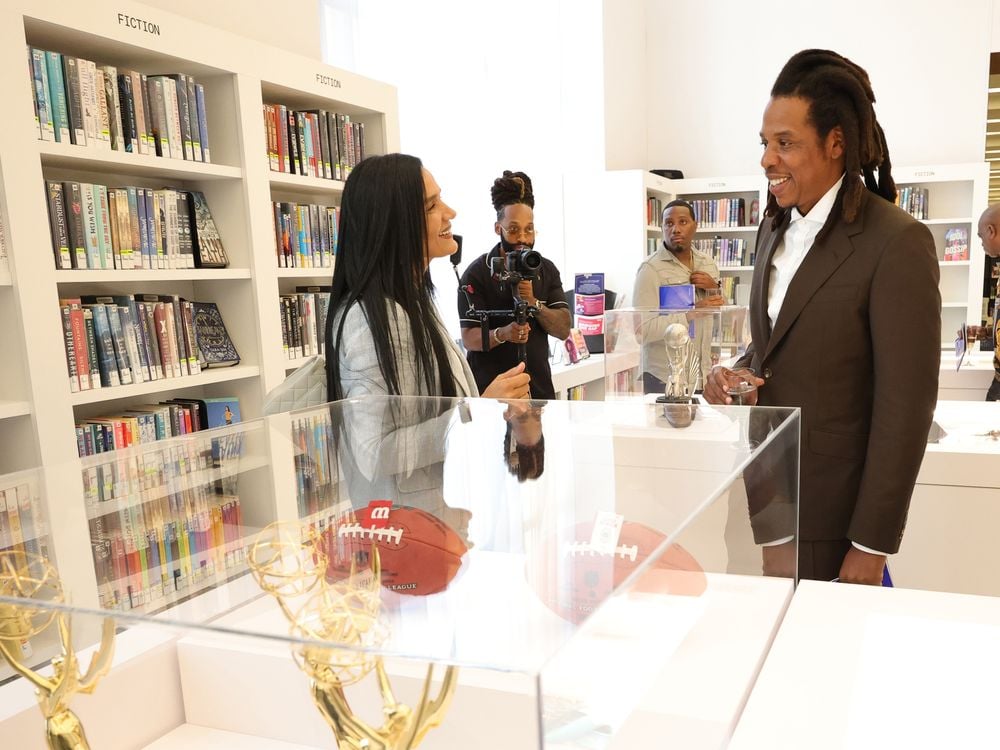 The main branch of the Brooklyn Public Library, which stands at the entrance to the sprawling Prospect Park, is eye-catching even on a normal day. The 350,000 square foot building in Art Deco style is nearly a century old—an established presence in the neighborhood.
Last week, however, the building became even more conspicuous, when its tan exterior was completely covered in the written lyrics of another local legend. Inside, glass cases displayed endless records, tapes and floppy discs. Sports stars and hip-hop's biggest producers strolled through together. Allow me to (re)introduce: "The Book of HOV."
On July 13, the Brooklyn Public Library launched this multimillion dollar exhibition showcasing the career of Shawn Carter, known as Jay-Z. The free exhibition reportedly came as a complete surprise to the 53-year-old rapper and entrepreneur, who saw it for the first time on the night of its opening. 
"I know he wouldn't let us do this. This could never happen if he was involved," Desiree Perez, the chief executive of Jay-Z's massive entertainment company Roc Nation, tells Joe Coscarelli of the New York Times.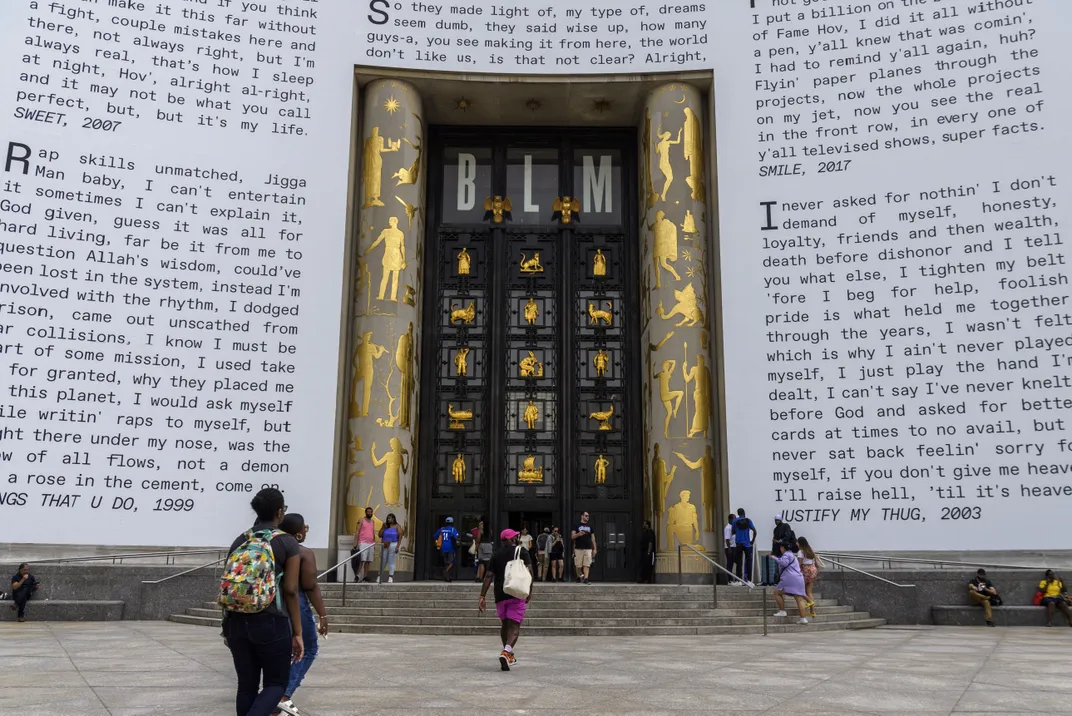 One of Brooklyn's most recognizable celebrities, Shawn Carter grew up in the Marcy Houses, a public housing project a few miles north of the library. He made a name for himself early in his rap career with brutally honest lyrics about his upbringing there. 
As a music executive, Jay-Z pioneered some of the most notable pop music and hip-hop acts in the early 2000s. He displayed a shrewdness for business that dates all the way back to his first album, Reasonable Doubt. As Ogden Payne wrote for Forbes in 2016, Jay-Z used early challenges as a springboard to success: When nobody would distribute his first record, he co-founded Roc-A-Fella, his own label. When he had a tiff with a clothing brand, he founded Rocawear, which he later sold for $204 million.
Though Jay-Z now lives in Los Angeles with wife Beyoncé, Brooklyn has remained a huge part of his personal brand as well as his business: He was a stakeholder responsible for moving the Nets basketball franchise across the river from New Jersey.
"Jay-Z's story is a uniquely Brooklyn story, and it's a privilege to host this exhibit created as a labor of love," Brooklyn Public Library CEO Linda Johnson tells Andre Gee of Rolling Stone.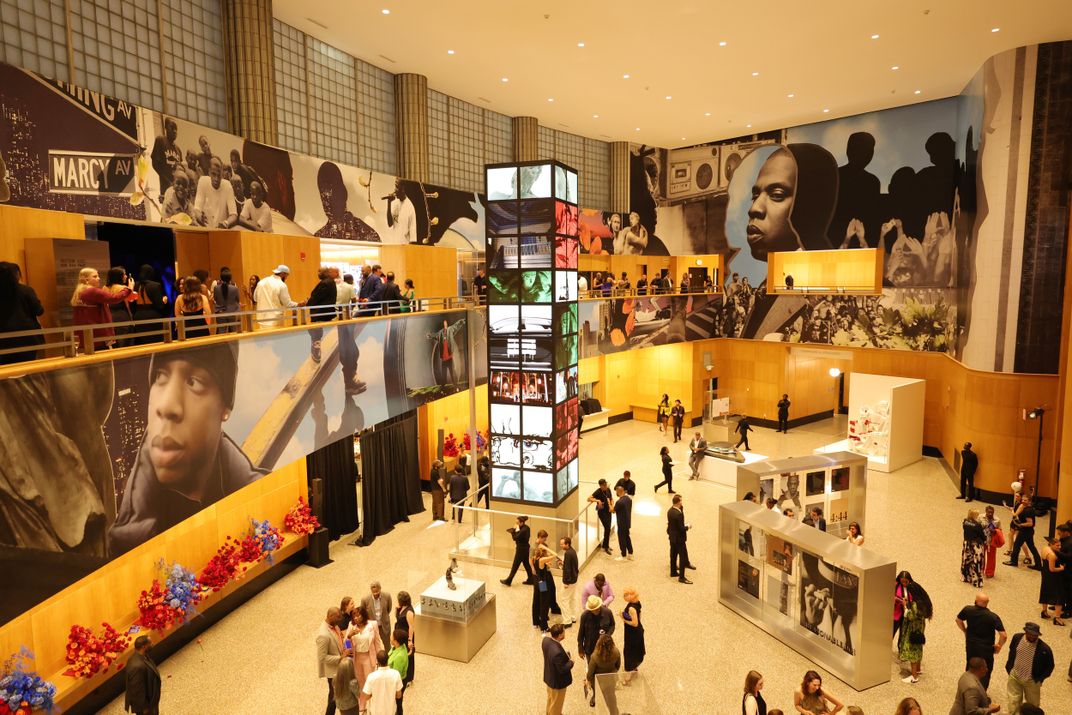 The project has been in the works since January, when Johnson and representatives of Roc Nation started planning an exhibition of Jay-Z's life at the library. "The Book of HOV" features six sections devoted to elements of the entertainer's success: For example, one area focuses on his rap career, while others cover his business ventures and philanthropy work. Each section is named after a lyric from one of his songs. 
One segment, "Did It Without a Pen," includes roughly 400 books that Jay-Z referenced throughout his catalog alongside vinyl versions of songs his producers sampled from. All of these can be borrowed—perhaps using a custom Jay-Z library card. 
Other items on display include costumes, photographs, awards and other ephemera from throughout Jay-Z's career.
Bruce and Shelley Rodgers, Emmy-winning production designers who have worked on Super Bowl halftime shows, led the team—which included a special crew that flew in from the West Coast to rappel around the building's exterior putting up lyrics. 
As Bruce Rodgers tells the Times, "We didn't want to interrupt the normal workings of the library, but we wanted to make a statement."