The Ethics of Creating A.I.-Generated Images of Public Figures
Viral pictures of Pope Francis wearing a trendy white puffer coat were fabricated with A.I., but tricked internet users across the globe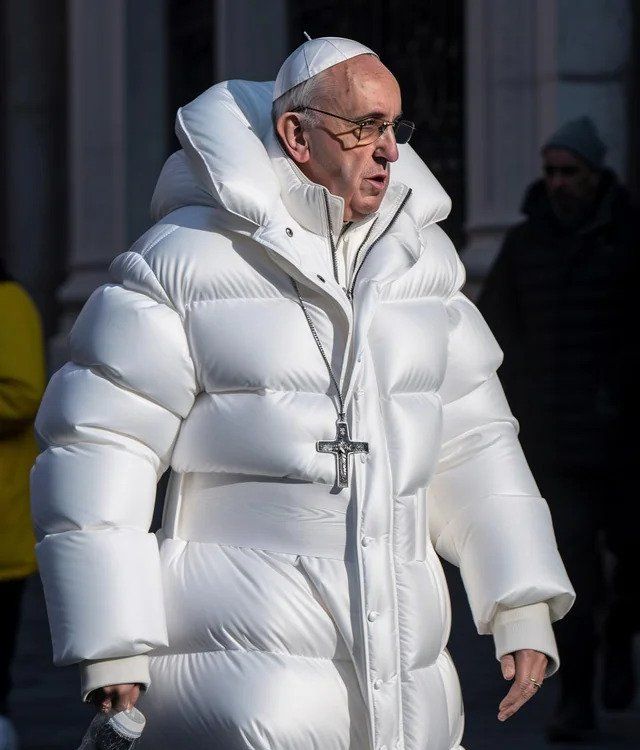 Over the weekend, millions of Twitter users saw Pope Francis appear on their feeds, modeling what seemed to be a custom Papal puffer coat. In reality, though, the head of the Catholic Church never wore that designer, Balenciaga-like jacket: The image was nothing more than a hyper-realistic A.I. generation. 
Behind this work of forgery was Pablo Xavier, a construction worker in Chicago who asked media not to use his last name for fear of backlash, reports Chris Stokel-Walker for Buzzfeed News. "I just thought it was funny to see the Pope in a funny jacket," Xavier tells the publication. (The story and Xavier's interview were published before Pope Francis was hospitalized with a respiratory infection and will likely spend a few days there, though he does not have Covid-19. Since this announcement, his condition has been improving.)
Xavier's four pictures of a "dripped-out" pope were created using the popular A.I. tool Midjourney, which generates images based on text prompts. However, like lots of computer-produced artwork, the photos of the pope are not perfect. His smeared hand, misshapen glasses, and blurry cross necklace are all telltale signs of A.I. interference. Nevertheless, the depictions tricked people, including model Chrissy Teigen. 
"I thought the pope's puffer jacket was real and didnt give it a second thought. no way am I surviving the future of technology," tweeted Teigen on Friday. 
While the pope wearing a perfectly tailored, arctic white puffer could command a laugh out of even the most stoic internet users, the portrayal of public figures in realistic, A.I.-generated art has real-world implications. Though he created the images for fun, Xavier tells Buzzfeed he had instant regrets once they went viral. He saw posts criticizing the Catholic Church for unnecessary spending, citing his A.I. creations as evidence.
Beyond the images of the pope looking fly, Midjourney-generated content has tricked the internet on other occasions. The same program is responsible for recently circulated phony photographs of Donald Trump getting arrested and Queen Elizabeth doing her own laundry. While many were quick to debunk the Trump arrest photos due to their political implications, some never questioned the image of the pope and just kept scrolling.
"If Trump has been publicly arrested, I'm asking myself, why am I seeing this image, but Twitter's trending topics, tweets and the national newspapers and networks are not reflecting that?" Mike Caulfield, a researcher at the University of Washington's Center for an Informed Public, tells the Atlantic's Charlie Warzel. "But for the pope, your only available heuristic is would the pope wear a cool coat? Since almost all of us don't have any expertise there, we fall back on the style heuristic, and the answer we come up with is: maybe."
Creating fake images is not the only problem that users are having with A.I. programs. For one, the models also have coded biases. When prompted with words like "CEO" or "director", image generator DALL-E 2 churns out pictures of white men 97 percent of the time.
As the ethics of A.I. are being called into question, big tech companies like Microsoft, Meta, Google, Amazon and Twitter have been axing staff from their teams dedicated to overseeing ethical A.I. production amid wider industry layoffs, report the Financial Times' Cristina Criddle and Madhumita Murgia. With the technology rapidly evolving, some researchers are worried about what this could mean for the future.
"It is shocking how many members of responsible A.I. are being let go at a time when arguably, you need more of those teams than ever," Andrew Strait, associate director at the research organization Ada Lovelace Institute, tells the publication.
In a speech at the Vatican on Monday, the pope addressed the development of A.I., but he did not bring up the viral images of himself, per CNN's Leah Dolan.
"I am convinced that the development of artificial intelligence and machine learning has the potential to contribute in a positive way to the future of humanity," he said, per Vatican News. "At the same time … I am certain that this potential will be realized only if there is a constant and consistent commitment on the part of those developing these technologies to act ethically and responsibly."