Iron Window Bars Unearthed at a Roman Public Bath in Spain
The crisscrossing bars were likely part of the bath's changing room, called the apodyterium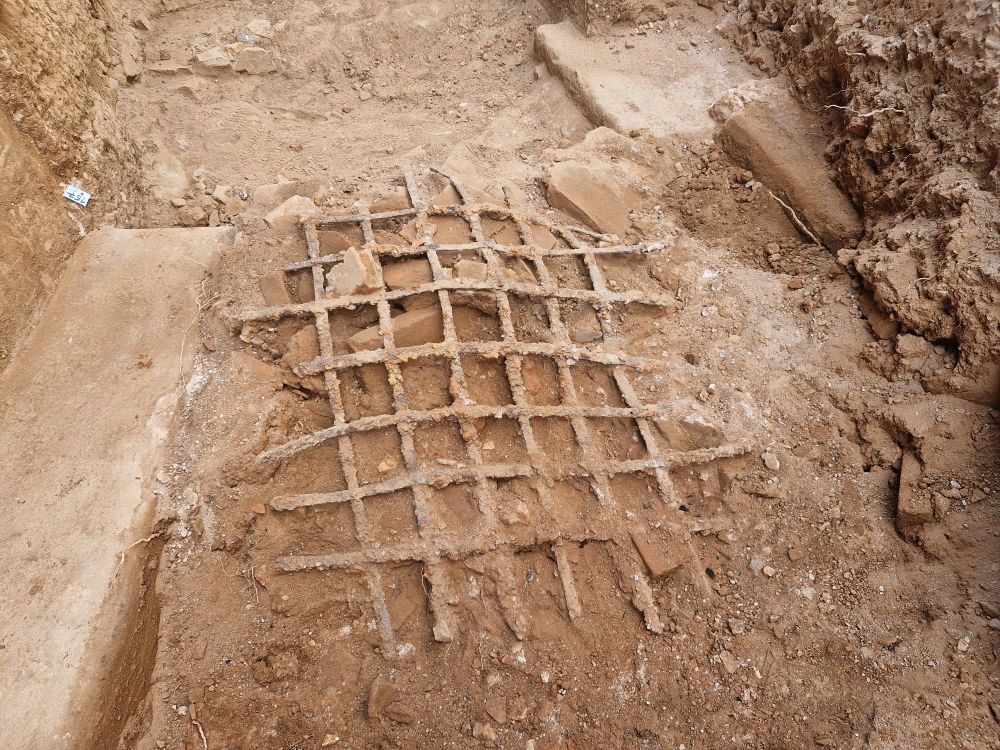 Archaeologists working at the site of an ancient Roman bath complex in Spain have uncovered a well-preserved set of crisscrossing iron bars that likely went over a window in a changing room.
The site is located in Mérida, a city in the southwestern part of the country. Here, in 25 B.C.E., Romans founded a colony called Augusta Emerita. Many parts of the colony are still standing, including an amphitheater, a water supply system and a bridge over the Guadiana River. Mérida's Roman ruins have been listed as a UNESCO World Heritage site since 1993.
In recent months, archaeologists working on behalf of the Consortium of the Monumental City of Mérida have been exploring a Roman public bath complex that's close to the amphitheater. They announced the discovery of the baths earlier this summer after six months of excavations, according to the Spanish news agency EFE.
Now, they've revealed the discovery of "practically intact" window bars, per a post on the consortium's Facebook page. When the bath house was in use, the bars would've been part of the apodyterium, a changing area where patrons could've stashed their belongings while they soaked. Bricks and tiles were also present at the site, suggesting that the walls and roof had collapsed.
Archaeologists found a similar set of iron bars in the early 1960s in the kitchen of a large residence near the amphitheater.
Elsewhere in Europe, archaeologists have been making other Roman-era discoveries this summer. For example, researchers in the German city of Cologne recently announced that they had uncovered an ancient Roman bath complex while building a new fountain, as Aristos Georgiou reports for Newsweek. They think the baths were once part of a large, sophisticated home that had high-end amenities like heated floors and green marble from Greece.
For the ancient Romans, public bathhouses were popular hubs for social activity, as Rachel Nuwer wrote for Smithsonian magazine in 2013. Community members went to the baths to catch up, play games and gamble, do textile work, chow down and even get their teeth worked on.
In Mérida, restorers and conservationists are now cleaning and preparing the newly unearthed iron bars so they can eventually be displayed publicly. Those efforts are being led by a team at Mérida's National Museum of Roman Art.
Looking ahead, researchers plan to continue their work in Mérida, as "there is still a lot of archaeological heritage" underground in the ancient city just waiting to be unveiled, as the consortium writes on Facebook.