Inside the First Museum in Iran Devoted to a Female Artist
The new museum houses 50 works by the acclaimed artist Monir Shahroudy Farmanfarmaian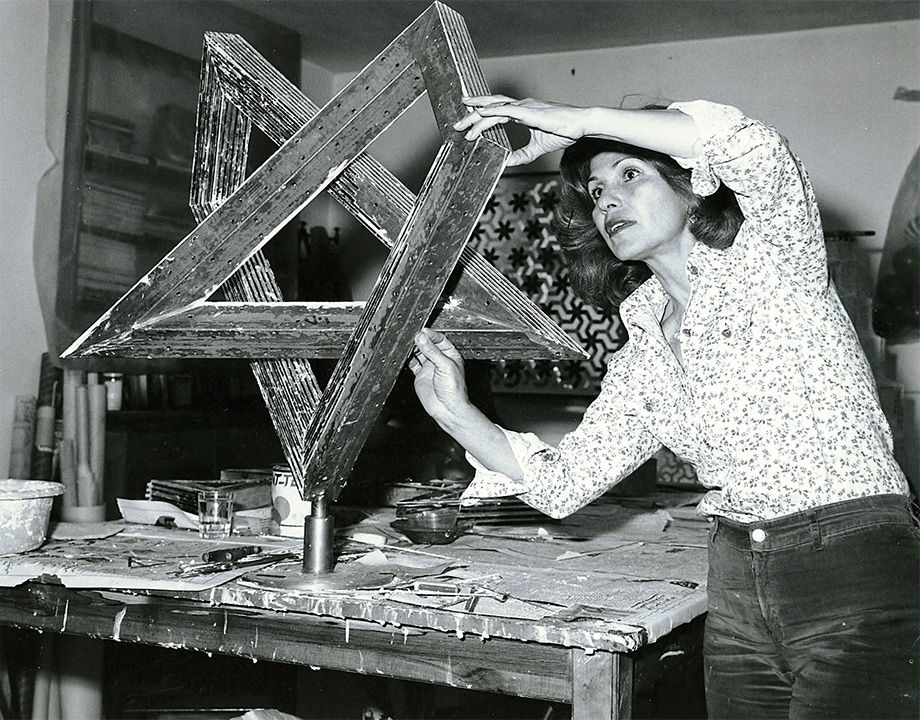 Monir Shahroudy Farmanfarmaian, the acclaimed 93-year-old artist who creates elaborate mosaics made of mirrored glass, is known for her work combining modern art aesthetics with traditional designs from Iran's ancient mosques and palaces. Today, a museum in her honor, opens in her native country.
The Monir Museum located in Negarestan Garden, a former palace in Tehran, is the first museum in Iran to be devoted to a female artist, reports Tim Cornwell at the Art Newspaper. The museum, which is run by the University of Tehran, includes 50 works from the artist. Farmanfarmaian, who has had a complicated relationship with the politics of her native land but a deep love for its culture, says she sees the museum as her final legacy in an interview with Cornwell. "I can leave this country with a representation of my life's work," she says. "My love for my culture is in everything I create."
Farmanfarmaian may not be a household name in the United States, but she is an art superstar in the Middle East. The artist, born in the Iranian city of Qazvin, studied at the Fine Arts College of Tehran before moving to New York in 1945. She graduated from the Parsons School of Design in 1949, and from there found work as a commercial illustrator, according to her gallery representatives, The Third Line. All this time, she was immersing herself in the contemporary art scene, meeting and socializing with many future luminaries of the art world, including Frank Stella, Willem de Kooning and Andy Warhol.
In 1957, she returned to Iran and plunged into the study of traditional art forms. Less than a decade later, during a visit to the glittering Shah Cheragh mosque in Shiraz in 1966, Farmanfarmaian had an epiphany. As Natasha Morris at the Guardian reports, she likened the experience to "walking into a diamond at the centre of the sun." That visit, where she took in the high-domed mosque, helped crystallize her artistic vision. From that point forward, she began creating more elaborate and creative mirror mosaics and sculptures at her workshop, which employed a staff of highly skilled local craftsman.
Then came the Islamic Revolution. In 1979, Farmanfarmaian was forced to flee to the United States, where she lived in exile for 26 years. Because of the lack of access to traditional materials and craftsmen in the United States, she did few of her mosaics and focused instead on creating works on paper. Finally, in 2004, she was able to return to Tehran.
Today, Morris reports that Farmanfarmaian's large-scale commissions are found around the world, including in Iran's senate building and the Dag Hammarskjöld tower in New York. In 2015, she received her first retrospective at the Guggenheim Museum and earlier this year had an exhibition at the Chrysler Museum.
The new Iranian museum includes pieces from her "Heartache" series, collages of photos and objects that celebrate her husband Abolbashar Farmanfarmaian who died in 1991, as well as other works contributed by the artist.
"It is an honor for Monir to be recognized in her country of origin with the establishment of this new institution," a spokesperson for The Third Line tells Cornwell. "It is unprecedented in Iran."
This is not the only extraordinary woman that Iran, which has been heavily criticized for its repression of women, has acknowledged recently. When Maryam Mirzakhani, the only woman to win the Fields Medal in mathematics died in July, Iran relaxed a taboo about showing women without a hijab or headscarf, letting images of a scarfless Mirzakhani run in newspapers and on social media.