Investigators Crack Down on Fraudulent Native American Jewelry
In April, Albuquerque jewelry dealer Nael Ali is set to be sentenced under the 1935 Indian Arts and Crafts Act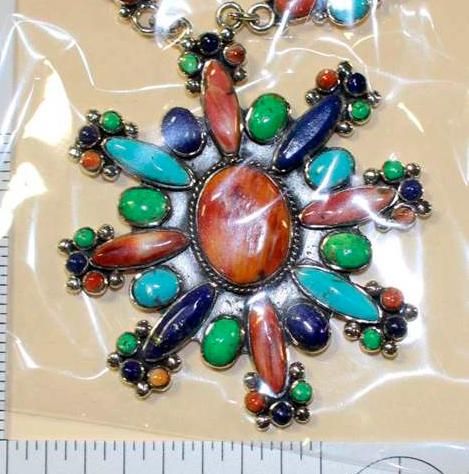 When U.S. Fish and Wildlife Service special agent Russell Stanford intercepted a shipment of counterfeit jewelry from the Philippines, he didn't stop it. Rather, he applied dabs of invisible ink to several pieces and let the shipment continue. Months later, Stanford visited one of Albuquerque jewelry dealer Nael Ali's galleries. There, he bought two rings stamped with the initials of fictional Navajo metalsmith Calvin Kee. Investigating the rings under ultraviolet light, he was able to confirm they were falsely identified works that were actually imported from overseas.
This April, Ali will be sentenced under the 1935 Indian Arts and Crafts Act, which made it a federal crime to market or sell counterfeit Native American artisan work as the real thing. As Maraya Cornell at National Geographic reports, observers hope this case, part of the ongoing Operation Al Zuni, signals a major crackdown on fake "native" jewelry and other homemade goods.
Mass-produced knock-off artisan baskets, beadwork, jewelry dolls and blankets have long been an open secret, undercutting authentic Native American wares for decades, in addition to appropriating their cultural heritage. Though the IACA was updated in the 1990 to increase criminal fines and penalties, fraudulent sales have continued to be widespread. According to a July 2017 piece by Frances Madeson in High Country News, since 1996, more than 1700 complaints had been filed, but at the time the piece was published just 22 prosecutions in New Mexico, Alaska, Utah, South Dakota and Missouri had been made.
The Indian Arts and Crafts Board is tasked with compiling these complaints against violators of the IACA, but the board does not have the power to prosecute these claims. Currently, it relies on the international investigators and special agents of the U.S. Fish and Wildlife Service, with whom they have had a memorandum of understanding with since 2012, to enforce the law.
Morgan Lee at the AP reports that it was Stanford's trail in 2012 that led federal agents to raid Ali's stores in Albuquerque and Gallup. They found thousands of pieces of jewelry that were falsely labeled as being made by artists from the Navajo Nation and the Zuni Pueblo.
In October of 2017, Ali pled guilty to two felony charges for selling counterfeit jewelry, the U.S. Attorney's Office in New Mexico reports. His supplier Mohammad Manasra also pled guilty for producing counterfeit jewelry in the Philippines.
"Today's guilty plea is a victory for Native Americans and the protection of their cultural heritage," acting U.S. Attorney James D. Tierney said at the time. Investigators also raided another store in Calistoga, California, and have charged four other individuals for importing counterfeits from the Philippines. All told, the investigation of the two networks of suppliers spanned New Mexico, Arizona, Texas, California, Colorado, Alaska, Nevada and the Philippines, led to 16 search warrants, the confiscation of $320,000 and 200,000 pieces of jewelry, the largest operation ever under the Arts and Crafts Act.
The Zuni Pueblo people in west-central New Mexico alone estimate that some 80 percent of working adults "are involved in the cottage, home-based industry of producing traditional Zuni arts." Not only does the counterfeit trade impact native businesses, it is also an insult to their cultures. "Our arts and crafts give us a really concrete way to stay connected to our culture and our history," jeweler Liz Wallace, who identifies as Maidu, Washoe and Navajo,​ tells Cornell. "All this fake stuff feels like a very deep personal attack."
Officials believe that this prosecution is just the tip of a very large iceberg, and observers are hopeful that it leads to more rigorous enforcement. For his part, former U.S. Attorney Damon Martinez, who was involved in Ali and Manasra's prosecution, has recommended imported jewelry be mandated to carry a country of origin stamp and that laws be updated so counterfeiters can be charged with money laundering and wire fraud.
"Those who pay top dollar to own these treasures should be able to trust their authenticity and know their money supports real Native Americans and their tribes," as Tierney said in October. "Convictions of profiteers like the defendant in this case restore trust in that marketplace and prevent the exploitation of Native Americans."