How a Groundbreaking Interior Designer Helped Jackie O. Change the White House
Sister Parish is credited with creating American country style, a recognizable and quirky mix of old and new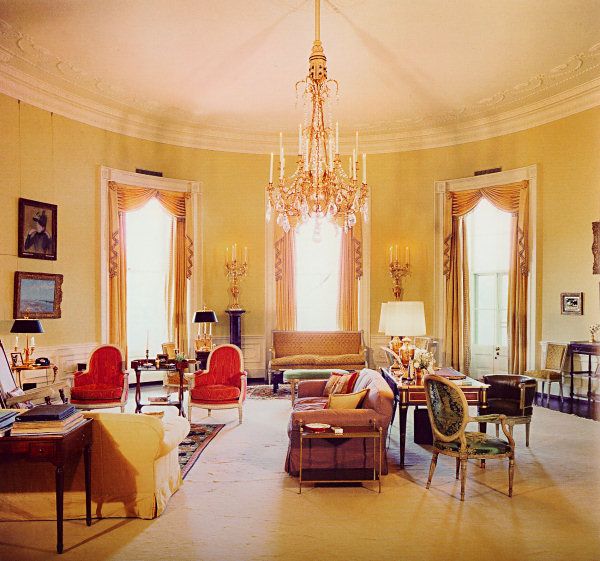 During her life, designer and decorator Sister Parish was known for her unique taste. Today, her influence can be felt across the country. As the inventor of American country style, sometimes called "shabby chic," echoes of her style can be seen in Ralph Lauren catalogs and Martha Stewart Living magazines. "If you have a quilt," the New York Times wrote, "you probably owe it to Ms. Parish."
Parish was the first person who First Lady Jacqueline Kennedy hired to decorate the White House, and her influence can still be seen in several rooms in the building.  In the end, Parish had a clash with the First Lady, leading her to move on to other well-known buildings–but not before she helped Kennedy found the White House Historical Association.
The first day Kennedy visited the White House as First Lady, Bernard West, a White House usher, said in an interview, she brought Parish with her. "They called me into the [Blue Room]," he recalled, and "she wanted to know what I knew about the history of the room."   
When President John F. Kennedy and Jackie Kennedy moved into the White House, they found a building that was very different from what it is today. It wasn't suited for the kind of family living they were accustomed to–and in the First Lady's eyes, it also didn't have the dignity befitting the First House of the nation.
"Jacqueline Kennedy wanted the people's house to reflect her deep appreciation for American culture and history, and so she embarked on a major White House restoration project that transcended her time in the Executive Mansion," writes Matthew Costello for The White House Historical Association.
By this point in her career, Parish was already the well-known designer of "Mrs. Henry Parish II Interiors" in New York. Jackie Kennedy had already worked with her to decorate the Georgetown house that the Kennedys lived in after their first child was born, as well as some other projects.
"Widely considered to have originated, in the 1960's, the decorating idiom that became known as American country style," Eric Pace wrote for The New York Times in Parish's 1994 obituary, she was known for combining new and old in her designs. Her aristocratic background–she lived in multiple homes with her family and was exposed to her father's antique collection–gave her an eye for unique pieces.
Speaking in 1961, Parish told reporters that the new First Lady was a woman of "simple tastes who wants to create a home." Kennedy wanted "actually to transplant the home she now has to the White House, because it represents her way of life."
That home might not have been considered "simple" by many standards: the article describes in as "a home furnished in French antiques of various periods, except for [John F. Kennedy's] bedroom, which is predominantly eighteenth-century English." But it set an influential precedent for the White House Jackie Kennedy helped to create. "In utilizing the talents of two of the most influential interior designers of her day—Parish and  [French designer Stephane] Boudin—Jacqueline Kennedy created a White House that was one part cozy family home, one part museum, and one part glittering international stage," Elaine Rice Bachmann writes for White House History. 
Parish's work was "the ultimate in Wasp chic," writes Sally Bedell Smith for Vanity Fair–a perfect choice for Jackie Kennedy. Between the two of them, they quickly spent $50,000 in the redecoration and remodelling of the White House's family quarters. But for Kennedy, it was the start of a bigger project to give the White House gravitas and a historic feeling that she felt it lacked. Parish, who had a great  deal of knowledge about antiques, helped to shape that vision.
It quickly became clear that the project was going to cost more and take more effort than current funds would allow. At Kennedy's behest, the White House Historical Association was incorporated on November 3, 1961 to oversee this project.
"Everything in the White House must have a reason for being there," Kennedy told Life magazine. "It would be sacrilege merely to redecorate it—a word I hate. It must be restored, and that has nothing to do with decoration. That is a question of scholarship."