INTERPOL Is After "the Snake," a Notorious Illegal Fishing Vessel
Norway requested that INTERPOL bestow the Snake with a Purple Notice, information-gathering the agency uses to compile details on criminal activities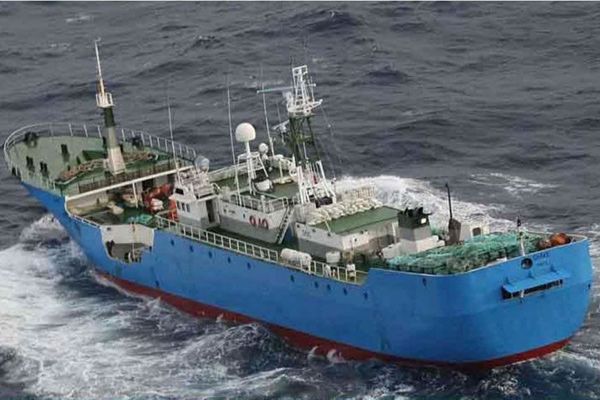 A rogue fishing vessel called "the Snake" is on the loose in the South Atlantic, scooping up illegal hauls of fish. It's also inspired INTERPOL to grant its first Purple Notice—an information-gathering tool that's been used previously in pursuit of criminals like  illegal loggers or child pornographers—for illegal fishing. Pew describes what this will hopefully accomplish:
Each Purple Notice will include the vessel's most recent known names, aliases, call signs, alleged crimes, and other details. The alerts will also include, if available, photos, the vessel's last known location, and its International Maritime Organization number.
The Snake is owned by a Panamanian company, but it has undergone at least 12 name changes and flown 8 different country's flags (Libya is the latest) over the past ten years. Some of these names included "Al Nagm Al Sata", "Caribe 1," "Luncavita," and "Hoyo Maru No. 8," Vessel Tracker writes.
The Snake has a long history of sanction and permit violations, MercoPress writes, including being blacklisted by Commission for the Conservation of Antarctic Marine Living Resources in 2004 and kicked out of the South East Atlantic Fisheries Organization in 2007  for illegally plundering the world's oceans. 
Now, the Snake is back at its illegal marine activities again, and Norway has decided it's had enough.  The country requested the Purple Notice, with the hope that this intelligence gathering will help countries weed fishing pirates out of their waters. Shutting down illegal fishing operators "requires a multi-pronged approach that includes utilizing real-time information and the keen eyes of people who are legally working the waters every day," Tony Long, director of Pew's project to end illegal fishing, said in a statement.
According to Pew, illegal fishing extracts a financial toll of around $23.5 billion each year by taking up around 26 million metric tons of illegal ocean life, which represents 20 percent of all marine fish caught globally.
More from Smithsonian.com:
Going "Bycatch Neutral" 
When Uncle Sam's "fish cops" reel in a suspect, he's usually a keeper