The International Space Station Will Finally Welcome a Black Astronaut
In May 2018, flight engineer Jeanette J. Epps will begin her mission on the ISS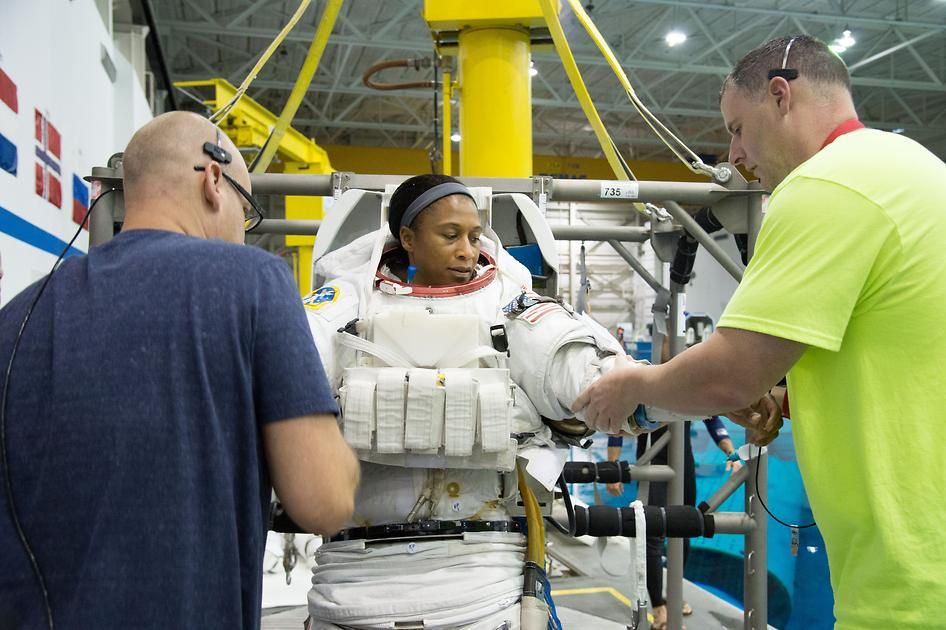 Last week NASA announced that astronaut Jeanette J. Epps is scheduled to begin a mission on the International Space Station in May 2018 as part of Expedition 56-57. According to a press release, she will be the first African-American crew member assigned to the ISS.
A NASA biography states that Epps was first tapped as an astronaut in 2009 when she was selected as part of the space agency's 20th astronaut class. Epps, who has a doctorate in aerospace engineering, served as a scientific researcher at Ford before joining the CIA as a Technical Intelligence Officer in 2002. Since joining NASA, the Syracuse, New York, native has worked to support other missions to the International Space Station.
Epps will be joined on her first trip into space by Andrew Feustal, who flew on the space shuttle Endeavor's final mission and spent time on the space station in 2011. According to Stephan Clark at Spaceflight Now, Expedition 57 is scheduled to last six months and will be commanded by German astronaut and volcanologist Alexander Gerst. It's the second time a European will command the ISS. The last time was nine years ago.
"Each space station crew brings something different to the table, and Drew and Jeanette both have a lot to offer," Chris Cassidy, chief of the Astronaut Office at NASA's Johnson Space Center in Houston says in the press release.
According to Greg Hadley at McClatchyDC, though Epps will be the first African-American astronaut to crew the ISS, she is not be the first to visit the station. Hadley reports that NASA has sent 14 black astronauts into space, with several visiting the ISS for resupply and technical missions. But none have stayed on the station long term.
In 1992, Mae Jemison became the first African-American woman in space as part of a mission on the space shuttle Endeavor. Joan Higginbotham flew on the space shuttle Discovery in 1996 and helped construct the ISS. Stephanie D. Wilson has traveled into space three times, in 2006, 2007 and 2010, and helped construct the ISS, delivered supplies to the station and also dropped off and picked up ISS crew members.
Hadley reports that the announcement of Epps' ISS mission coincides with the release of the movie Hidden Figures about the female African-American mathematicians who helped compute the trajectories for early NASA missions. In fact, Epps appears in a brief NASA video clip celebrating the movie. "You have to put the time and effort in," she tells young people looking at studying a STEM curriculum. "Just because it's difficult doesn't mean you can't learn it."