Interactive Map Tracks Ireland's Mysterious Naked Sculptures
Sheela-na-Gigs, which appear to depict elderly women exposing exaggerated genitals, have long fascinated scholars and amateur historians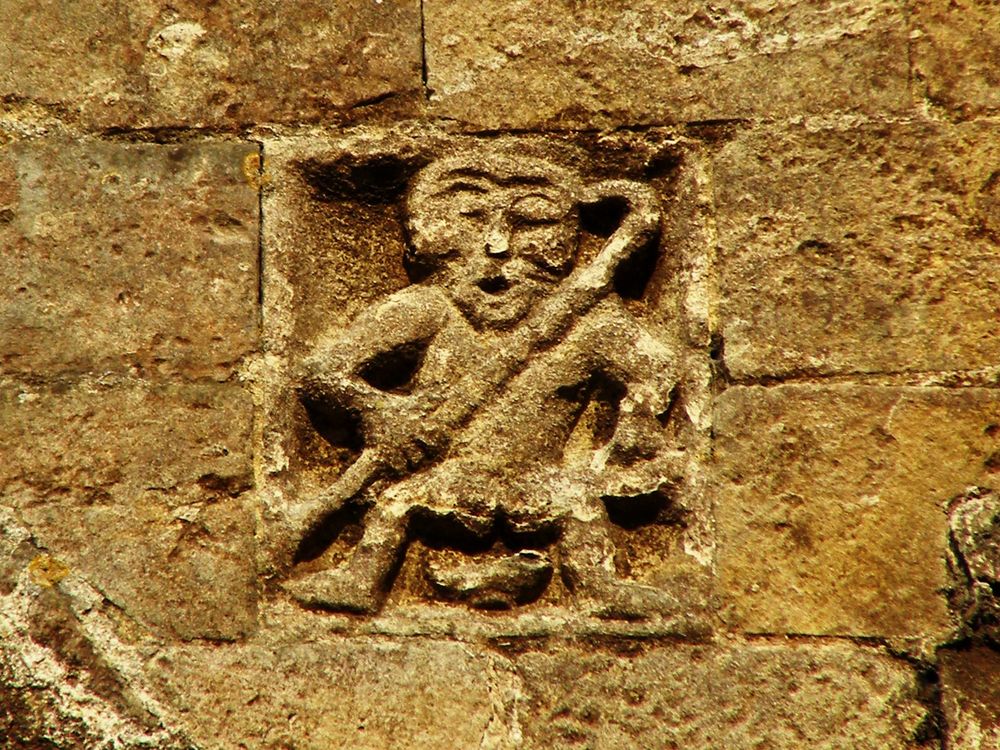 Throughout Ireland, you'll find centuries-old stone sculptures etched with a rather perplexing image. Sheela-na-Gigs, as the carvings are known, depict elderly women with their hands over their genital area, pulling their vulvas open. Nobody knows precisely what these sculptures are meant to convey, but thanks to an interactive map, Ireland's mysterious Sheela-na-Gigs are much easier to find.
As Diana Settle reports for Hyperallergic, the Heritage Council of Ireland, in association with the National Monument Service, launched the map back in April. Using data collected by independent scholars and enthusiasts, the map plots the location of every Sheela-na-Gig in Ireland—to date, there are more than 100 known sculptures. Each pin on the map includes a description of the Sheela-na-Gig and, sometimes, a photo.
Michael Starrett, chief executive of Heritage Council, tells the BBC that the goal of the map is to foster "contemporary and very enlightened debate" about Sheela-na-Gigs.
"Our Sheela-na-Gigs deserve no less," he adds.
While Ireland boasts the world's largest number of Sheela-na-Gigs, the sculptures have also been found in England, France and Spain. Most exist on churches, according to the website of the Sheela-na-Gig Project, which collects information about the UK's carvings. But they have also been found amidst the stones of medieval castles, fortresses and wells.
In terms of style, Sheela-na-Gigs are tremendously varied. Many are bald, and they are often depicted with protruding rib cages, which may be intended to represent old age. But while some Sheela-na-Gigs are chubby, others are grotesquely thin. While some greet spectators with a grin, others are depicted with their mouths set into a hideous grimace. One Sheela-na-Gig in England looks a little like E.T., minus the whole flashing-the-vulva thing—a pose common to all Sheela-na-Gigs.
When Sheela-na-Gigs first came to the attention of scholars some 160 years ago, they were brushed off as obscene, Barbara Freitag writes in Sheela-na-Gigs: Unravelling an Enigma. Clergymen and churchgoers ripped the sculptures out of the walls and ferreted the out of sight; as Zing Tsjeng reports for Broadly, Sheela-na-Gigs have been found buried in church graveyards, and at the bottom of wells and streams.
But in recent times, scholars and amateur historians have become enthralled by Sheela-na-Gigs—a fascination that no doubt stems from the sculptures' mysterious nature. Nobody can definitively say where Sheela-na-Gigs come from, or when and why they were created.
Generally speaking, the sculptures date from the 12th to 14th centuries, according to Tsjeng, but some may be older than that; it's hard to say for sure, because stone cannot be carbon-dated. Further compounding the mystery of the sculptures, the name "Sheela-na-Gig" is not composed of any unambiguously definable words, Freitag points out.
There are a number of competing theories about the sculptures' origins, however. The most common one posits that Sheela-na-Gigs are modeled after Romanesque architecture, which came to Ireland with the Anglo-Norman Invasion, which began in the 12th century. But other historians reject this school of thought. In her book, Freitag posits that Sheela-na-Gigs, with their prominent genitalia, stem from "the realm of folk deities and as such is associated with life-giving powers, birth and death and the renewal of life."
A similar theory emerged this year, after a folklorist at the University of County Cork claimed he had uncovered evidence that St. Patrick was married to a woman named Sheelah. Sheela-na-Gigs, according to some experts, could be based on this ancient female figure, and may have been used as an aid during childbirth or sexual encounters. Still others believe that Sheela-na-Gigs were good-luck tokens, or talismanic stayers of evil.
We may never know how and why Sheela-na-Gigs were used in centuries past. But if you're curious about these strange sculptures, head over to the Heritage Council of Ireland's interactive map, and form your own theory about the origins of the mysterious carvings.