Inside the Italian Art Hospital That Rescues Old Paintings
A catastrophic flood gave this Florence workshop a new mission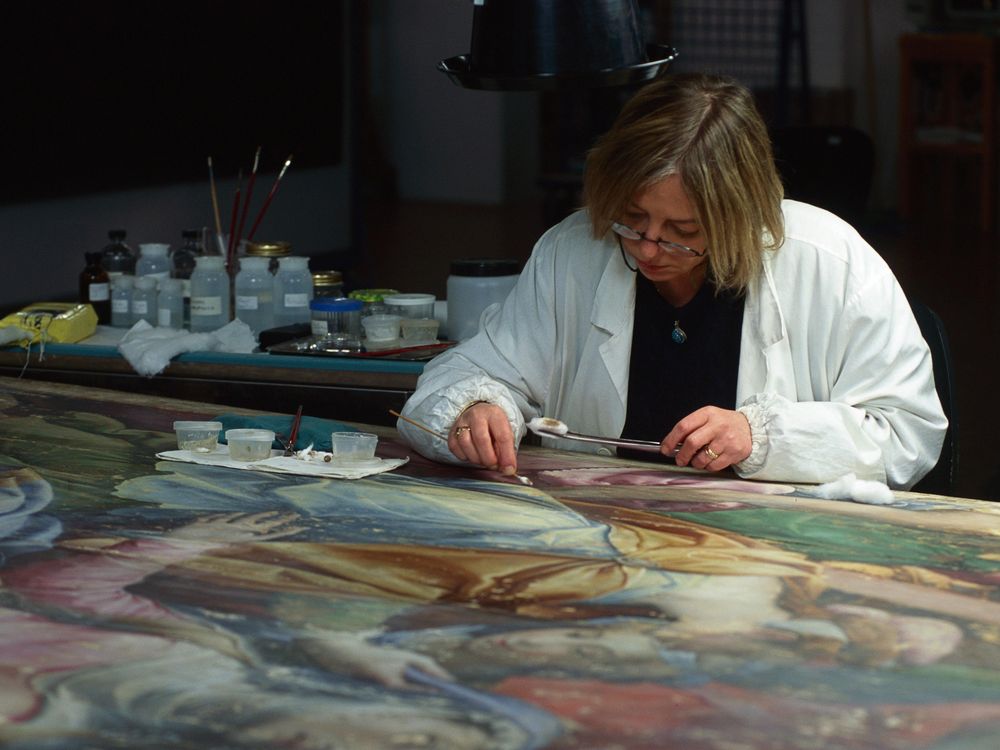 In 1966, Florence endured a historic flood. The Arno river, usually a placid waterway beneath the city's bridges, swelled into a raging, muddy torrent. The disaster killed 39 people, left 20,000 homeless and damaged roughly 1,500 monuments and pieces of art.
Yet, out of the tragedy came some good: The destruction gave a mission to the Opificio delle Pietre Dure, a "part museum, part workshop, part hospital for threatened treasures," reports Jeffrey Brown for PBS Newshour. Now, cultural masterpieces are sent to Florence to be saved and restored, along with some of the very same artwork that was damaged by floodwaters nearly 50 years ago.
"This is probably the only place where you can expect a miracle," the deputy director of the OPD, Cecilia Frosinini, tells Brown. The OPD's name translates to "the Workshop of Semi-Precious Stones," harkening back to its 16th-century origins as a producer of fine mosaics and stonework.
A few damaged pieces have languished for decades, as experts were forced to wait for safer restoration techniques. "The flood was the starting point with the new relationship with science." Marco Ciatti, the director of the workshop, tells Brown. That relationship has paid off with the restoration of nearly ruined art, such as Giorgio Vasari's "Last Supper," a painting from 1546 that was submerged in Florence's Santa Croce Church during the flood. 
To keep the paint from peeling away from the five sodden wood panels, the Getty Foundation explains, paper was carefully placed over "Last Supper." The technology needed to restore the painting was just recently developed, so the OPD team hopes to finish the project before the 50th anniversary of the flood.
As Brown reports, the OPD employs a variety of experts restorers, master woodworkers, conservators and even a physicist who uses multispectral imaging to see what lies beneath the artwork. A photo essay by NewsHour's Frank Carlson shows those experts at work restoring damaged paintings, altarpieces and a crucifix by Cimabue damaged by the 1966 flood. The workshop's mission also extends to masterpieces that need basic touch-ups, such as Leonardo da Vinci's "Adoration of the Magi."
Today, the River Arno still carries the risk of flooding. Though Florence has begun to prepare for a future of rising waters, a deluge could overwhelm the new measures. If that ever happens, the OPD may need to save a new slate of masterpieces.