India Is Building the World's Tallest Statue
The monument will stand nearly 600 feet tall and it honors India's first deputy prime minister, Sardar Vallabhbhai Patel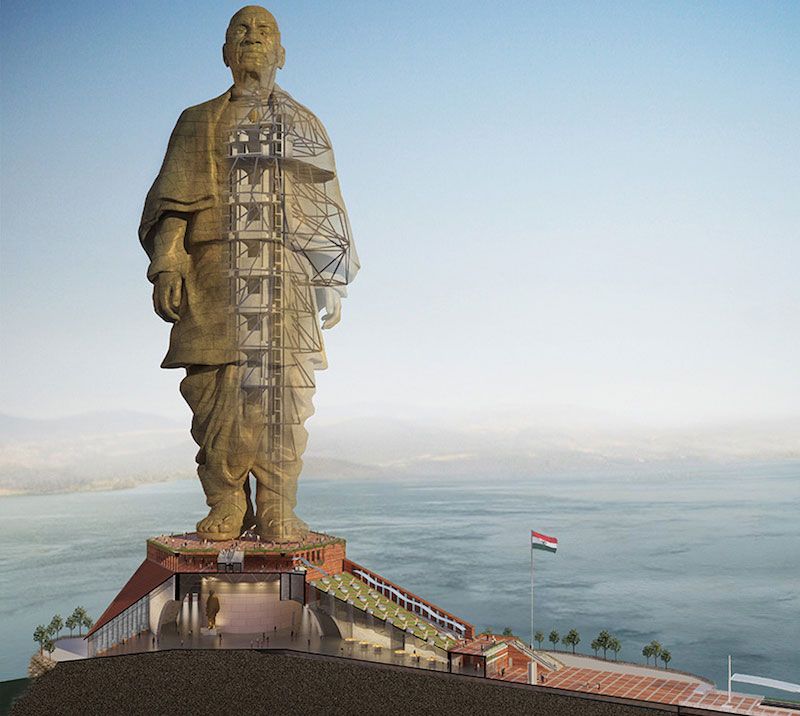 A towering statue made of steel and bronze is readying for a fall 2018 debut in India's westernmost state of Gujarat. As Claire Voon reports for Hyperallergic, the monument, standing 597 feet tall, will be the world's tallest upon completion.
Dubbed the Unity Statue, the statue honors the country's first deputy prime minister, Sardar Vallabhbhai Patel.
Patel, fondly known as the "Iron Man of India," played a key rule in unifying India's fractitious states into a single, independent country. He died in 1950.
India's current prime minister, Narendra Modi, is the impetus behind the project, according to a press release by Michael Graves Architecture & Design, the company overseeing the design and construction of the statue. Modi, who previously served as Gujarat's chief minister​, has long pushed for such a sculpture, and construction began in earnest after he was elected PM in 2014.
The prolific Indian sculptor Ram V. Sutar, who is noted for his massive, life-like renderings, was selected to design the statue, which promises to be "one of history's largest artistic commissions,"​ as Gardiner Harris of the New York Times put it.
The price tag for the project isn't cheap. All together, the first phase is expected to cost an estimated $460 million. Unsurprisingly, the price of the plan has made the statue a subject of criticism for people like Mohan Gurumurthy of the think-tank Centre for Policy Alternatives, who told the Telegraph in 2013 that even Sardar Patel himself would have objected to the cost of the project.
Another challenge is construction: the statue is being erected in the Sadhu-Bet island in the Narmada district of Gujarat, which offers up logistical problems of its own. The result, however, will be stunning. James Wisniewski, one of the architects involved with the project, tells Voon of Hyperallergic that the statue, which will stand at the end of a long pedestrian bridge, will​ look like it's "walking upon water."
A museum dedicated to Patel, restaurants, a hotel and a welcome center are also planned for the future phases of the project. But for now, workers are focusing on getting the massive statue finished by October 31—on what would be Patel's 143rd birthday.