An Immersive Art Installation Will Temporarily Resurrect the Berlin Wall
This fall, event organizers plan on constructing a pseudo-city within a block of Berlin in order to emulate life in an unfamiliar country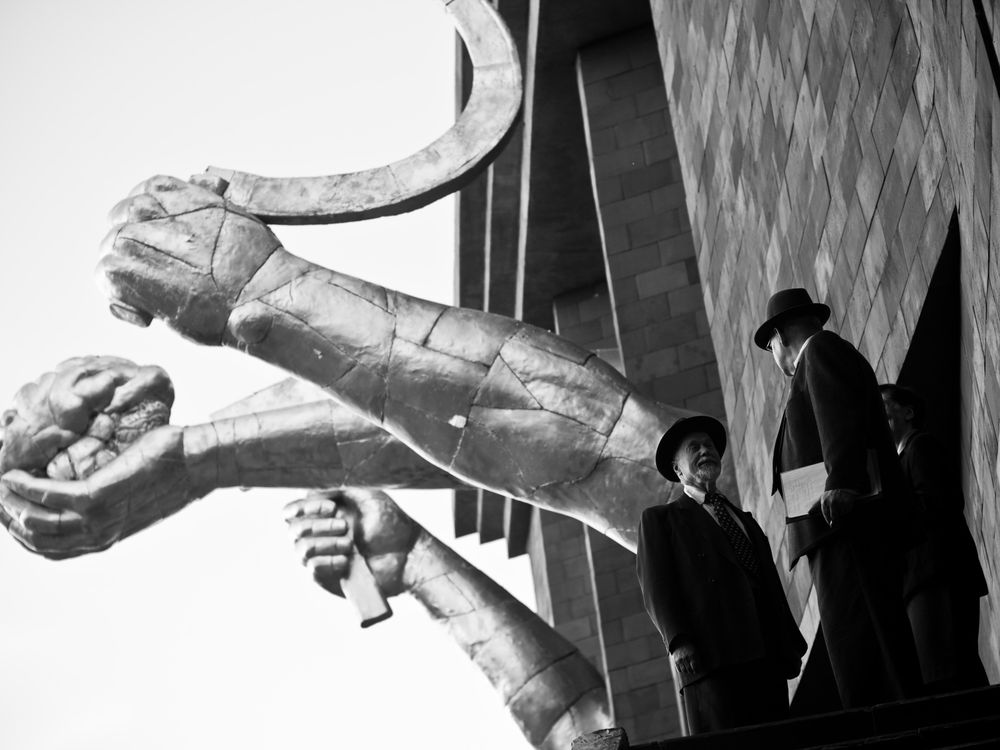 Twenty-nine years after Mikhail Gorbachev tore down the Berlin Wall, the fractious barrier between east and west is set to rise again.
Come October, The Art Newspaper's Catherine Hickley reports that visitors to Germany's capital city will find its horizon clouded by a towering replica of the original wall. This time, however, the wall will meet its demise after four weeks, providing an abbreviated reminder of the original structure's 28-year hold over Berlin—and acting as the centerpiece of an immersive art installation designed to emulate life in an unfamiliar country.
According to Agence France-Presse, event organizers plan on constructing the facsimile wall out of 900 concrete slabs, each measuring around 12 feet tall. Those hoping to visit the city within a city must purchase online "visas" priced between €15 and €45 and surrender their cell phones upon arrival. In exchange, participants will receive internet-less devices that provide individually tailored tours of the walled-in space.
The Associated Press' Kirsten Grieshaber reports that Thomas Oberender, director of the performance art-focused Berliner Festspiele, says the project does not strive to be a "Disney-style East Germany." Instead, the installation, entitled "Dau Freiheit," provokes an encroaching sense of unease as participants yield to the restrictions of an unfriendly surveillance state.
It's unclear exactly what awaits those entering the city within a city, though Grieshaber reports that tours may include film viewings, concerts and interactive exhibitions. The smartphone guide could, for example, lead visitors to a fake scientific conference or a meeting with a counselor. If neither of these options sounds appealing, the device will suggest another activity. Locals whose homes happen to be located within the designated area, a block on the boulevard Unter den Linden, will go about their everyday lives as if nothing has changed, but Hickley notes that streets, lamps and signposts will suggest otherwise, exacerbating an unsettling awareness of the space's amorphous identity.
If the experience proves overwhelming, visitors can stop by viewing platforms situated throughout the pseudo-city. In addition to providing portals to the outside world, these windows mimic the Cold War platforms that allowed west Berliners to peek at their eastern counterparts.
Although the artists are still waiting on local authorities to give final approval of the project, they remain confident that the wall will be ready for opening on October 12. Four weeks later—on November 9, the 29th anniversary of the original Berlin Wall's fall—the replica will be destroyed.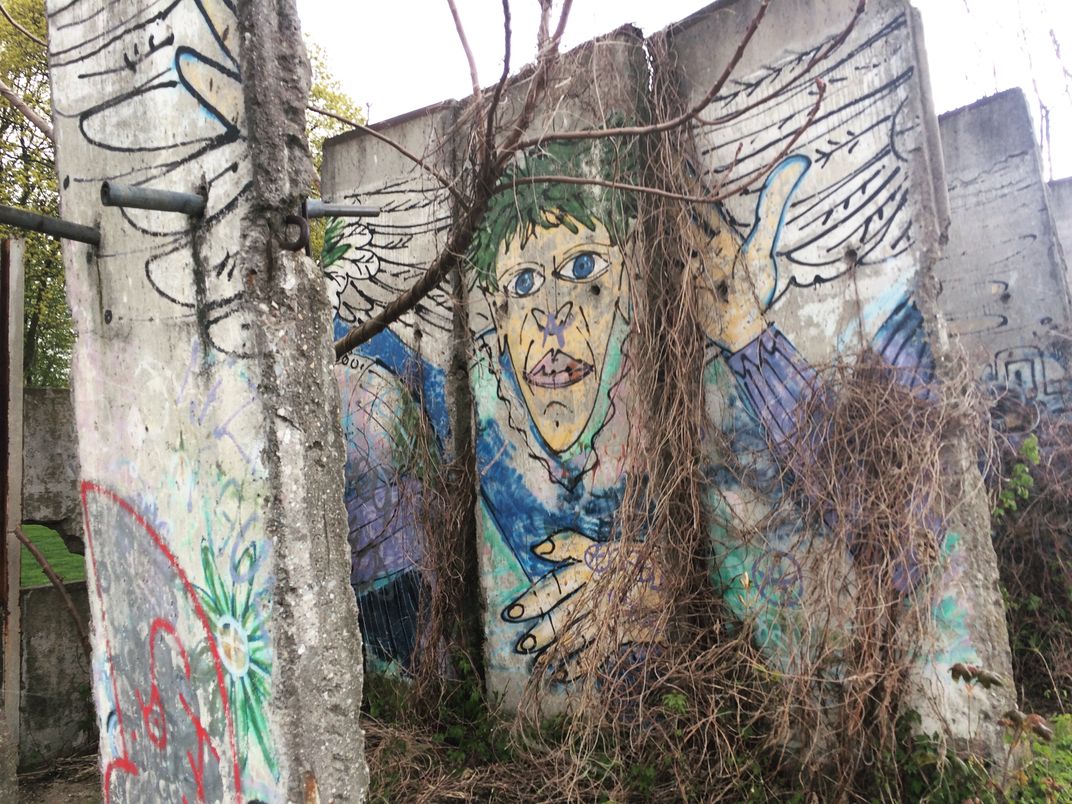 According to the German broadcast network Deutsche Welle, "Dau Freiheit" builds on an earlier performance artwork and filmmaking endeavor concocted by an eclectic Russian artist, Ilya Khrzhanovsky.
In 2005, Khrzhanovsky decided to film a biopic about Soviet scientist Lev Landau, a Nobel Prize-winning physicist and ardent supporter of free love. Landau's nickname, "Dau," provided inspiration for the project's title.
By 2009, the seemingly straightforward film had ballooned into a project of unseen proportions: As James Meek recounts for the London Review of Books, Khrzhanovsky erected an enormous set in the northeastern Ukrainian city of Kharkiv, Landau's one-time home and research base, and recruited hundreds of volunteers to populate his makeshift city for the duration of filming.
The community became known as the Institute, and from 2009 to 2011, its "residents" acted as if they were truly living in the mid-20th century Soviet Union, shunning smartphones, social media and similarly anachronistic practices. Those tempted by 21st-century inventions knew that Khrzhanovsky, who had equipped the set with surveillance cameras, was always watching, ready to dole out punishments ranging from simple fines to harsh interrogations ending in confinement alongside actual inmates hired out from the local Kharkiv jail.
"Hundreds of volunteers, few of them professional actors, were filmed living, sleeping, eating, gossiping, working, loving, betraying each other and being punished in character, in costume, with nothing by way of a script," Meek writes.
Over the course of the two-year shoot, several notable figures "infiltrated" the Institute. Marina Abramović, the self-proclaimed "grandmother of performance art," and German director Tom Tykwer both filmed segments set to be featured in the upcoming installation. Russian journalist Michael Idov wrote a GQ feature detailing life on the set, which he described as a "panopticon" that tends to draw participants in with all the finesse of a Venus flytrap.
Some crew members left their burgeoning careers behind in order to live full-time in Kharkov. Others brought their families to the set, or even started new families in this simulated world.
Khrzhanovsky's project is not without controversy: Idov's story featured a female crew member's account of a sexually inappropriate job interview with the director that left her "uncontrollably shaking with disgust." Another former staffer noted, "Working here is like being that guy who wanted to be killed and eaten, and finding a maniac who wants to kill and eat you. Perfect reciprocity."
Following reports of the upcoming Berlin Wall installation, local news outlet Der Tagesspiegel also published an investigation suggesting that much of the funding for both the original film project and the upcoming installation comes from Sergey Adoniev, a Russian businessman reputed to be a member of Vladimir Putin's inner circle.
Still, "Dau Freiheit" is poised to move forward. The installation will feature the world premiere of Khrzhanovsky's film, which has been stuck in production since the shoot's end, and promises to be, according to Berliner Festspiele head Thomas Oberender, "a mixture of social experiment, artistic experiment and ... an impressive form of world-building."
The project's overall aim, organizers concluded at a press conference, is to launch "a political and social debate about freedom and totalitarianism, surveillance, co-existence and national identity."