It Was Cold Enough This Winter to Go Ice Yachting on the Hudson River
This high-speed sport only happens when conditions are just right: a frozen river, lots of wind, and cold temperatures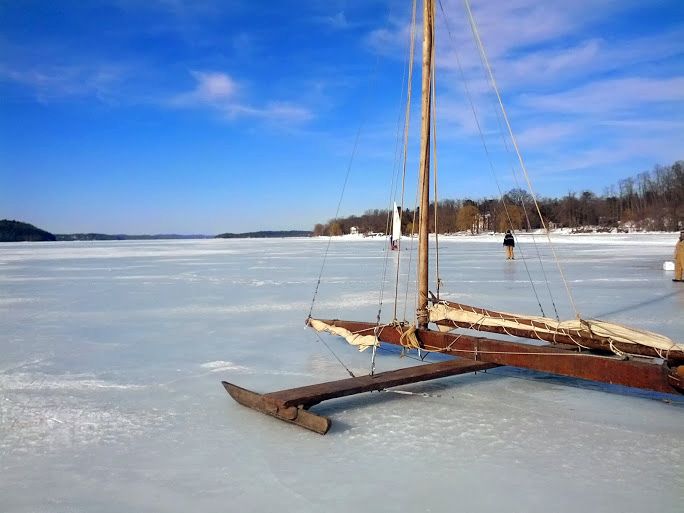 Most boat enthusiasts, be they fishermen, yacht owners or sailors, mourn the long, dark days of winter, when the weather is too forbidding to put their boats in the water. But for some groups in the Hudson Valley, the fun is just beginning when the river ices over. 
That's when they can bring out their ice yachts. An ice yacht looks kind of like a sailboat with the boat part cut off—instead, the yachts travel across the water on wooden blades, with only a miniscule seating area for the crew. To the untrained observer, it looks like a cross between a catamaran, windsurfing and ice skating. WNYC reports:
In the late 1800s, ice yacht races regularly drew huge crowds to the frozen Hudson River. The sport faded out as the 20th century rolled on, but the Hudson River Ice Yacht Club is still committed to restoring and sailing these antique wooden boats.

After several years with little or no sailing on the river, early March 2014 has brought the perfect conditions—a foot of smooth ice, extending for miles, from North Germantown to Rhinecliff. Ice like this hasn't been seen for a long, long time, and one recent afternoon, it drew a fleet of ice yachts to Astor Point, just north of the Kingston-Rhinecliff bridge.
Ice yachting (also known as ice sailing) is popular in other parts of the world, with World Championships held in Europe, and races held around the world, including on Lake Baikal.
The ice yachts in New York can reach speeds from 40 to 80 miles per hour, skimming across the surface of the ice in the bitter cold. ABC News reported: 
The crews are keeping alive a tradition from the 19th century when winter days might bring thousands of people out to the ice at nearby Poughkeepsie to watch the ice boats race, said the Hudson River Ice Yacht Club's John Sperr.

"A lot of the old stern-steering boats got rebuilt and put back together and pushed into service. That's our mission right now — to try to keep these old yachts going," Sperr said. "We don't want to put them in a museum where nothing ever happens to them."
Warmer winters mean that the really large yachts can't go out all that often. But last weekend conditions were right for a few 50-foot-long, century-old boats were able to take another spin on the ice.
Warmer winters haven't just changed the fun on this side of the Atlantic, either. While ice yachting can still take place in colder climates, the last Frost Fair (basically a massive party) was last thrown on the Thames 200 years ago—the most recent time that the ice froze thick enough for the fair grounds to be constructed on the ice.