Huge Chunks of Blue Ice Appear on Lake Michigan's Straits of Mackinac
Blue ice isn't actually blue, it just appears that way because of how light is reflected on it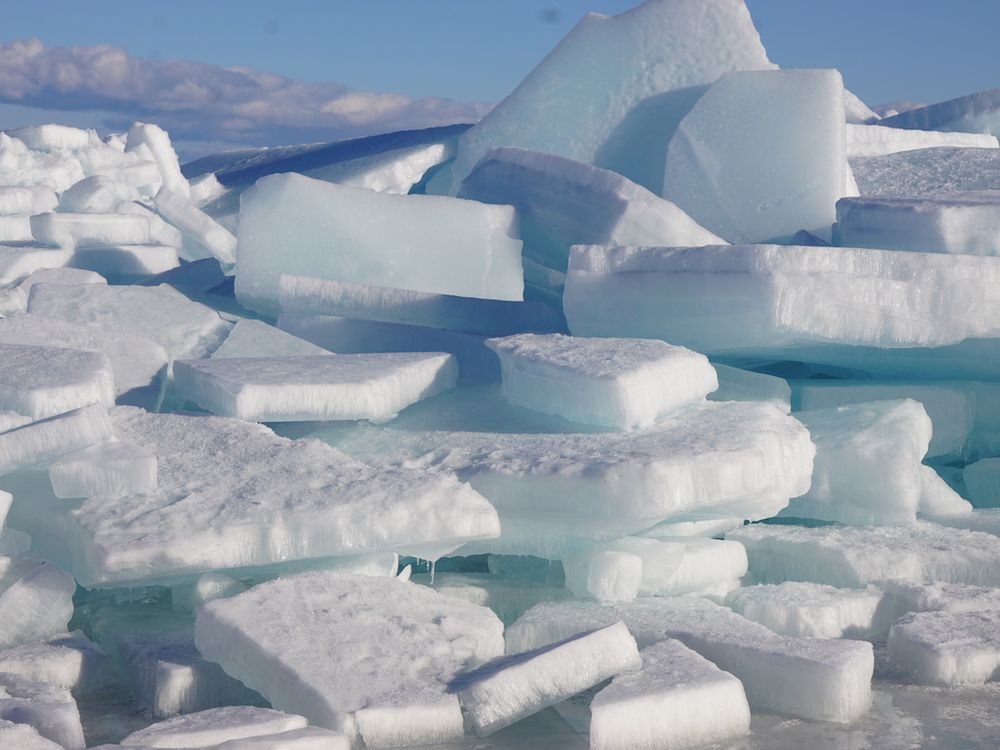 Crowds near the Mackinac Bridge in Michigan have gotten a rare glimpse at a beautiful phenomenon.
In Straits of Mackinac, which connects Lake Michigan and Lake Huron, huge chunks of blue ice have appeared, bringing photographers and visitors to the scene, as Cheryl Santa Maria reports for The Weather Network.
Blue ice has appeared before at the Great Lakes, but rarely to this extent, reports Meghan Bartels for Newsweek. The phenomenon is much more common on glaciers in Antarctica and the North Pole.
The ice itself is not actually blue.
George Leshkevich, physical scientist emeritus at National Oceanic and Atmospheric Administration's Great Lakes Environmental Research Laboratory, explains to Michigan Radio's Stateside that it just appears blue because of how light is reflected on it.
"People call it 'blue ice,'" he says. "It [happens] because of three processes. One is that water absorbs other colors of the spectrum, the second is the lack of bubbles in the ice, the third is the ice thickness and density. And they're all factors in what causes this phenomenon."
Through the process of selective absorption, Leshkevich explains, the water absorbs blue wavelengths, and the density and lack of bubbles in the ice allows the wavelength to penetrate further. Light reflected from the ice then appears blue.
"It can occur probably anywhere on the Great Lakes," he says. "You have to start out with fairly clean, clear water."
As Bartels writes, it's more common for ice to have more bubbles of air, reflecting all colors of light more evenly. This gives the ice cubes you'd find in your water glass a white appearance.
Local photographer Tori Burley tells Bartels this is the most blue she's seen there. "Every year it comes up, but it doesn't crash into the shore the way it seems to have this year. When you think of ice, you think of ice on the ground, ice cubes—not bigger-than-your-car pieces of ice."
Leshkevich explains to Stateside that ice can be moved around by the wind. That has allowed it to pile up and wash up on the shore.
The area recently experienced below freezing temperatures, allowing the blue ice to stick around longer.