How Siberian Huskies Get Their Piercing Blue Eyes
A new study suggests that the defining trait is linked to a unique genetic mutation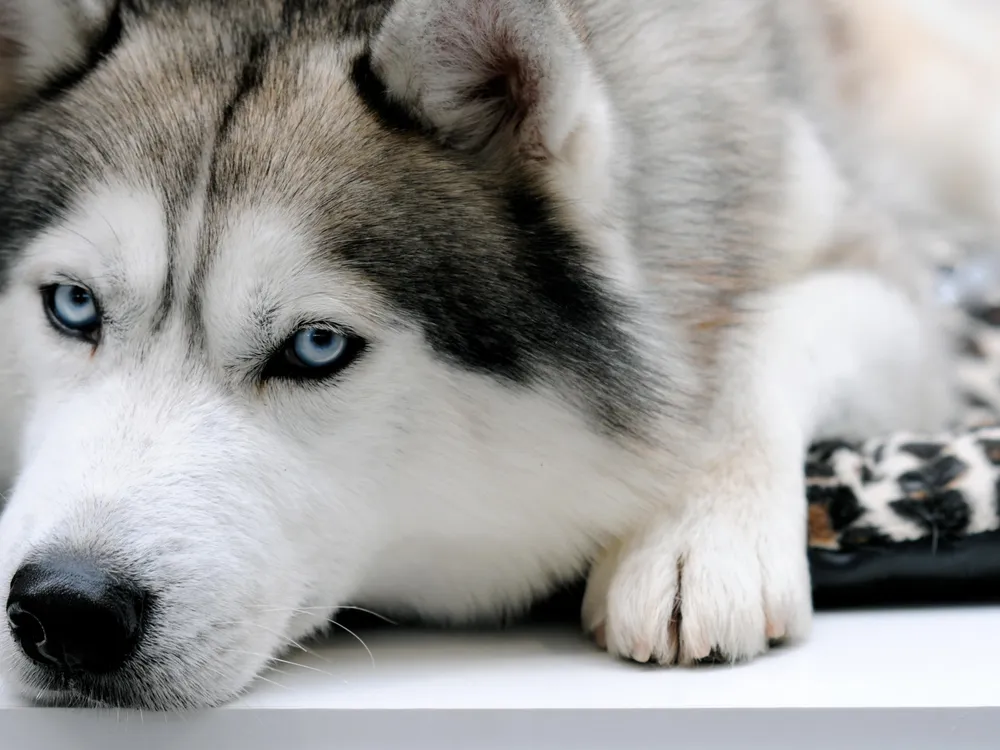 At-home DNA kits have become a popular way to learn more about one's ancestry and genetic makeup—and the handy tests aren't just for humans, either. Dog owners who want to delve into their fluffy friends' family history and uncover the risks of possible diseases can choose from a number of services that screen doggie DNA.
As Kitson Jazynka reports for National Geographic, one of these services, Embark Veterinary, Inc., recently analyzed user data to unlock an enduring canine mystery: How did Siberian huskies get their brilliant blue eyes?
Piercing peepers are a defining trait of this beautiful doggo. According to the new study, published in PLOS Genetics, breeders report that blue eyes are a common and dominant trait among Siberian huskies, but appear to be rare and recessive in other breeds, like Pembroke Welsh corgis, old English sheepdogs and border collies. In some breeds, like Australian shepherds, blue eyes have been linked to patchy coat patterns known as "merle" and "piebald," which are caused by certain genetic mutations. But it was not clear why other dogs—chief among them the Siberian husky—frequently wind up with blue eyes.
Hoping to crack this genetic conundrum, researchers at Embark studied the DNA of more than 6,000 pooches, whose owners had taken their dogs' saliva samples and submitted them to the company for testing. The owners also took part in an online survey and uploaded photos of their dogs. According to the study authors, their research marked "the first consumer genomics study ever conducted in a non-human model and the largest canine genome-wide association study to date."
The expansive analysis revealed that blue eyes in Siberian huskies appear to be associated with a duplication on what is known as canine chromosome 18, which is located near a gene called ALX4. This gene plays an important role in mammalian eye development, leading the researchers to suspect that the duplication "may alter expression of ALX4, which may lead to repression of genes involved in eye pigmentation," Aaron Sams of Embark tells Inverse's Sarah Sloat.
The genetic variation was also linked to blue eyes in non-merle Australian shepherds. Just one copy of the mutated sequence was enough to give dogs either two blue eyes, or one blue and one brown eye, a phenomenon known as "heterochromia." It would seem, however, that duplication on chromosome 18 is not the only factor influencing blue eye color: Some dogs that had the mutation did not have blue eyes.
More research into this topic is needed to understand the genetic mechanisms at work when it comes to blue-eyed dogs. But the study shows how at-home DNA kits can be highly valuable to scientists, providing them with a wealth of genetic samples to study.
"With 6,000 people getting DNA samples from their dogs and mailing them to a centralized location and then filling out a website form detailing all the traits of their dog—that's a game-changer for how genetics is being done in the 21st century," Kristopher Irizarry, a geneticist with the College of Veterinary Medicine at Western University of Health Sciences, tells National Geographic's Jazynka.
The benefits of having access to such huge troves of data go further than uncovering nifty insights into our canine companions. Scientists are also teaming up with at-home DNA test companies to learn more about human genetics and behavior.