How to Save Family Heirlooms from Natural Disasters
It isn't easy to save cultural heritage from the ravages of nature, but a national task force thinks it's worth trying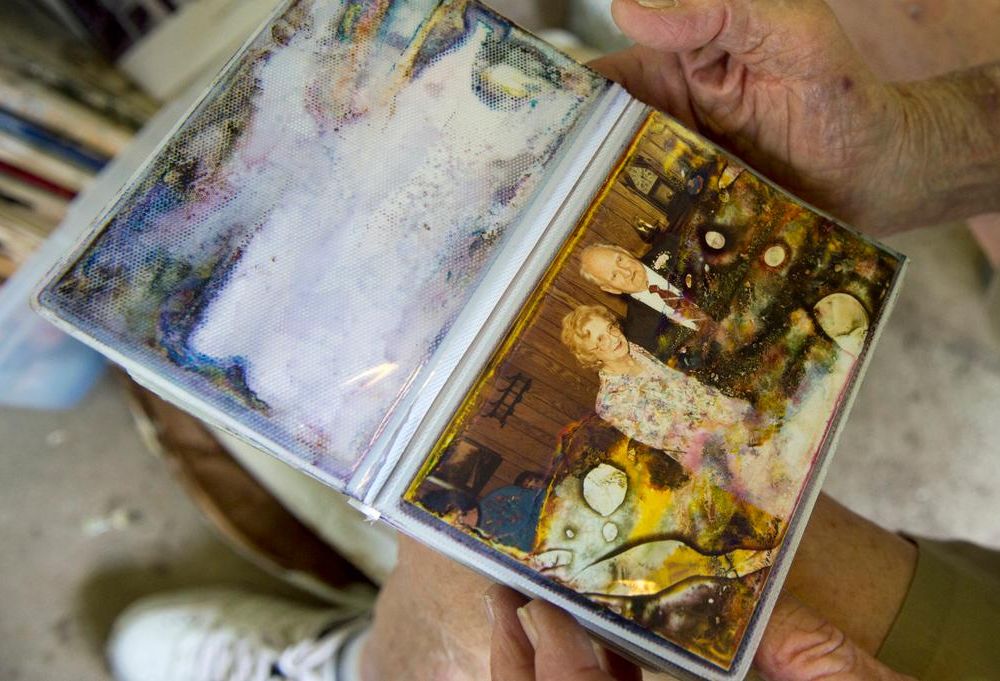 Storm surges and extreme winds. Flash floods and power outages. Hurricane Matthew is unquestionably dangerous for humans, but when the winds calm and the waters subside, it will doubtless have damaged something else—precious personal and cultural artifacts that are now wind-shredded or waterlogged.
As scary as it may seem, disasters are inevitable. As the International Council on Monuments and Sites notes, natural disasters only heighten the fate that already challenges both conservators and individual collectors who are trying to preserve history. Of course, they also add wind, water, fire and other factors to the mix—endangering irreplaceable treasures. Earlier this year, for example, an earthquake struck Italy, destroying ancient buildings and reducing cultural artifacts to rubble. Though preservationists have managed to salvage more than 300 paintings and sculptures from the disaster, as the PBS NewsHour's Christopher Livesay reported, it's still not clear how much has been lost.
But not all artifacts face certain doom from hurricanes, floods or quakes. The Heritage Emergency National Task Force, co-sponsored by the Smithsonian Institution and FEMA, brings together 42 national service organizations and federal agencies to help protect cultural treasures during emergencies like Hurricane Matthew. The group not only helps advise cultural institutions on how to stay safe during emergencies, but directs resources and information to heritage and preservation groups after natural disasters.
Earlier this year, for example, the task force was on hand in Louisiana after catastrophic flooding wiped out thousands of homes. The group helped homeowners assess their water-damaged keepsakes and figure out how to salvage and save possessions that got wet.
For Smithsonian experts, it's all part of their Cultural Rescue Initiative, a global effort that came out of the Institution's international partnership to help recover cultural artifacts in Haiti after the 2010 earthquake. The initiative has since expanded, providing preservation response to everything from Hurricane Sandy in 2012 to the 2015 Nepal earthquake, and helping train conservators and cultural institutions staff to plan for and respond to catastrophic emergencies.
"Disasters don't care what culture you are," Stacy Bowe, who works within the Smithsonian Cultural Rescue Initiative, tells Smithsonian.com. "Unfortunately, they're very effective at impacting culture." After ensuring the safety of human life and making sure that your family and loved ones are safe, she says, cultural heritage should be considered a priority, too—especially since everything from personal photo albums to beloved local churches can help people bounce back from disasters and personal losses.
Lori Foley, Administrator at HENTF, agrees. "If it matters to you, then it matters," she tells Smithsonian.com. She calls personal treasures the things that can help people recover. Foley, who has been helping people in Baton Rouge salvage their cultural heritage, has seen the strength disaster survivors pull from the things that make up their personal histories—and hopes that Hurricane Matthew will serve as a wake-up call to individuals and institutions as to the importance of preserving and salvaging items of cultural significance. "You don't realize it's important until it's gone."
Here are a few tips for preparing and dealing with natural disasters that could threaten your most prized possessions:
Take Your Stuff Seriously: Foley says that too often, people don't realize how meaningful their things are until they're gone. Even if nobody else would think that your favorite photo or "your grandma's gumbo recipe" is significant, says Foley, the things you love can help you heal and move forward. Take a moment to consider what possessions are most important to you, she suggests, then think about how you'll save or salvage them in case of emergency. If at all possible, says Foley, include the items in your emergency kit or close by so that you can grab them without having to think when emergency strikes. "You can be prepared to salvage the things you care about," says Foley. "At least put them in a safe place."
Location, Location, Location: Consider where your most valuable or culturally significant artifacts sit inside your house. Move them from areas that are vulnerable to flooding or rain and away from windows, the floor, and the basement. If you have time, cover up delicate materials with plastic sheeting.
Be Prepared: Track the storm (you can use this link to find out where Hurricane Matthew is headed) and have a disaster plan. Whether you work at a cultural institution or just want information on ways you can salvage your stuff after an adverse event, consider downloading the free ERS: Emergency Response and Salvage app. The app gives hands-on advice on how to assess multiple kinds of cultural artifacts immediately after a disaster, from freezing some photos to figuring out what to focus on.
Get Advice: If disaster does strike the things you care about most, you're not alone. The National Heritage Responders, a team of trained conservators and collections professionals, are available for advice to anyone who needs it 24/7 at 202-661-8068. FEMA also has some helpful tip sheets, like one on how to salvage flood-soaked or fire-ravaged family treasures, here.