How the Arrival of One Bird Brought $223,000 to a Pennsylvanian Town
The rare black-backed oriole showed up outside Reading, Pennsylvania, and birdwatchers flocked to the scene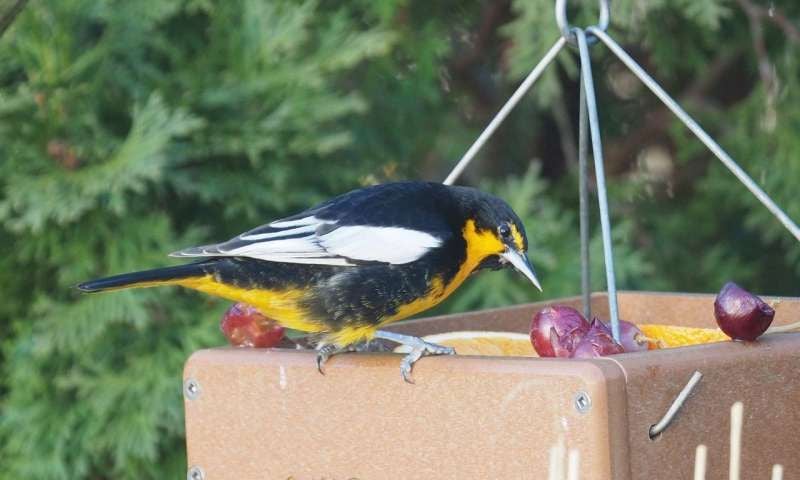 At almost any given time, there's an unusual bird that has gotten lost. Perhaps it missed some migration cue or was blown off course by winds. For example, this week, a Eurasinan mistle thrush showed up in New Brunswick, the first time this bird has been seen on the continent. An irruption of snowy owls recently flocked to the northern U.S., creatures that normally live and breed in much colder climates. For each of these events, there are legions of bird enthusiasts ready and willing to drive for a few hours—or even a few days—to catch a glimpse of these avian vagrants. 
While it might seem like a very specialized (and very nerdy) thing to do, a new study in the journal Human Dimensions of Wildlife suggests that all that bird-chasing adds up to big bucks. Examining the impact of a single rare bird, the researchers found that it brought $223,000 to the local economy.
That gold-plated bird was a black-backed oriole, Icterus abeillei, which typically only lives and breeds in the mountains of central Mexico. In January 2017, an eagle-eyed bird watcher found the unusual animal at a feeder in someone's yard in Lower Heidelberg Township, a suburb of Reading, Pennsylvania, reports Bill Uhrich at the Reading Eagle. It was only the second time the bird had been found anywhere in the U.S.
A veritable frenzy ensued.
"More than 1,800 birders from all over the Unites States and parts of Canada came to see the Black-backed Oriole," Corey Callaghan, a PhD candidate at the University of New South Wales and lead author of the paper, says in a press release. "The bird stayed for 67 days, until 10 April, and we estimate this ecotourism event generated more than $3,000 a day for the local and extended economy as a result of the travel, food and accommodation costs of the avitourists."
To come up with these numbers, the researchers examined a logbook of visitors kept by the family hosting the rare creature. They also surveyed some of the bird watchers about how much time and money they spent on their avian visit. According to the paper, 1,824 people signed the logbook, including two who traveled from the United Kingdom and 15 from Canada. These people were excluded, however, since it was not possible to determine if they traveled exclusively to see the bird.
From these numbers, the researchers found that 57 percent of visitors traveled 60 miles or less, while 28 percent traveled 30 miles or less. Nine percent traveled 300 miles or more and three percent made a journey of 600 miles or more to see the oriole.
While finding a vagrant bird is a relatively rare and specialized event, bird watching in general—whether it's just watching a feeder from a bedroom window or spending a day on a boat using $2,000 binoculars to see a rare sea bird—is big business. A 2011 analysis showed the nation's 45 million birdwatchers spent $41 billion annually on trips and equipment as well as spending $14.9 billion on food, hotels and transportation, according to the U.S. Fish & Wildlife Service. Wildlife watchers in general spend more than $75 billion per year on getting a glimpse of particular birds.
In the paper, the researchers argue that the study shows the need for lawmakers and land managers to consider the economic impact of biodiversity when making decisions about habitat conservation. "This study provides a small but valuable piece of economic evidence for policy-makers to incorporate in their assessment of the potential economic value of the environment, including vagrant birds, which are ultimately dependent on the persistence of biodiverse natural habitat," they write.
So how did a super-rare oriole make it to Pennsylvania in the first place?
Uhrich reports that at first, bird watchers thought it might be an escaped captive bird. But a database search turned up no black-backed orioles that escaped from zoos, and captive birds usually have unusual wear-patterns on their feathers that weren't present on the visitor. Several powerful and unusual storms swept through central Mexico in early 2017, one of which could have carried the bird to the U.S. A black-backed oriole was also found in Massachusetts in May 2017, possibly the same individual that flew the coop in Pennsylvania in April. 
But bird experts still have there doubts about the animal's origin. The Massachusetts Avian Records Committee decided that it was likely a captive bird that had escaped, meaning that it doesn't count on the official life list of wild birds that most hard-core birders keep. A sighting in San Diego in 2000 was also determined to be a likely captive escapee, which means that a wild black-backed oriole has never officially been recorded north of Mexico.
Birders will just have to spread the wealth around until they find the real deal in someone else's back yard.