Hong Kong Will Phase Out Ivory Trade by 2021
Conservationists hope the ban will help preserve the dwindling elephant populations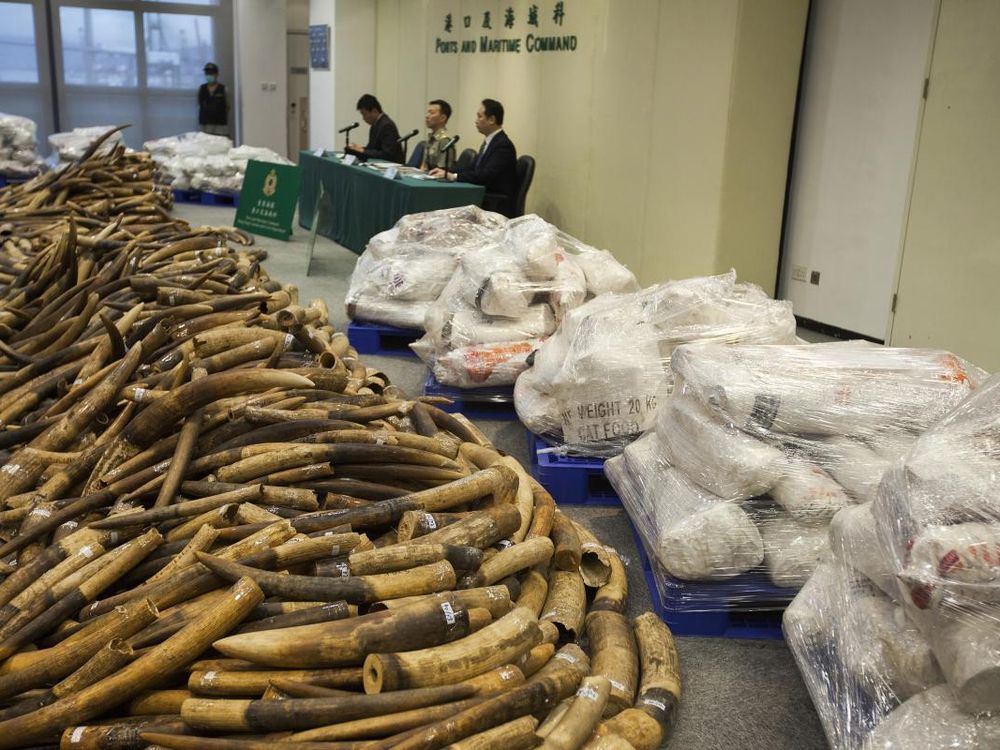 Yesterday, the Hong Kong Legislative Council voted 49 to 4 to phase out the sale of antique ivory. As Tiffany May at The New York Times reports, the city will ban all sale of ivory, new and antique, by 2021, closing a system that poachers have previously exploited.   
The move will help staunch a significant player in the ivory market, which drives the destruction of elephant populations. In recent years, the United Nations estimates that poachers kill up to 100 elephants each day, which has devastated their populations.
Hong Kong ivory is regulated separately from Mainland China. Previously the world's largest ivory market, a Chinese ivory ban went into effect at the end of 2017. International trade of ivory in Hong Kong has, however, been banned since the 1989 agreement under the Convention on International Trade in Endangered Species of Wild Fauna and Flora (CITES). But as May reports, it was still legal in Hong Kong to sell antique ivory that had been acquired before the 1970s. And under this loophole the ivory trade continued for both antique and fresh tusks. 
Ivory trade began in Hong Kong 150 years ago and has continued to grow since, according to the BBC. And the market has marched on under the antique ivory loophole. In fact, last July Hong Kong authorities seized 7.2 tons of elephant tusks hidden under a shipment of frozen fish from Malaysia, the largest ivory bust.
"Today is a great day for elephants." WildAid Hong Kong Campaigner Alex Hofford says in a statement. "Hong Kong has always been the 'heart of darkness' of the ivory trade with a 670 tonne stockpile when international trade was banned in 1989." 
The new ban will be implemented in phases to give traders time to sell off their stocks and artisans to find new lines of work. The first phase will ban hunting trophies and ivory harvested after 1975. Later, any ivory obtained before 1975 will be banned and traders must get rid of all ivory by 2021. The new plan will also enforce harsher penalties for ivory smuggling, including a maximum prison sentence of 10 years and fines to $1.3 million, reports Jani Actman for National Geographic.
Since China's ban was announced, the price for raw ivory has plummeted by 65 percent as ivory smuggling became increasingly difficult, May reports. Closing the market in Hong Kong may depress prices even more, which conservationists hope will help reduce poaching in Africa.
While polls show a large majority of people in Hong Kong favor the phase out, not everyone is supportive. May reports that some critics say the ivory trade has cultural and historical significance and should be preserved. Others think the government should buy out traders and place the ivory in museums. Others argue that it's unreasonable to ask elderly artisans to change careers.
Conservationists argue that government payments for ivory would likely spur a renewed round of poaching, and that traders and artisans have been on notice for 30 years that the ivory trades was on its way out.
After Hong Kong shuts down, WildAid reports that Japan will remain a large open ivory market, and it has little in the way of regulation. Thailand also allows the ivory trade, but has recently implemented restrictions and is also contemplating a ban.