Hong Kong Fell in Love With This Larger-Than-Life Rubber Duck
The popular 46-foot-tall inflatable art installation returns to Victoria Harbor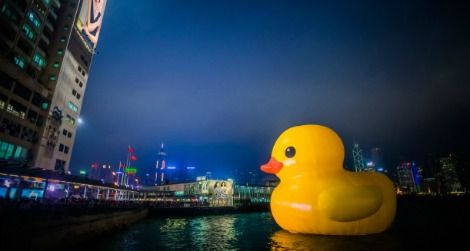 Earlier this month, a new type of waterfowl paddled into Victoria Harbor in Hong Kong. The bird was of the plastic variety: specifically, the world's largest inflatable rubber duck, measuring 46 feet tall and 55 feet long.
The floating sculpture migrated to the harbor by tugboat on May 4 after stops in Sydney, Osaka and Sao Paolo. The art installation, created by Dutch artist Florentijn Hofman, drew thousands of camera-toting locals and tourists to the Tsim Sha Tsui waterfront.
But last week, the six-story-tall duck was temporarily deflated for maintenance, distressing its rapidly growing fan base as it bobbed helplessly in the water. It wasn't pretty.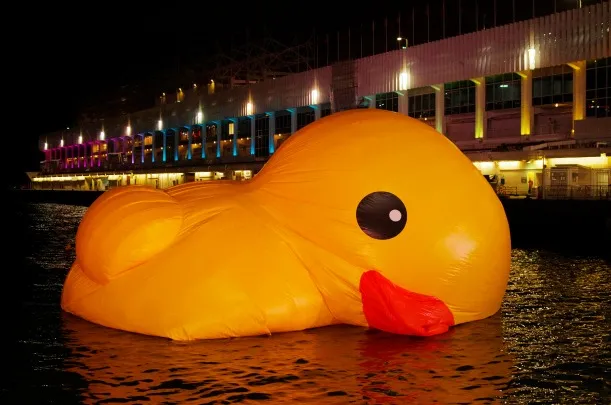 Harbor officials didn't immediately explain why the duck had crumpled, and rumors spread. There were enough claims that the bird had been deflated by mainland Chinese tourists that the state-run China Central Television issued a statement denying the rumor.
But the duck returned to its full size today, announcing on Twitter:
Thanks for all the support everyone! I am all freshen up! twitter.com/hkharbourcity/…

— Harbour City (@hkharbourcity) May 21, 2013
Fans rallied behind the inflatable bird, tweeting well-wishes. Since its debut, the popular bathtime companion has become something of a beloved national icon. The International Herald Tribune reports:
Thousands gathered around the waterfront when "Rubber Duck" made its debut May 2. Since then, countless duck-themed products have shown up at shops and restaurants. Teenagers are wearing rubber-duck outfits, and tourist kiosks are selling rubber-duck postcards. Its smiling face was even seen at the Cheung Chau bun festival, a 200-year-old tradition on an outlying island.

The South China Morning Post, the main English-language broadsheet, has published no fewer than 19 articles, opinion pieces and blog posts about it. One editorial, "Giant Rubber Duck Has United the City," argued that it did more to inspire Hong Kongers than a recent government drive to raise morale.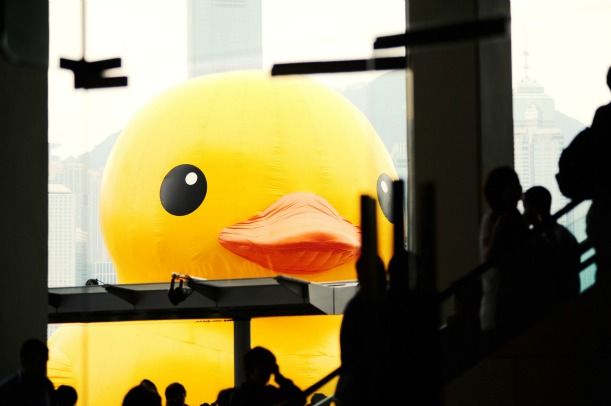 The inflatable rubber duck will remain in Victoria Harbor until June 9.
More from Smithsonian.com:
The Many Uses for Gigantic Balloons