The History of Presidential Politics' Most Important Dinner Date
For decades, the Al Smith Dinner has helped Catholic voters dine and decide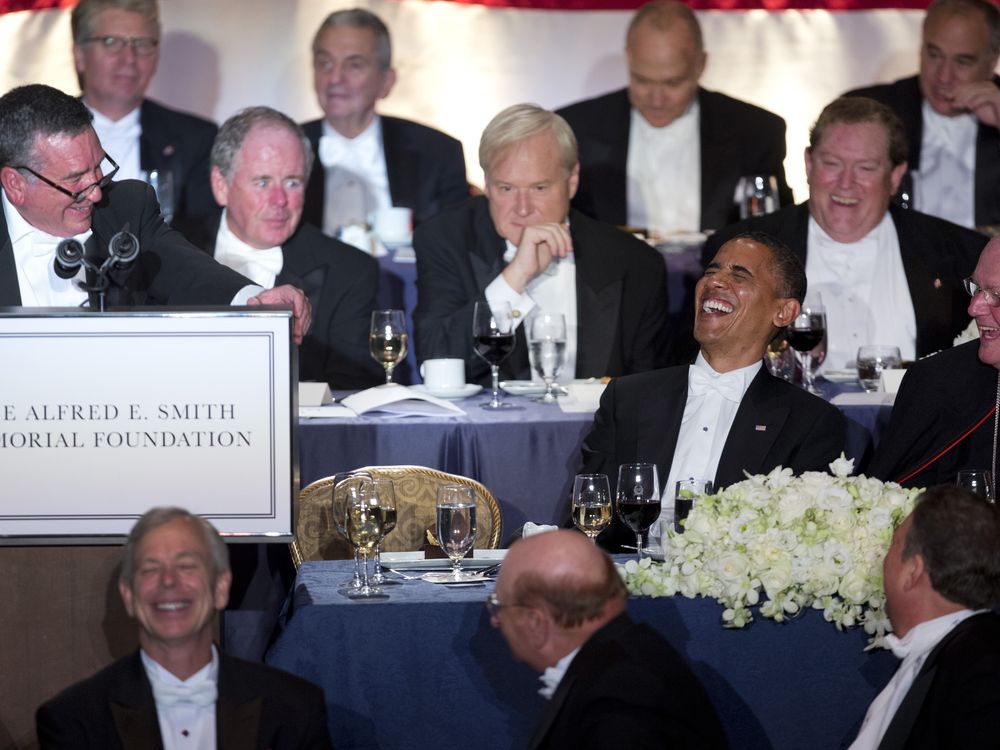 On Thursday night, Donald Trump will have dinner with Hillary Clinton. No, the candidates haven't declared a truce—they'll be headed to the Waldorf-Astoria Hotel in New York for one of the election season's almost mandatory events. It's called the Alfred E. Smith Memorial Foundation Dinner, and it's been a political must in the tradition of the White House Correspondents' Dinner.
Alfred E. Smith, the former presidential candidate after whom the dinner is named, was a four-time governor of the state of New York before he ran for president in 1928. But his Catholicism ended up being a major sticking point for voters, who accused him of colluding with the pope and ran a months-long smear campaign based on his religion. Smith was roundly beaten by Herbert Hoover, and died in 1944. After the 1928 election, he never held political office again. But the dinner in his name has now held court among the political elite for decades. 
The function, which has been held every year since 1945, is hosted by the Alfred E. Smith Memorial Foundation and intended to raise money for grants that support a group of Catholic charities for kids in need like the Elizabeth Seton Pediatric Center and Astor Services for Children and Families. But it's long been a political ritual. Guests pay big money (a table can go for upwards of $100,000, and it's $3,000 a pop for an individual ticket), then watch as the two guests of honor—the Republic and Democratic presidential nominees—give roast-like speeches.
Over the years, the dinner has morphed from a stodgy, white-tie affair to a more lighthearted white-tie affair, thanks in part to America's first Catholic president, John F. Kennedy. In 1960, both Kennedy and his political rival, Richard Nixon, were guests of honor at the dinner. The year before, Kennedy had given a rousing speech in honor Smith, calling on people to look to the leadership of people like him to combat a loss of "perspective and drive" among Americans.
But in 1960, Kennedy's tune changed when he dined with his Republican opponent. He gave a speech roasting his rival, including Nixon's penchant for cussing and his questionable political tactics. Nixon responded with a less witty speech about the role of religion in society and, according to T. Carly's history of Kennedy's Catholic politics, later mocked Kennedy for wearing a less-formal black tie to the dinner.
The dinner that salutes Smith isn't just a chance to rib the competition; it has long been considered a vital way to reach out to America's Catholic constituency. Though there has only been one Catholic president, one in five Americans identified as Roman Catholic in 2015, according to Pew Research.
The demographics and political priorities of American Catholics have changed in recent years, but the dinner, which is traditionally hosted by the Archbishop of New York, is seen as a bastion of traditional Catholic values. That has generated tension for some pro-choice candidates in the past, and in 2004 Democratic nominee John Kerry was not invited, reportedly due to his views on abortion. (Incumbent President George W. Bush was not invited, either.) And in 1996, the candidates were not invited either, reportedly due to then-President Clinton's veto of a late-term abortion ban.
In the past, the dinner was sometimes the only time during which opposing candidates would sit in the same room outside of the debates. Nowadays, it marks the imminent end of the election season and signals that it's nearly time to wrap things up and vote. Given the tenor of the 2016 election, it's anyone's guess as to how Clinton and Trump's dinner date will go—but given its long, hilarious history, it's likely that everyone in attendance will bring their best table manners to the big event.