The Long, Adorable History of Pandas in America
Su Lin was the first giant panda to come to America, landing in San Francisco in 1936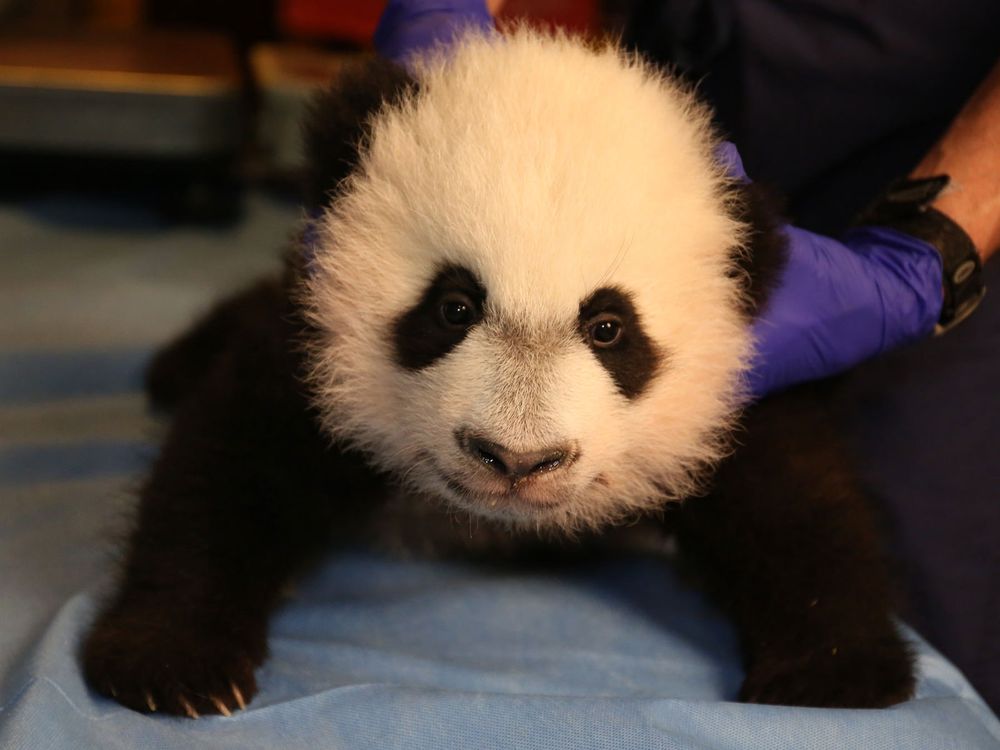 We love pandas. Especially baby pandas.
The first giant panda to leave China arrived in California in December 1936. Except it wasn't so giant then: it was a three-month-old cub named Su Lin, carried in the arms of American socialite Ruth Harkness. National Geographic has this photo of Su Lin and Harkness. "It was the moment America fell in love with the giant panda," writes Chris Heller for Smithsonian.com.
After Su Lin's arrival, pandas became big business in the United States, he writes, with zoos clamoring to host the animals (often captured from the wild). By the end of the 1930s, pandamania was in full force. "Everyone from Helen Keller to Al Capone couldn't resist the chance to visit a panda," he writes.
Between 1936 and 1946, the World Wildlife Federation (WWF) writes, a total of 14 pandas were taken from China by foreigners. In that last year, China closed the door to foreign panda hunters, writes the WWF. By the early 1950s, Heller writes, "the number of pandas in America had dwindled to zero: Su Lin and two others, Mei-Mei and Mei-Lan, had died at the Brookfield Zoo; the Bronx Zoo's four were dead; and the Saint Louis Zoo had recently mourned its last one, Pao Pei."
No more pandas would leave China until 1957, when China, seeing outside interest in the panda, started leveraging the cuddly animal. The first panda to leave the country post-Communist Revolution was Ping Ping, writes Zhan Qianhui for China Daily, who was sent to the Soviet Union as a gift. "However, Ping Ping didn't make the fourth year in Moscow due to the difference in climate," Zhan writes.
But it wasn't until President Richard Nixon's historic visit to China in 1972, that the United States saw another panda. After Nixon's visit, the United States was gifted two, Ling-Ling and Hsing-Hsing. They lived the rest of their lives in the National Zoo. "Eight thousand people stood in the rain for a half-hour or longer to watch the pandas when they first went on display," wrote D'Vera Cohn and Brooke A. Masters for The Washington Post when Ling died in 1992. Although the pandas had five cubs over the years, Cohn and Masters wrote, none survived more than a few days. However, Smithsonian scientists were able to learn a lot about panda breeding, writes the National Zoo.
Since the mid-1980s, China has not given pandas as gifts to foreign nations, but rather loaned them. Today, cooperative breeding programs like the ones that brought Mei Xiang and Tian Tian to the National Zoo are an important part of panda conservation. The panda couple has had three three surviving cubs: Tai Shan, Bao Bao and Bei Bei. Tai Shan moved to China in 2010, while Bao Bao is leaving in late 2017. Until then, you can watch Bao Bao on the Panda Cam.
"Everyone is enormously excited about baby pandas because they are undeniably attractive," conservation ecologist Stuart Pimm told National Geographic in 2013. "So by having pandas in zoos it really engages people--it really is about getting people to care, and that's important."
Earlier this fall, Smithsonian.com reported that giant pandas have been moved off the endangered species list because its natural habitats are being preserved, in part because of intense interest in the adorable creature's fate. But the panda's new status doesn't mean it's safe, writes Ed Yong for The Atlantic:
...more that its situation isn't as imminently dire as it was before. It's still threatened, but it has more time before extinction comes knocking. Still, you take your victories where you can get them in conservation, and the panda's new grade is a rare spot of good news. It suggests that all the effort poured into saving this species is paying off, and it adds to debates about whether that effort has been worth it.