Highest Peak in South Dakota Renamed for Oglala Lakota Medicine Man
A federal board has officially changed South Dakota's Harney Peak to Black Elk Peak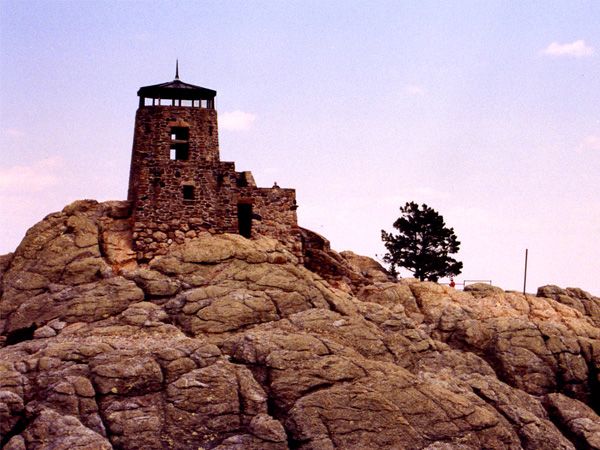 Last week, the United States Board on Geographic Names voted 12-0 with one abstention to officially rename Harney Peak in South Dakota's Black Hills National Forest to Black Elk Peak. This isn't just any peak, as James Nord reports at the Associated Press: The 7,242-foot promontory is the tallest point in South Dakota. The change, which will be enacted on Federal maps, signs and other documents, is a big win for Basil Brave Heart, an author and elder of the Oglala Lakota Nation. Brave Heart proposed the change in the fall of 2014, upset that such a prominent spot in the Black Hills—a sacred region for the Lakota—was still honoring a U.S. general who had earned the nickname "Woman Killer" among the Lakota.
Harney Peak's name came from William Harney, a Civil War general who also commanded troops during the Black Hills War, Seth Tupper reports at The Rapid City Journal. After 30 soldiers were killed by the Lakota in 1854, the U.S. government demanded retaliation. Harney and his troops were tasked with the job, and the following year they conducted a raid on a Lakota encampment in Ash Hollow, along the Platte River in Nebraska. During the battle an estimated 86 Lakota were killed, including women and children, Gregory Korte reports for USA TODAY.
"I don't want to see a peak that's named after someone that violated women and children," Brave Heart told Nord in 2015. "Our people had to live under that icon, that man who did that to our people."
He proposed that the peak be named Nicholas Black Elk, instead. Black Elk was an Oglala Lakota medicine man who lived between 1863 and 1950, and witnessed many changes in Native American life and culture. He performed in Buffalo Bill's Wild West Show and fought at Wounded Knee. His 1932 life story, Black Elk Speaks by John G. Neihardt, has sold almost a million copies.
The South Dakota Board on Geographic Names considered the change and ultimately rejected it last year, Tupper reports. Many local politicians and state legislators objected to the name change. The federal board, however, ultimately sided with Brave Heart. "One of the guiding principles for the [U.S. Board on Geographic Names] is to adopt for official federal use the names found in present-day local usage. However, an exception to this principle occurs when a name is shown to be highly offensive or derogatory to a particular racial or ethnic group, gender, or religious group," explains the USGS in a press release.
Lou Yost, executive secretary of the BGN says in the release that the board saw how the name Harney Peak being used for a traditional sacred site was "distressing." "For that reason, there was a unanimous decision to change the name of the peak to Black Elk Peak," says Yost.
Governor Dennis Daugaard objects to the change, saying in a short statement, "I am surprised by this decision, as I have heard very little support in South Dakota for renaming Harney Peak. This federal decision will cause unnecessary expense and confusion. I suspect very few people know the history of either Harney or Black Elk."
Wayne Frederick, a council member of the Sicangu Oyate Lakota, tells Nord that he was in disbelief when he heard the news. "[Black Elk] is definitely a very powerful visionary that is at least deserving of the peak's name," he says. "It's extremely uplifting."
The acreage around the peak is already named the Black Elk Wilderness Area. Though the name is officially changed for all federal documents, the state of South Dakota will not be required to make any changes to its maps or publications.