Here's What Malcolm X Thought About Race in 1964
A revealing postcard to Redd Foxx is up for auction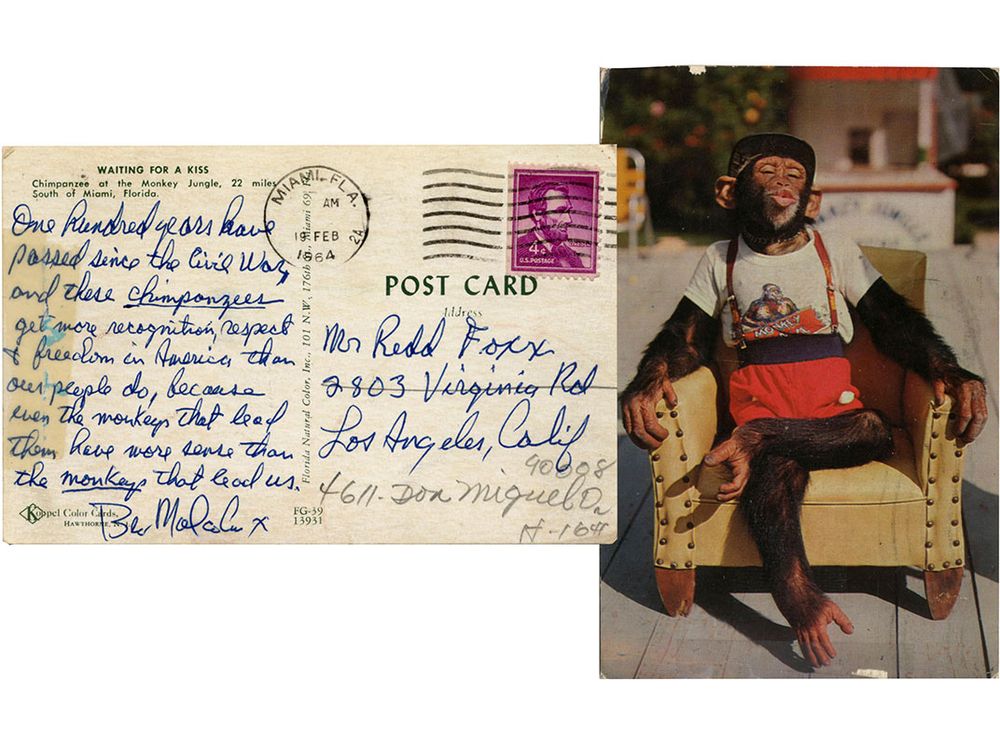 Malcolm X wasn't ever one to mince words—after all, the civil rights activist and black nationalist was known for saying "Be peaceful, be courteous, obey the law, respect everyone; but if someone puts his hand on you, send him to the cemetery." But what did the influential African-American have to say about race when he wasn't giving speeches or calling out the United States on discrimination, segregation and racial bias? A revealing postcard to be auctioned later this month gives a glimpse into the leader's mindset just a year before his assassination.
The postcard, which will be auctioned by Nate D. Sanders Auctions on July 21, was sent by Malcolm X to his longtime friend, comedian Redd Foxx, in February 1964. Foxx was the stage name of John Sanford, whom Malcolm X famously referred to as "Chicago Red" in The Autobiography of Malcolm X. "Chicago Red was the funniest dishwasher on this earth," wrote Malcolm X, who was nicknamed "Detroit Red" alongside his friend. On the back side of the postcard, which features a chimpanzee in a humorous pose, Malcolm X wrote: "One hundred years have passed since the Civil War, and these chimpanzees get more recognition, respect & freedom in American than our people do...even the monkeys that lead them have more sense than the monkeys that lead us."
At the time, Malcolm X, who was born Malcolm Little and later changed his name again to el-Hajj Malik el-Shabazz, was in Miami, Florida, to attend Cassius Clay's championship fight against Sonny Liston. The fight occurred at a crucial juncture of both men's lives: As Karen Grigsby Bates reports for NPR's Code Switch, not only was Malcolm X ringside for the fight, but Clay joined the Nation of Islam and changed his name to Cassius X (later, Muhammad Ali) after he walloped Liston.
Malcolm X was the most famous member of the Nation of Islam at the time, but all was not well. Malcolm had serious differences with the group's leader, Elijah Muhammad, and left the Nation of Islam just a month later. Then, Ali famously abandoned his friend—and the next year, Malcolm X, who considered himself a "marked man," was assassinated. Purportedly, Black Muslims who objected to the figure's newly moderate views on civil rights were to blame, but in the years since the real motives behind the assassination have been questioned.
Though laws regarding civil rights have changed since 1964, racial tensions still simmer in the United States. Would Malcolm X write the same postcard today? There's no way to tell—but one buyer with at least $4,000 and an eye for American history can own a window into a single moment in the struggle for civil rights.