Here Are Your Odds of Getting a White Christmas
If nothing else, it gives you an excuse to sit inside all day drinking hot chocolate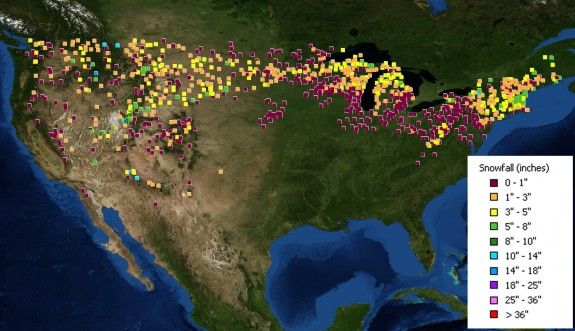 Even if you're the type who generally dislikes snow, with its bone-chilling tendencies, getting a light dusting on Christmas is usually a nice addition. If nothing else, it gives you an excuse to sit inside all day drinking hot chocolate. But how likely is that Christmas snowfall in your area? Well, the handy map above, which comes courtesy of the National Oceanic and Atmospheric Administration, should help you figure it out.
The map shows the historical probability of having at least one inch of snow on the ground on Christmas Day. The patterns aren't particularly surprising. NOAA:
Minnesota. Maine. Upstate New York. The Allegheny Mountains of Pennsylvania and West Virginia. Practically anywhere in Idaho. And of course, the Rockies or the Sierra Nevada Mountains. These are the places where weather history suggests you want to be if you're looking for the best chance of a white Christmas.

According to Climate Central, though, the odds of getting your Christmas snow may be even lower than historical trends suggest:
An analysis of all long-term weather stations in the U.S. found that snowfall decreased at 57 percent of them from 1930-2007. Some of it is due to drying, but other research suggests that for most areas in the west and central part of the country, it's due to more snow falling as rain from 1949-2005.

And, of course, the actual chances of Christmas snow depend on the weather and don't always stick to historical patterns. But, NOAA's updating map of daily snowfall, used here to show the snow we got over the weekend, seems to line up pretty well with the patterns of the past.
More from Smithsonian.com:
Not Even Canadians Are Likely To Get a White Christmas This Year
Is White Christmas the Best Popular Song Ever Written?
Six Ways Climate Change Is Waging War on Christmas