Helsinki's New Subterranean Art Museum Opens Its Doors
The Amos Rex Museum is located beneath Lasipalatsi, a 1930s shopping center known as the 'Glass Palace'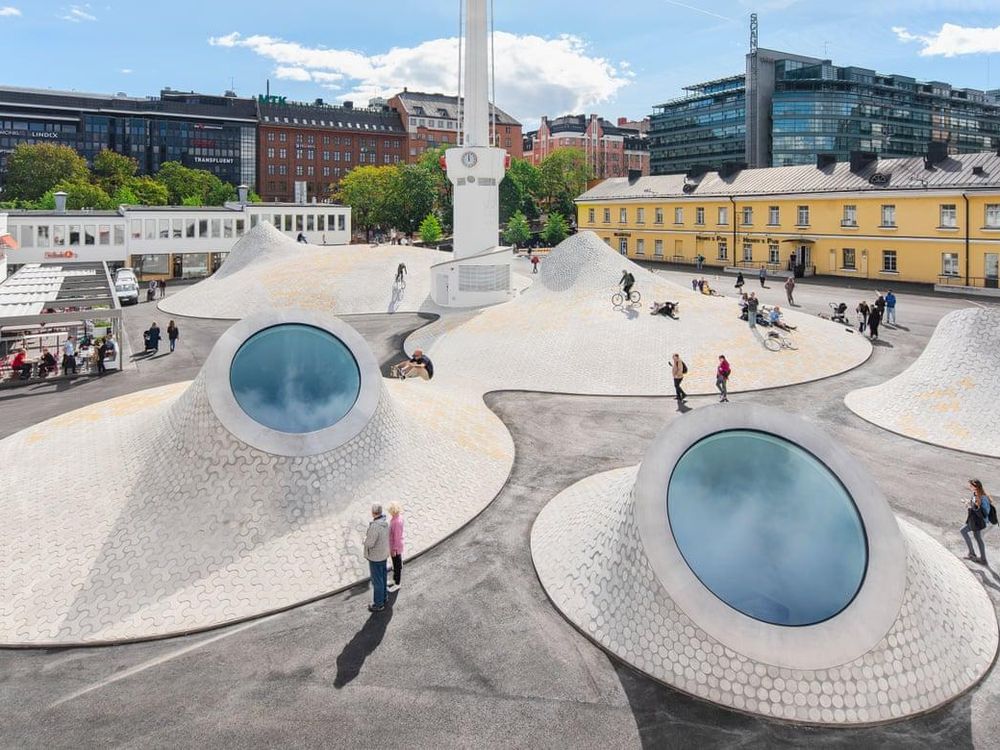 Five years before Finland's capital city was set to host the 1940 Summer Olympics, local authorities granted three young architects permission to design one of the many temporary structures that would welcome visitors to the Games. The result was a functionalist shopping center featuring offices, restaurants and even a movie theater. Encased in seemingly endless window panels, the building soon earned the title of Lasipalatsi, or the "Glass Palace."
On September 1, 1939, German forces invaded Poland, beginning World War II and, albeit unwittingly, rescuing Lasipalatsi from demolition. As Michael Hunt writes for Artnet News, the Olympics' wartime hiatus, as well as post-war financial difficulties, prevented Finnish officials from dismantling the Glass Palace and replacing it with a new structure designed specifically for the rescheduled 1952 Helsinki Olympics. Lasipalatsi endured, eventually becoming a popular local landmark. By the 1980s, however, the structure had become an increasingly unwelcome strain on the city's finances.
Today, Lasipalatsi is beloved (and profitable) once more, thanks in large part to art patron and newspaper publisher Amos Anderson, whose $60 million Amos Rex Museum—a futuristic art bunker nestled beneath the Glass Palace—opened to the public this week.
The Guardian's Oliver Wainwright reports that the new museum was designed by Helsinki architecture firm JKMM. Sprawling underground galleries stretch across 23,350 square feet, while domed skylights covered in simple geometric patterns dot the landscape and pour light down to the exhibition spaces below.
The bulk of the museum rests below a square beside Lasipalatsi. Once, the square housed Helsinki's main bus station, Giovanna Dunmall writes for Wallpaper*, but today, all traces of this metropolitan terminal have vanished, replaced by the sweeping curvature of the Amos Rex's mountainous skylights.
"The biggest challenge was how to make [the museum] visible in the cityscape," Asmo Jaaksi, a founding partner at JKMM, tells Architectural Digest's Nadja Sayej. "We wanted to have the square open but still draw people from aboveground to underground, so we came up with these domed forms, which try to be unto the building but not obtrusive."
In an interview with Wallpaper*'s Dunmall, Jaaksi adds that Lasipalatsi was "very well built" despite its anticipated status as a temporary structure. Although architects restored the Glass Palace during the new project, its eclectic charm remains. Inside, salmon-colored columns are juxtaposed with glass light fixtures jutting out from red and blue ceilings, Wainwright notes; outside, Lasipalatsi's one-time chimney stands tall amidst the clustered skylights, looking more like a lighthouse than a rudimentary ventilation system.
One of Lasipalatsi's most notable features, the Bio Rex movie theater, closed a decade ago but has been revived in splendid fashion. Its 590 seats are covered in vivid red upholstery, while its circular ceiling lights hover above the auditorium as if they are UFOs, emitting a steady glow to guide viewers across the space. In addition to hosting weekend screenings of art-house and alternative films, Artnet News' Hunt writes, the theater serves as the Amos Rex's entrance, providing passage to the galleries below.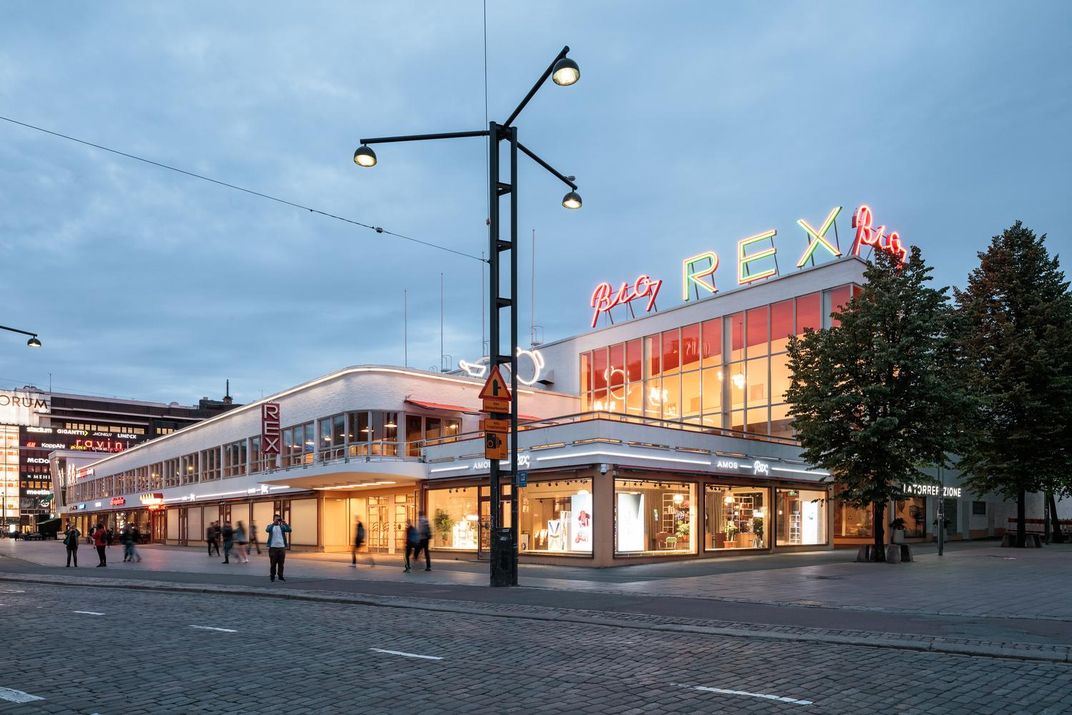 The museum draws on foundations left by Amos Anderson, an art lover whose collection of 19th- and 20th-century Finnish art forms the bulk of the institution's permanent collection. Prior to construction of the new space, the Amos Rex—then called the Amos Anderson Art Museum—operated out of its patron's former home. By the 2010s, however, the museum was beginning to outgrow the neoclassical house. Acquiring the Lasipalatsi and transforming its surrounding grounds into an innovative 21st-century structure offered the ideal solution for both institutions' organizational woes.
Ironically, Amos Rex's inaugural exhibition makes little use of the gaping skylights overlooking its galleries. Instead, curators have opted to highlight the subterranean nature of the museum, blocking natural light to present an immersive digital experience created by Japanese art collective teamLab. According to teamLab's website, the show, entitled "Massless," rejects materiality in favor of "dissolving the notion of mass" and creating an otherworldly environment.
"Massless," which runs through January 6, 2019, is accompanied by a selection of post-impressionist art collected by Finnish architect, essayist and art critic Sigurd Frosterus. Future exhibitions will feature works by Amsterdam collective Studio Drift and Belgian surrealist René Magritte.
Kai Kartio, head of Amos Rex, tells Metropolis Magazine's George Kafka that the new structure is equipped to handle both large-scale installations like "Massless" and more traditional exhibitions.
"It's not about just hanging things on the wall any more, or putting a sculpture to stand in the middle of a beautiful space," Kartio explains. "We have no idea what kind of visual work we are going to be surrounded by in 20 or 30 years' time. So we wanted a space that would be as open as possible, a space that would put as few limits on what one is able to install there as possible."