Hear a 20-Year-Old John F. Kennedy Speak
Archivist have recently digitized a clip from a 1937 public speaking course, believed to be the oldest recording of the president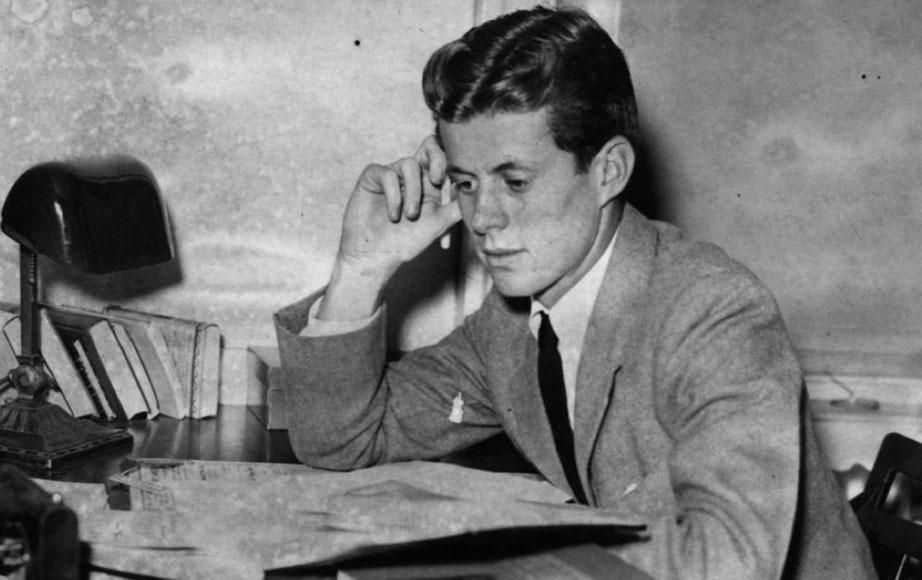 Besides his fetching smile, the most iconic attribute of President John F. Kennedy was his voice and its strong Boston accent, which he used to deliver some of U.S. histories most iconic lines. Now, researchers have discovered the earliest-known recording of the 35th president, reports Colleen Walsh at the Harvard Gazette.
The recording came to Harvard University, which Kennedy attended, several years ago as part of a collection of materials from former professor Frederick Clifton Packard, Jr. who taught English F, the public speaking course Kennedy was taking when the recording was made in 1937. Matthew Haag at The New York Times reports that Packard recorded many speeches from his students on aluminum discs to help them improve their public speaking.
Archivist are currently digitizing the low-quality audio from the collection, and archivist Megan Sniffin-Marinoff tells Walsh that there may be more undiscovered Kennedy material in the collection, as well as audio from his older brother Joseph P. Kennedy who also took Packard's class. "As a collection of recordings of early voices it's really remarkable," Sniffin-Marinoff says. "We are pretty sure there's more Kennedy material."
So what does the 20-year-old Kennedy say on the one-minute-28-second clip? It turns out to be a speech discussing the appointment of Supreme Court judge Hugo Black. Haag reports that the lecture starts out pretty well, and Kennedy's voice and cadence are recognizable. But after about 30 seconds he gets a case of nerves and hesitates through the rest of the talk. The archivists believe the recording is only a snippet of a longer speech since the class syllabus says students were required to give several talks between five and 15 minutes long.
Sniffin-Marinoff tells Haag that Kennedy sounds different than some of the other recordings she's listened to. "He sounds a little bit more forceful [than other students]," she says. "A little bit more determined, maybe based on the topic of what he was speaking about."
The topic also indicates that he had a more serious bent than some of his classmates, who gave speeches on sourdough bread, book collecting and wife hunting. Even so, Haag reports that Kennedy eventually received a C+ in the class.
The digitized and cleaned-up recording is being released as a part of an exhibit at the Harvard University Archives exploring the president's ties to the school to celebrate his 100th birthday on May 29.