Havasu Falls Is Reopening After Three Years
Travelers whose reservations were canceled during the pandemic are first in line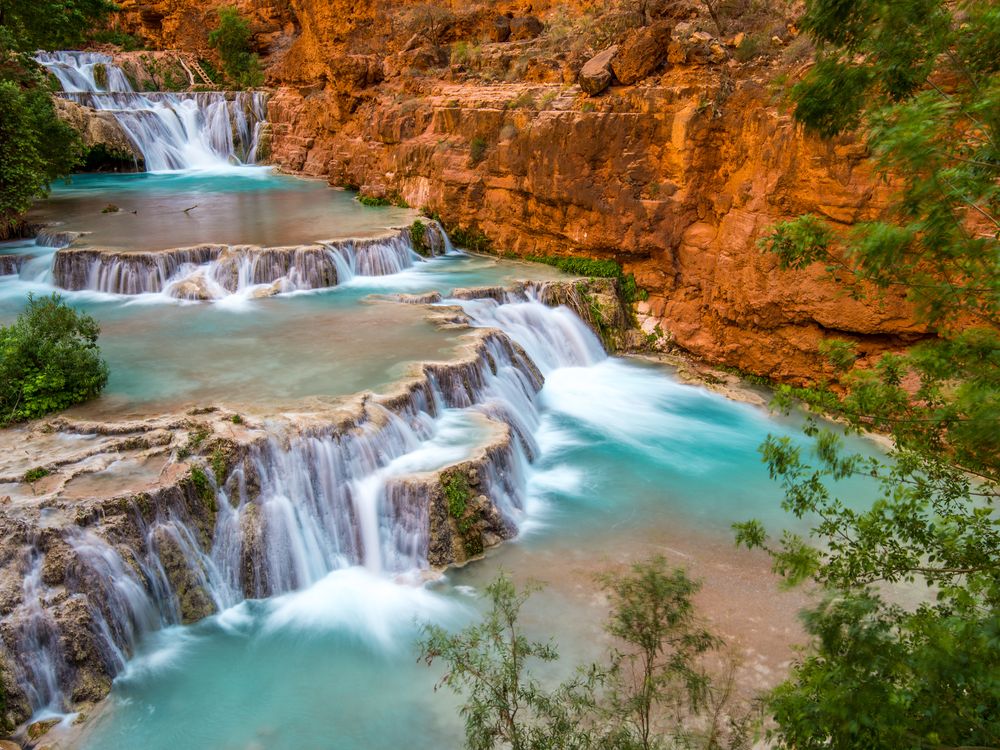 After three years, the Havasupai Tribe is reopening the legendary Havasu Falls to the public. Located near the Grand Canyon along a tributary of the Colorado River, the remote site is known and loved for its pristine turquoise waters and cascading waterfall set against the red rock of the Havasu Canyon.
The falls were closed in 2020 due to Covid-19 safety concerns. Indigenous communities were disproportionately affected by the virus in the pandemic's early months, as the Centers for Disease Control and Prevention reported as the time.  
"With limited access to meaningful healthcare, closing the reservation was the best way to keep our community safe and healthy," wrote the tribe on its website.  
The site remained closed as flooding in 2022 wiped out trails and bridges used by both tourists and residents of Supai Village. Earlier this month, the Biden administration declared the flooding a federal disaster, providing funds for the tribe to repair damage and build out infrastructure. 
Now, tribe members say they are ready to welcome visitors once again. But those who have their heart set on seeing the falls will have to wait a little bit longer. First in line are travelers whose reservations were canceled between 2020 and 2022. New spots will open up only if those with existing reservations opt out. 
The falls are an extremely popular tourist destination. The tribe estimates that 30,000 to 40,000 people travel to the reservation each year, according to Outside magazine's Adam Roy. In order to visit, hikers need an overnight reservation at either the lodge or the campsite near the falls. No water is available along the eight-mile hike to the village, so visitors carry in all their drinking water—which, with summer temperatures regularly reaching 100 degrees Fahrenheit, should be at least a gallon, according to the tribe's website.
Travelers are clamoring to visit the site, with hundreds of comments and questions appearing on the tribe's official Facebook page.
"This has been a trying experience for all involved and we appreciate your patience as we move through this transition," writes the tribe. "However, there are many positive things as a result. While you may see downed trees on the trails where the flood crashed through, you will also see flourishing flora and fauna and new waterfall flows."
Reservation slots, if available, will be posted at 8 a.m. Mountain time each day starting February 1. New reservations for 2024 will open in February 2024.