In 1915 a Former Harvard Professor Tried to Blow Up the U.S. Capitol
Driven by anti-war sentiment, he went on to carry out several terrorist attacks in NYC to protest U.S. involvement in WWI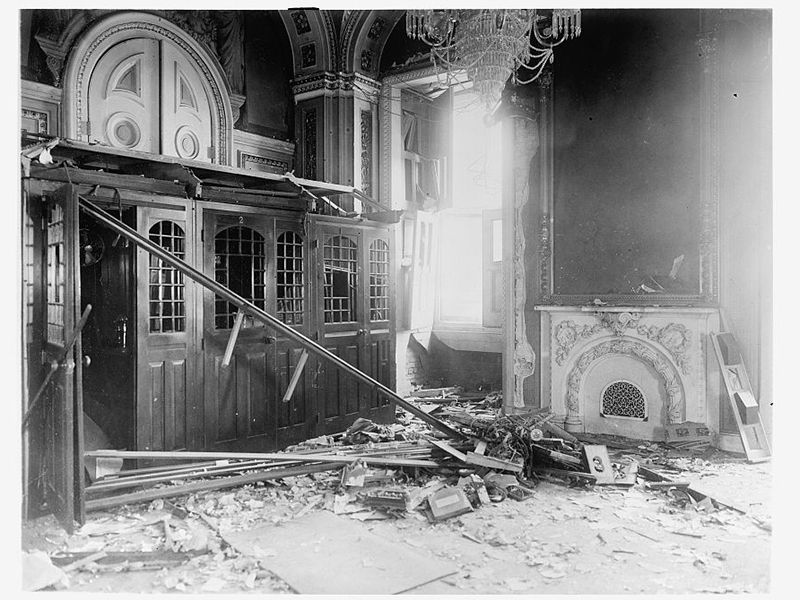 Just before the clock struck midnight on July 2, 1915, a homemade bomb went off in an empty reception room at the United States Capitol building. The explosion could not have come at a more angsty time. With the sinking of the Lusitania in May 1915 and WWI in full swing in Europe, things already weren't looking great, Greg Young and Tom Meyers write in a post for their NYC history blog The Bowery Boys.  
The man behind the bomb was Eric Muenter, a former German language professor at Harvard University. On that quiet weekend, Muenter snuck into the building unnoticed carrying three sticks of dynamite and hid them beneath the desk of the U.S. Senate's telephone switchboard operator (who had already left for the weekend). The bomb threw a night watchman from his seat, write Meyers and Young, but other than that the casualties were structural — windows, bookshelves and furniture. Still, the bomb proved significant enough to rile up witnesses, as the New York Sun wrote on July 3:
Some persons in the crowd which had gathered around the Capitol were inclined to believe that the bomb had been placed by some war fanatic as an act of resentment against the United States government. It was recalled that just such an incident as this had been feared and guarded against in Washington since the early days after the outbreak of the European war
They weren't entirely wrong. Muenter sympathized with Germany's cause in WWI and aimed to sabotage American intervention in the conflict. As Mark Jones explains in a blog for WETA, Muenter had also written a letter (under an assumed name) to the Washington Evening Star claiming responsibility for the bombing. It began, "Unusual times and circumstances call for unusual means," and continued with similar flare. The bomb at the Capitol building was just the beginning of a series of terrorist he planned to enact in the name of his cause. 
After witnessing the explosion from the safety of Union Station, Muenter hopped on a train to New York City. There, he planted a timed bomb aboard a ship called the SS Minnehana, which carried munitions, and shot J.P. Morgan, Jr, an American financier who was known for selling supplies and weapons to Great Britain. Muenter was also loosely linked to a few other bombings in the city that occurred over the same few days in July, as Meyers and Young point out.
Morgan Jr survived, and Meunter was apprehended during his attack on the Morgan family (ironically with help from the British Ambassador). He committed suicide in prison.