Angela Davis' Archive Comes to Harvard
The papers illuminate her rise from philosophy professor to global icon and activist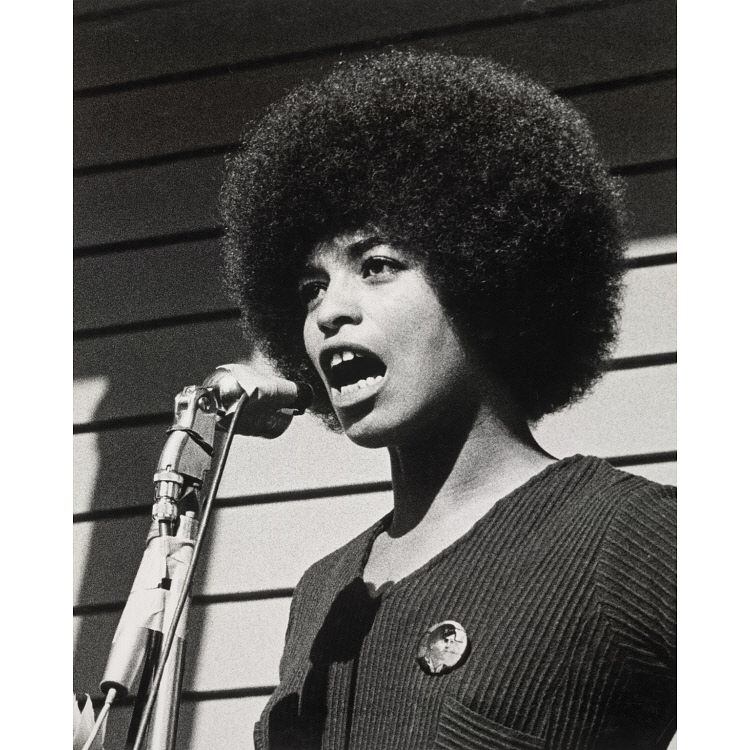 From philosophy professor to global icon of activism and social justice, Angela Davis' work has made an enduring impact on black history in America.
Now 74, Davis is known for her radical activism around issues like mass incarceration. But a new collection acquired by Harvard University will give the full scope of her work more visibility.
Kris Snibbe of The Harvard Gazette reports that Schlesinger Library, part of the university's Radcliffe Institute for Advanced Study, has acquired Davis' archive of documents, letters, papers and photos that trace her life and evolution as a scholar and activist.
In a statement, Davis says her archive reflects a half century of her "involvement in activist and scholarly collaborations seeking to expand the reach of justice in the world" and expressed her pleasure at having her papers reside amog the works of other black female activists, including the poet June Jordan and legal scholar Patricia J. Williams.
Davis was born in segregated Alabama in 1944 to activist parents. In 1969, before she even taught her first class, she was fired from her teaching position at the University of California, Los Angeles, for being a communist — an order delivered by then-Governor Ronald Reagan, writes Jennifer Schuessler in The New York Times. She became well-known for her work on behalf of three black California inmates, known as the Soledad Brothers, accused of murdering a white prison guard.
Harvard professor Henry Louis Gates Jr. tells Snibbe that Davis' legacy is critical to understanding activism of the latter half of the 20th century in the United States. "She's of enormous importance to the history of political thought and political activism of left-wing or progressive politics and the history of race and gender in the United States since the mid-'60s." Gates says. "No one has a more important role, and now scholars will be able to study the arc of her thinking, the way it evolved and its depth, by having access to her papers."
Among the documents in the collection are a manuscript of Davis' 1974 autobiography, which includes notes and comments from her friend, Pulitzer Prize-winner Toni Morrison; a photo of Davis posing with Fidel Castro; and tapes from "Angela Speaks," her radio show.
The archive also includes artifacts like her famous "Wanted" poster, connected to the trial in which she was accused of murder. In 1970, guns Davis had purchased were used in in a failed attempt to free the Soledad Brothers that left four people dead, Schuessler reports. She was arrested and charged with murder, kidnapping and criminal conspiracy charges.
That case drew global attention, sparking a "Free Angela" campaign. She was acquitted by an all-white jury in 1972.
Although many of her papers were seized by the FBI at the time, Snibbe writes the collection also contains a 120-page diary she kept during her trial.
The library has not disclosed how much it paid for the archive, which it purchased directly from Davis, Schuessler writes. The acquisition was made possible by Harvard's Hutchins Center for African & African American Research.
Securing Davis' papers has been a work in progress. The library's first curator for race and ethnicity Kenvi Phillips, hired as the library's first curator for race and ethnicity in 2016, met with Davis in her home in Oakland last year to start collecting and packing 151 boxes of documents.
Currently, the library is sorting and digitizing the material, which will be available for research by 2020. But Snibbe reports that people interested in the archive won't have to wait that long for a peak inside—a series of events in 2019 will take place to recognize the archive, including an exhibition and a conference featuring Davis herself.