Harriet Tubman's Canadian Church Is Struggling to Survive
The Salem Chapel in St. Catharines, Ontario, is in desperate need of repairs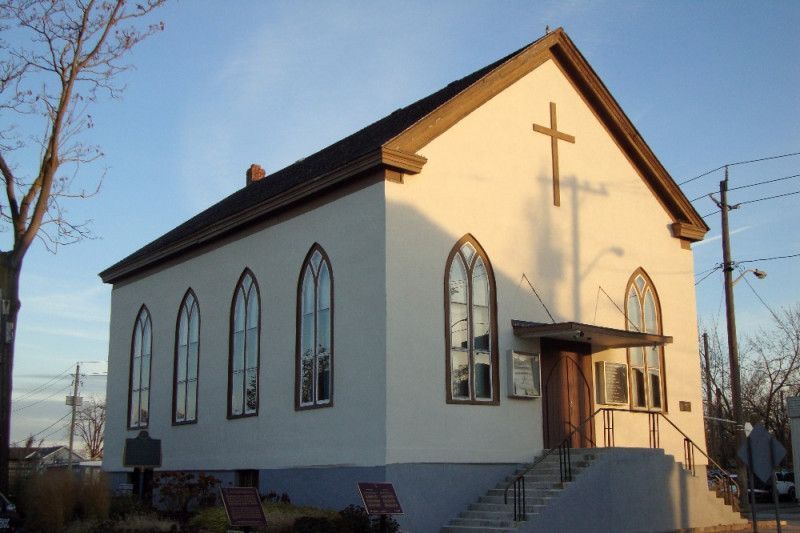 In the 1850s, a little church in the little city of St. Catharines, Ontario, became a community hub for African American slaves who had escaped to Canada. Among the worshippers who gathered in the Bethel Chapel, African Methodist Episcopal Church was Harriet Tubman, who lived in St. Catharines between 1851 and 1861. The former church of the famed abolitionist still stands today, but as Samantha Craggs reports for the CBC, it is in desperate need of repairs.
Volunteers estimate that it will take hundreds of thousands of dollars to save the building, which changed its name to the Salem Chapel BME (or British Methodist Episcopal) in 1856. The list of required repairs is indeed quite extensive.  The chapel's wooden frame is loosening and its balcony is breaking away from the walls. Steps leading to the basement are uneven. Outside, the chapel's deteriorating awning is being propped up with wooden beams and gables that span the entire building are pulling apart from the roof, according to Karena Walter of the St. Catharines Standard. There has been a large crack in the front steps since a driver crashed into them a few years ago.
Church organizers have launched a GoFundMe campaign in the hopes of raising $100,000 by fall of 2018. But that sum would only cover the initial phase of restoration, which will involve fixing the roof gable and awning, and tightening the frame of the building with earthquake straps and turnbuckles. Rochelle Bush, the church's historian, tells Walter that thousands more dollars will be need for cosmetic repairs, and to bring the building up to accessibility standards.
"We need the preservation component in place for the future," she says. "We need it to happen now, especially for the accessibility."
The church, which has been sustained through private donations, currently boasts just 11 members. But in the mid-1800s, some 200 people who escaped from slavery or had been freed worshipped there. St. Catharines was the final stop of the Underground Railroad, the clandestine network that helped hundreds of African-Americans escape slavery in the southern United States. It became a particularly important destination after 1850, when the U.S. passed the Fugitive Slave Act allowing slaveholders to recapture people escaping to the north. Tubman, who led hundreds to freedom via the Underground Railroad, brought her family and many fleeing slaves to St. Catharines.
Bush tells Craggs of the CBC that the Salem Chapel became "a hub for abolitionist activity." Both black and white anti-slavery activists supported the church, and Frederick Douglass reportedly paid a visit there.
The Salem Chapel has been designated a national historic site, and church organizers are working to see if they are eligible for federal or provincial grants that would help with the repairs. But many grants, Bush tells Walter of the Standard, require matching funds. So she is hoping public supporters will pull through.
With the help of generous donors I think it will happen," she says. "It's Canadian history and it's a shared history."