Happy Birthday to the Father of the Modern Vampire
If Bram Stoker were alive today, he'd be 165—pretty young for a vampire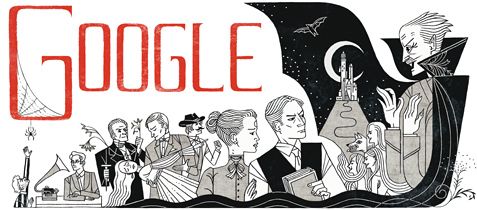 The Google team must be literati or vampire fans—or both: Today's Google Doodle celebrates the birth of Bram Stoker, arguably the father of the modern vampire. If he were alive today, he'd be 165, still something of a baby-vamp, by "True Blood" standards.
Dublin-born Stoker (christened Abraham)entered this world in 1847. He was a soccer and track start at Trinity College, and after graduating spent a few years working as a clerk. By the time he reached 50, however, he'd found his true calling: he released his most notable book—perhaps the most famous horror novel ever written—Dracula.
To create Dracula, Stoker spent a few years submerging himself in Eastern European folklore and its popular countryside mythology of the vampire. Unfortunately, Stoker died just 15 years after Dracula's publication, and it wasn't until after the author departed this Earth that the book really gained traction in popular culture, sparking adaptations in films, literature and television, and igniting an entire industry of vampire-related entertainment, Digital Spy writes.
Though the original 541-page typed Dracula manuscript disappeared for decades, until in the 1980s it reemerged inside a barn in northwestern Pennsylvania. The work, titled "The Un-Dead," was purchased by billionaire Microsoft co-founder, Paul Allen.
Most vampire buffs associate Bella Lugosi's original 1931 portrayal with the essence of Dracula, but fervent fans would argue that Gary Oldman's sultry, tortured portrayal of the "son of the dragon" in the 1992 "Bram Stoker's Dracula" really hit the coffin nail on the head:
More from Smithsonian.com:
Why Does Dracula Wear a Tuxedo?
Vampires on Film