Happy Birthday Rodin, Sculptor And Breaker of Women's Hearts
Rodin's contribution to society lives on in his artistic works, but he wrecked a few lives in his time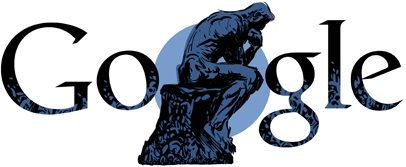 Auguste Rodin, the French sculptor behind "The Thinker" and "The Kiss," celebrates his would-be 172nd birthday today with a Google Doodle tribute. The Los Angeles Times describes the artist's work:
Rodin's sculptures emphasize musculature and movement, with subjects often assuming contorted and anguished poses. His work is often viewed as paving the way for modern sculpture of the 20th century.
His sculptures dabbled in mythology and allegory, and his unique ability to entice turbulent, deeply textured figures out of his raw materials ran counter to the predominant sculpture traditions of the time, earning him much criticism by contemporaries. Eventually, however, he outgrew those jealous judgements, rising to become France's preeminent sculptor and gaining world-wide recognition by 1900.
Besides his enduring mark on modern art, Rodin is probably best known for his tumultuous love affair with fellow artist, Camille Claudel. The two met in 1883, when Claudel was just 18 years old. They embarked upon a passionate but stormy relationship, with Claudel often serving as Rodin's model, while producing her own artistic works and assisting Rodin with commissions.
Meanwhile, Rodin kept up ties with Rose Beuret, his first love and mother to his child. "I think of how much you must have loved me to put up with my caprices…I remain, in all tenderness, your Rodin," he wrote to her once, while still carrying on with mistress Claudel. In 1898, following an unwanted abortion, Claudel severed ties with Rodin for good. Soon after, she suffered a nervous breakdown and her family committed her (needlessly, many argue) to an asylum, where she spent the next 30 years, until her death in 1943. Her relatives never came to claim Claudel's body, so she was buried in a communal grave without ceremony.
Rodin finally married Beuret, but only in the last year of both of their lives.
Rodin and Claudel's tempestuous relationship has inspired plays, ballets and movies. A new rendition, staring Juliette Binoche as an asylum-bound, bitter Claudel, is scheduled to hit theaters next year.
More from Smithsonian.com:
Sculpture Blossoms in a New Garden
Please Eat the Art