Greece Is Making Hundreds of Beaches More Accessible
Remote-controlled, wheelchair-friendly ramps will allow vacationers with mobility challenges to enjoy the sea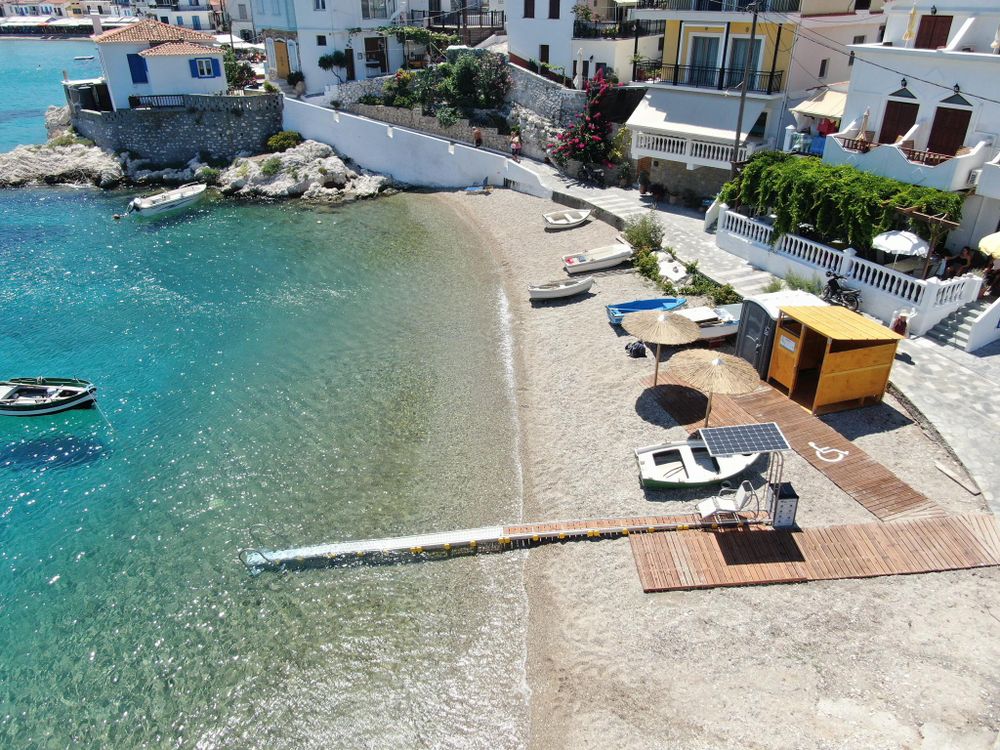 In a bid to make its beaches more accessible, Greece is installing free, wheelchair-friendly ramps to ensure people with mobility challenges can access and enjoy the sea.
Vassilis Kikilias, Greece's tourism minister, announced the initiative at a press conference last month, per the Greek Reporter's Tasos Kokkinidis. As part of the $16.5 million (€15 million) project, the country is also making accessibility updates to restrooms, changing facilities, parking, snack bars, walkways and other amenities. 
In total, the government plans to improve access to 287 beaches across the nation. So far, crews have already completed work on 147 of them.
Kikilias described equal access to the sea as an "inalienable human right" and said the project aims to give people with mobility challenges "the opportunity to participate in beach activities with family and friends, enhancing the quality of life for everyone," per the Greek Reporter.
"People with disabilities and people with limited mobility can engage in activities such as swimming that contribute to their physical and mental health," he added.
The centerpiece of the beach accessibility project is a system called Seatrac. Designed by TOBEA, a company headquartered in Arachovitika, Greece, Seatrac is a remote-operated ramp with a sliding chair that can move beach-goers into the water.
"I like that wheelchair users can use [Seatrac] independently without needing assistance," says Kristin Secor, creator of blog World on Wheels, to the Washington Post's Andrea Sachs. "It looks like transferring from one's wheelchair to the device is relatively easy."
To operate the solar-powered system, users first adjust the height of the Seatrac chair and lift themselves into it. Then, using a waterproof remote, they can move along a ramp toward the water. At the end of the ramp, handrails are available to help users get out of and back into the chair. 
If a location doesn't have a waterproof remote, users can also get one from TOBEA for free. Wooden pathways leading up to the ramps mean that beachgoers don't have to walk or roll along the sand, which can be a challenge. The technology is only designed to be used when the seas are calm, according to Seatrac's FAQ page.
"Seatrac does not provide only independent access to the sea," says Ignatios Fotiou, who helped develop the technology, to the Washington Post. "It provides dignity and independence to people with mobility issues that want to enjoy swimming. They can choose where to go and ask their friends to join them, not the other way around."
Greece has created a dedicated website with information about the project, including a map of all the beaches where crews have installed Seatracs. 
Beyond its beaches, Greece has been taking other steps to make its tourist attractions more accessible. In 2019, the government began requiring all passenger vessels and ferries to be accessible to people with mobility challenges.
In 2020, the country installed a new wheelchair-friendly elevator at the Acropolis complex, going on to add a wheelchair-friendly path the following year. Some politicians opposed the changes, which they criticized as harmful to the country's cultural heritage, reported Reuters' Deborah Kyvrikosaios in 2021. But as Lina Mendoni, the nation's culture minister, said, "[Giving] joy to people is perhaps just as significant as the protection of our cultural goods."
"I have seen people in wheelchairs who came up for the first time and felt happy," she added.