Google Makes Ledger Art to Celebrate Legendary Native American Author James Welch
In an exclusive interview with Smithsonian.com, artist Sophie Diao talks about what inspired today's Google Doodle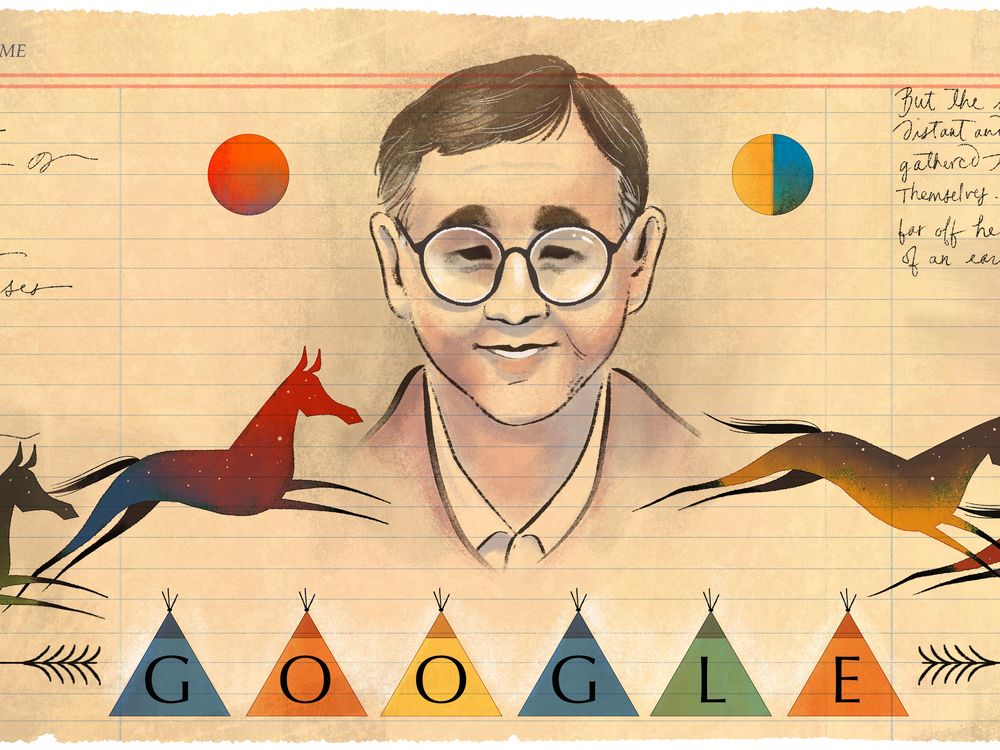 Today, your search term of choice on Google will look a little different than it did yesterday, thanks to a new Google Doodle in honor of Native American author James Welch. The author will be front and center on the site for the next 24 hours in honor of what would have been his 76th birthday, watching over the Google home page in a drawing that evokes both his Native American heritage and his award-winning literary career.
Welch, who was born to a Blackfeet father and a Gros Ventre mother, grew up on a reservation and spent his life writing about Native American life and culture. The novelist and poet died in 2003 in Missoula, Montana, at just 62 years old. As Indian Country Media Today's Ron Senden writes, he was known not just for his desire to tell readers about life as an American Indian, but for his modesty and generosity.
Despite international acclaim for his work, Welch worried whether his Native American point of view would ever be appreciated. In turn, that drove his creativity. "I knew that nobody wanted to read about Indians, reservations, or those rolling endless plains," he wrote. "I began to think that maybe…life on the reservation was hopeless. Nevertheless, I began to write poems about the country and the people I come from."
He may have been concerned about whether his books would gain a readership, but Fools Crow, his historical novel about a Blackfeet man's struggle with whether to fight or assimilate into white culture, along with his other work found an appreciative audience around the world.
Sophie Diao, the Google Doodler who created the image on the homepage, did her best to capture Welch's unique life and legacy in the doodle. On its blog, Google writes that the image, which was created just in time for National Native American History Month, is intended to pay tribute to both "[Welch's] artistic appeal and ability to bring the experiences of the Native American people to life."
Diao, who has a background in film storytelling and animation, found inspiration not just in Welch's books, but in ledger art, a form of 19th-century artwork created by Native Americans in the margins of old account books and ledgers that saw a revival in the late 20th century. "It's a really unique style," she tells Smithsonian.com. "So pretty. It caught my eye and I really wanted to do something around that."
For Diao, who is of Chinese descent, the chance to learn about Welch's life and work also resonated with her as a woman of color. "I definitely sympathize with the fears that were shown in [Fools Crow] about your culture being taken away from you our being changed against your will." She also worked with Native American employees at Google and with Welch's widow to make sure she represented the subtleties of a culture not her own. "I wanted to strike a balance between being reverential of his work and and his heritage as a Native American, but also make it easy for the user to look at. I didn't want it to look like some random person's idea of tribal art."
The project took six weeks from start to finish and involved researching Welch's life, reading his books, and sourcing rare photos from his widow. "For me, the fun part of the process is getting to learn a lot of different things and being exposed to subject I would never have normally thought to seek out," says Diao. "Having to read books that push me out of my comfort zone or learn about cultures I really don't have much interaction with in my daily life is the most awesome part of my job."
"There is no dishonor in wisdom," wrote Welch in Fools Crow. Perhaps the sight of his face on the front page of Google will expose more people to the wisdom of Welch himself—an author whose words, in turn, invite readers to learn more about a world outside of their own.