Explore Google's Sweeping Retrospective on Frida Kahlo's Life and Legacy
'Faces of Frida' lets visitors interact with paintings, letters, photographs and other artifacts connected to the iconic artist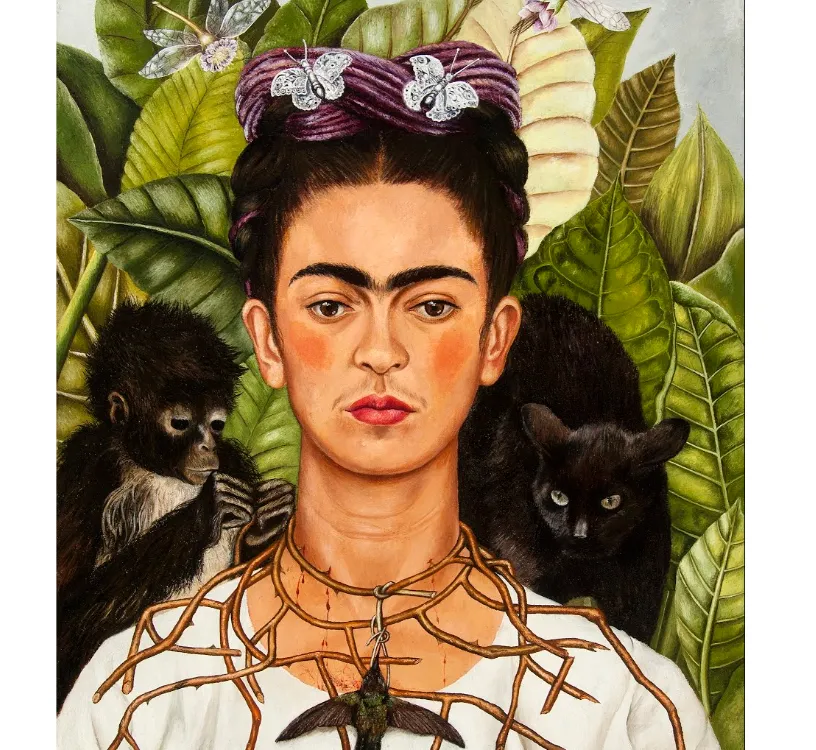 In 1929, Frida Kahlo sketched a self-portrait onto the back of a painting titled "Portrait of Virginia." The sketch would inform Kahlo's "Self Portrait with Airplane," which broke auction records in 2000 as the most expensive Latin American work and most expensive work by a woman ever sold. But because it is located on the back of a canvas, Kahlo's original drawing is rarely seen.
Now, however, fans of the iconic Mexican artist can view the sketch for "Self Portrait with Airplane," along with a host of other rarely seen works and artifacts, from the comfort of their homes. As Veronica Villafañe reports for Forbes, Google Arts & Culture has launched an expansive retrospective of Kahlo's legacy featuring 800 items from 33 museums located in seven different countries. The collection is titled "Faces of Frida."
"For years, Google Arts & Culture has been working in partnership with a network of museums and experts from all over the world to bring the many facets of Kahlo's legacy together in one place," Lucy Schwartz, program manager of Google Arts & Culture, writes in a blog post. The retrospective, she adds, "is the largest collection of artworks and artifacts related to Frida Kahlo ever compiled."
"Faces of Frida" includes not only Kahlo's paintings, but also her letters, personal photographs and unpublished writings. Visitors can peruse the pages of her colorful diary, read her letters to her mother, Matilde Calderón y Gonzalez and browse through photos of Kahlo and her husband, the artist Diego Rivera. One image of Rivera, taken at his studio in 1940, is stamped with bright pink lipstick—a kiss from Kahlo.
Several pieces featured in "Faces of Frida' were sourced from private collections and have never before been available online, among them "View of New York," which Kahlo drew while staying at the Barbizon Plaza Hotel in New York in 1932. Another 20 artworks have been captured in gigapixel resolution through Google's Art Camera, which lets visitors zoom into Kahlo's work to see her brushstrokes in vivid detail.
Yet another interactive feature takes the form of five Street View tours of sites that were important to Kahlo. Visitors can, for example, virtually explore Mexico City's famous "Casa Azul" where Kahlo was born, lived and died.
Editorial features offer additional insight into Kahlo's work and enduring legacy. One essay explores how Kahlo's work was shaped by her struggles with multiple chronic illnesses. In another piece, three LGBTQ artists explain how they have been influenced by Kahlo's honest, progressive ideas about gender and sexuality, which often made their way into her paintings.
"Though self-portraits may be how most people first encounter Kahlo, the woman they portray is revered for much more than her art," Schwartz writes in her blog post. "The complexity of her thinking on feminism and politics, her body and her country, remains fresh. In these contexts, her universally recognizable face takes on many possible interpretations."