Gloria Estefan Will Be the First Hispanic Woman in the Songwriters Hall of Fame
The Cuban-American artist will be inducted alongside Sade, Snoop Dogg, Jeff Lynne and others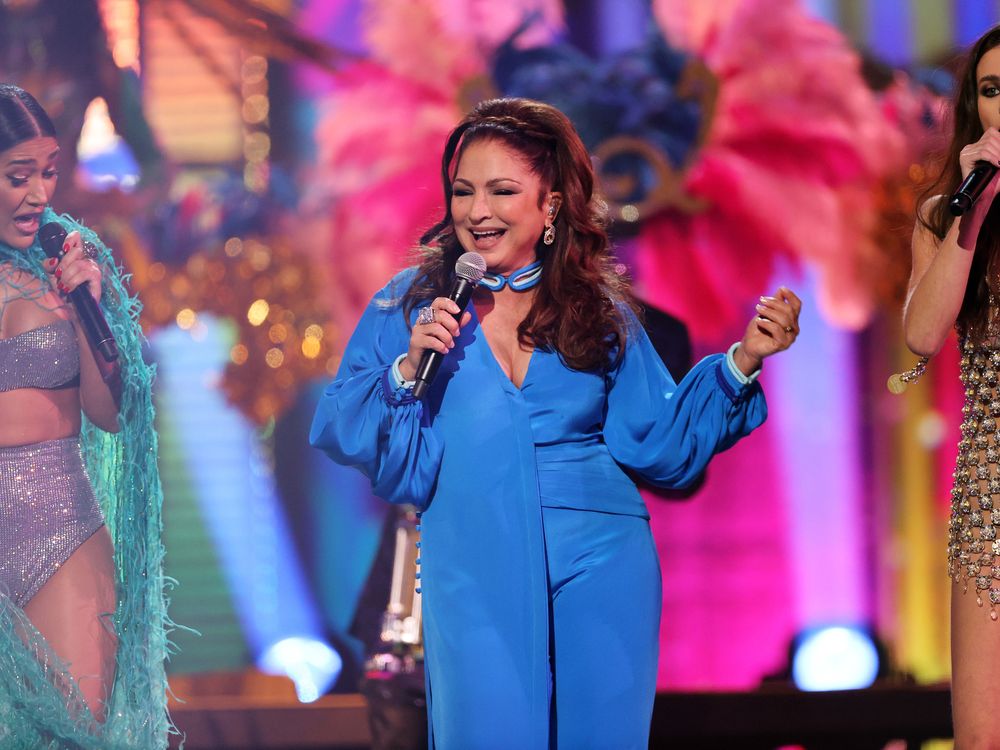 Gloria Estefan, the Cuban-American singer-songwriter behind danceable hits like "Rhythm Is Gonna Get You" and "Let's Get Loud," will make history as the first Hispanic woman to be inducted into the Songwriters Hall of Fame.
The songstress topped international charts in the 1980s and '90s with her large repertoire of Latin crossover pop, which includes the 1985 smash hit "Conga." Since then, Estefan has won eight Grammy Awards and sold millions of records. Her success introduced many English-speaking audiences to Latin genres and opened doors for Latin American stars that followed her, such as Selena, Shakira and Ricky Martin.
"We got a lot of no's at the beginning of our career," the 65-year-old artist tells CBS Mornings' Anthony Mason. "'No, this sound will never work.' 'No, you're not going to be able to crossover.' 'No, you can't compete on a world level.' And of course, we didn't believe that. We've been our own best cheerleaders."
The "we" in question refers to Estefan and her longtime band, the Miami Sound Machine, which was founded by her husband, Emilio Estefan Jr.
Estefan will join the Songwriters Hall of Fame at a ceremony on June 15 along with six other artists: Sade, Glen Ballard, Snoop Dogg, Jeff Lynne, Teddy Riley and Liz Rose. 
Smooth jazz singer-songwriter Sade broke through in the '80s with songs like "Smooth Operator" and "Your Love Is King." Ballard collaborated with Michael Jackson on various albums and co-wrote and produced Alanis Morissette's 1995 album Jagged Little Pill. Snoop Dogg, who rose to prominence in the '90s with hits like "Gin and Juice," will be joining rappers such as Missy Elliot and Jay-Z in the Hall of Fame. Lynne will be recognized for composing songs like "Mr. Blue Sky" and "Evil Woman" as frontman of '70s sensation Electric Light Orchestra. Riley is credited with creating new jack swing, a genre that fuses hip-hop with jazz, funk and R&B. His songwriting credits include Bobby Brown's "My Prerogative" and Lady Gaga's "Teeth." Rose is best known for her songwriting collaborations with Taylor Swift, which include "Teardrops on My Guitar," "White Horse" and "All Too Well."
Every year, music industry professionals cast ballots for six songwriters selected from a list of nominees—three from the songwriter category and three from the performing-songwriter category. Typically only six songwriters are selected, but this year a tie resulted in seven inductees. 
Last year's class included Mariah Carey, the Isley Brothers and Pharell Williams. In addition to the inductees, this year's nominees included R.E.M., Blondie, Bryan Adams and Patti Smith, among others.
"The music industry does not exist without songwriters delivering great songs first," says Nile Rodgers, chairman of the Songwriters Hall of Fame, in a statement. "Without them there is no recorded music, no concert business, no merch . . . nothing, it all starts with the song and the songwriter."
The 2023 inductees, he adds, represent "not just iconic songs, but also diversity and unity across genres, ethnicity and gender, songwriters who have enriched our lives and, in their time, literally transformed music and the lives of billions of listeners all over the world."