Get to Know Man Mound, One of 10 New National Historical Landmarks
The Interior Department has designated new landmarks including James Merrill's house, a silent film studio and the only human-shaped effigy mound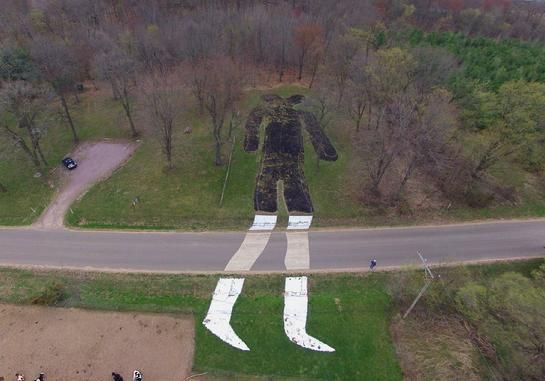 Last week, the Interior Department designated 10 new National Historic Landmarks across the country. The designation includes important buildings, sites of historic importance and archeologically significant areas. Among the new monuments are Gaukler Pointe in Macomb County, Michigan, an estate designed by landscape architect Jens Jensen, the James Merrill House in Stonington, Connecticut, where the poet wrote significant works chronicling the ups and downs of life as a gay man living in the latter half of the 20th century, and the Norman Manufacturing Company of Jacksonville, Florida, which produced silent films known as "race films," which featured African-American stars and were made for African-American audiences.
Architecturally important sites include the Mississippi State Capitol building in Jackson, the Ames Monument in Albany County, Wyoming, and the Athenæum in Indianapolis, a physical education school, which was designed by novelist Kurt Vonnegut's grandfather. "These 10 new national historic landmarks reveal important pieces of our nation's diverse heritage through art, architecture and stories of community and identity," Interior Secretary Sally Jewell says in the press release. "Today's designation ensures future generations can trace, understand and learn from these properties, which join more than 2,500 other landmarks nationwide."
But the most interesting addition to the list is not a building at all. Man Mound located in Sauk County, Wisconsin, is the only human-shaped effigy mound left in North America.
There are thousands of burial and ceremonial mounds built by indigenous people across the eastern U.S. Most of them are conical mounds. A few, like Serpent Mound in Ohio, are in the shape of animals, which are called effigy mounds. But the Late Woodland culture which lived in southern Wisconsin between 600 and 900 A.D. took mound building to a new height. They began constructing animal effigies, filling landscapes on river banks and near lakes with earth mounds in the shapes of geese, bears, hawks, snakes, panthers, deer, water spirits, thunderbirds and other images from the animal kingdom and the spirit world.
In all, it's estimated that the culture built 14,000 of these mounds, some over 100-feet long, across southern Wisconsin and in far eastern Iowa, southwest Minnesota and northern Illinois. Most of the mounds served as burial sites. It's believed that scattered bands of Woodland Indians would gather together once a year to feast and communally build a mound, placing the bones or cremains of relatives that had died throughout the year in the mounds.
But 214-foot Man Mound is the only effigy of a human that remains. Though farming and a road cut off the lower legs of the effigy, the National Park Service reports that mound depicts a shaman or a human transforming into a spirit.
Since 1908, the 214-foot-long effigy has been protected by a 1.4 acre county park, and in 1977 it was added to the register of national historic places. Rob Nurre, the volunteer caretaker of the mound tells Hope Kirwan at Wisconsin Public Radio that he hopes the new designation will raise the profile of the whole mound landscape. "These cultural sites of peoples who lived here 1,000 years ago, these ancient works of art that they left on this landscape are just as important as these major buildings like the capitol building in terms of being a place that explains and reflects the cultural landscape," he says.
In fact, Wisconsin's effigy mounds are under threat. The Wisconsin legislator has been pushing for legislation loosening protections for the state's remaining mounds. Jason Stein of the Milwaukee Journal-Sentinel reports that it's estimated that 80 percent of Wisconsin's mounds have already been plowed under by farming and building projects. The remaining mounds have legal protection as burial sites. While some archeologists consider the mounds a "world archaeological wonder," the mounds are often considered a nuisance by landowners and developers. The proposed legislation would allow landowners to dig up the mounds at their own expense to investigate whether there are human remains in the mound. If not, then they would be allowed to destroy the structures.
While Man Mound is protected, Nurre says he hopes the designation brings attention to all the mounds. "Use the Man Mound as an ambassador for protecting and caring for all of the remaining effigy mounds," he tells Kirwan, "because the man mound, though it is fascinating, it's one that I care for an awful lot, is really no more important than any of the effigy mounds."