Get Ready for America's First Mass Market Hydrogen-Powered Car
Hyundai aims to have a hydrogen fuel cell-powered SUV on the road by 2014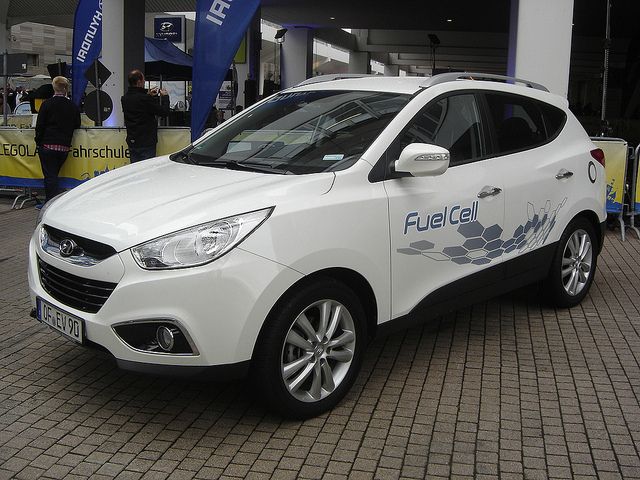 Fuel cells, as a technology, are nearly 100 years old, and concept cars powered by hydrogen have been a mainstay at auto shows for years. A hydrogen fuel cell-powered SUV from Chevrolet recently marked its 100,000th mile, and now, finally, fuel cell cars are ready for prime time.
At the Tokyo and Los Angeles motor shows this week, Toyota, Honda, and Hyundai announced that they have cars that are nearly road ready. A fuel cell SUV, a modified version of the Hyundai Tucson, will be on sale in the U.S. in the new year, while Toyota and Honda are pushing to have a mass-manufactured fuel cell SUVs by 2015.
Many car companies are working on fuel cell cars, says Extreme Tech, including "Honda/Acura, Daimler (Mercedes-Benz), Ford/Lincoln, General Motors, Honda/Acura, Nissan/Infiniti, and Toyota/Lexus." Some auto makers also have electric or gas-electric hybrid vehicles
But if the roll out of electric vehicles has taught us anything, says Nissan CEO Carlos Ghosn, it's that just because the cars are capable doesn't mean they'll necessarily see mass-market approval. People still need to buy them.
More from Smithsonian.com:
Witness the Power of a Hydrogen Fuel Cell