Time to Get Jiggily With it, Fat Bear Week Is Upon Us
Your vote will determine which fish-chomping ursine competitor in Katmai National Park and Preserve is the chubbiest cubby of them all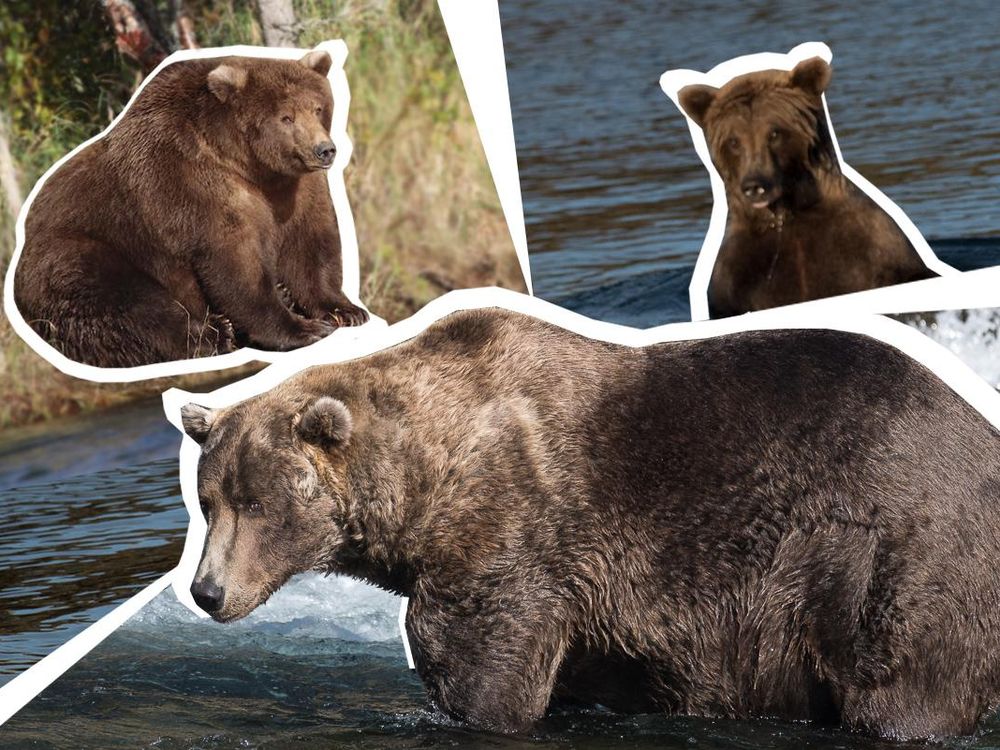 Update, October 10, 2018
: After seven days of fierce competition, voters have determined which of the chubby cubbies of Alaska's Katmai National Park and Preserve reigned supreme for this year's Fat Bear Week. And your 2018 winner is... 409 Beadnose. What does she win you ask? "Stronger chances of living through the winter," Katmai National Park's Twitter handle
quips
. Read all about #FatBearWeek below:
For the past few months, dozens of brown bears in Alaska's Katmai National Park have literally stuffed themselves silly on the migrating sockeye salmon of Brooks River. In just a short amount of time, these lean and scraggily animals of spring have ballooned into rotund, lolling chubbers, with haunches rippling with fat, linebacker necks and pooching bellies that almost scrape the ground. One day soon, they will climb into caves around the aptly named Dumpling Mountain to hibernate. But before that happens, something important will take place; humans around the globe will vote to decide which bear is the chubbiest of them all and the winner of Fat Bear Week 2018.
Erin Berger at Outside reports that the contest began in 2014, when rangers at the park asked visitors to vote on which bear was the fattest. The following year, Fat Bear Week went digital, and the park put up a March Madness-style bracket on Facebook, which has continued on each October when the animals are at their most voluptuous. Each day, the park presents two bears, asking the public to decide which is the plumpliest. The one with the most likes moves on, until a winner is crowned on Fat Bear Tuesday next week.
According to a press release, among the bears given this year's 12 spots are Bear 747, who, it turns out, actually grew up to be the size of a 747 with a teddy-bear belly that barely clears the runway. There's also Holly, a mother of two cubs, who not only packed on those beautiful fishy pounds herself, but also managed to impressively plump up her offspring, a.k.a. the "Chubby Cubbies," who are tag-teaming their own bracket spot this year. (An orphaned cub that Holly adopted and raised several years ago, Bear 503, is also in contention for this year's big prize.)
Over at Mashable, Mark Kaufman profiles all of the contenders. Walker, Chunk, Divot, 856—the dominant bear at the fishing grounds—and the zaftig Beadnose, 2016 champion and experienced mama bear are among the top chunkers. To win, however, they will have to beat roly-poly reigning champion and fan favorite Bear 480, aka, Otis. "Big O" has won the competition three times, and his cult following has only grown over time.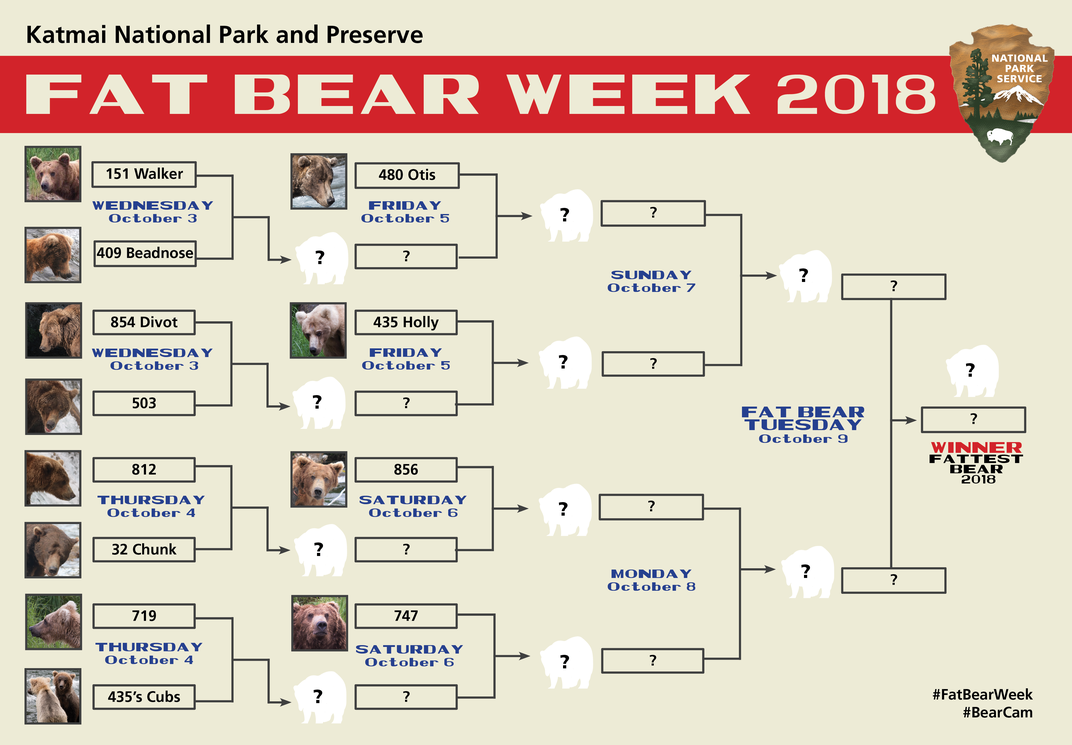 Rolls of fat aside, Berger reports that people appreciate Otis for his personality. The old man of the competition—he's now 22 years old—has been around the block a time or two, and has several missing teeth, including an incisor, and a scar over one eye to show for it. Fans—who can watch his every move via the bear cams streaming on Explore.org—gravitate toward his mopey looks and the long meditative gazes he serves up as he scans the water for fresh fish. "He's probably the most famous bear on the internet," former Katmai ranger Mike Fitz tells Berger. "People can connect with his story of aging and how he's still trying to find his way in a world that's still very tough and competitive."
However, there is significant chatter that 747 may make a run for the title this year. In the summer of 2017, the big-boned bruiser moved into the Brooks Falls fishing grounds and has vied for dominance and the Fattest Bear title ever since. He is able to command the best fishing grounds and is likely the largest bear on the river. He's also mastered the technique of packing on the pounds. Last June, observers watched him snack on 15 fully grown salmon in about 3 hours. For perspective, that snack totals a whopping 67,000 calories. "He, like many of our more dominant bears, has learned that patience is key and to simply let the fish come to you," park ranger Andrew LaValle tells Kaufman of Mashable. "Do not expend calories trying to chase after them."
And packing on the pounds and conserving energy is the point. Berger reports Katmai's brown bears are likely the largest in the world, reaching 1,000 pounds. They need it. During their six-month hibernation all that extra fat is just enough to keep them alive through the harsh winter months. If they are super-extra fat, they may have some spare energy to help them transition to mating season and get a head start on spring.
Which means that as long as they get really fat, all the competitors in Fat Bear Week are winners. Except Bear 856. That dude just plays dirty.