Germany Moves Forward with Controversial Monument to Reunification
The German Memorial to Freedom and Unity has a fraught history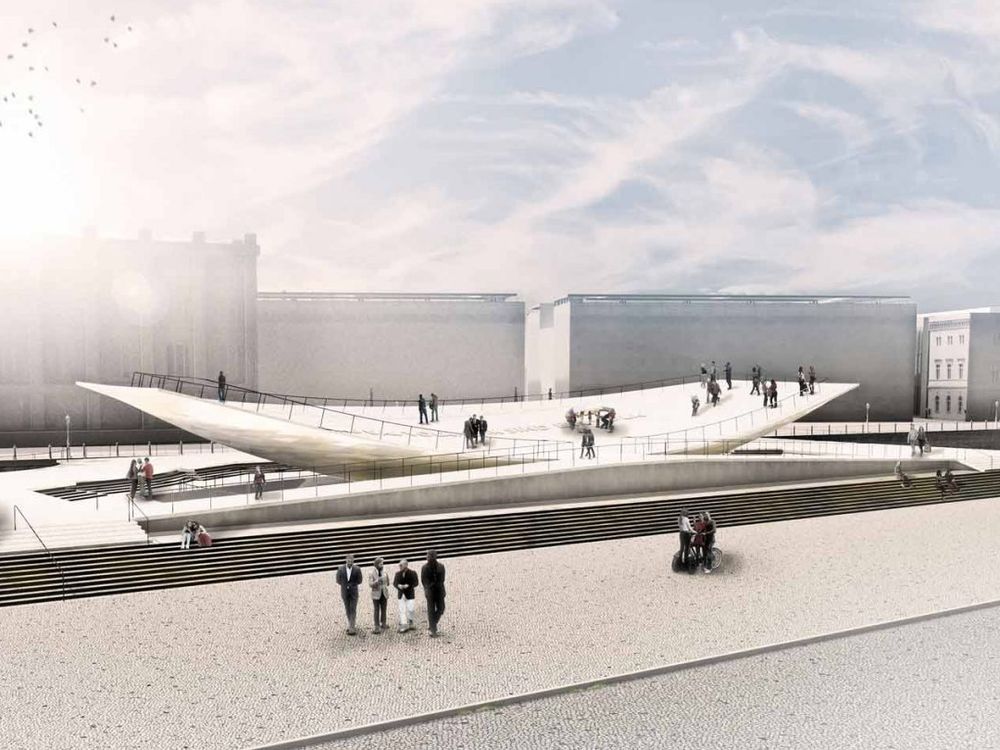 It's been decades since Germany reunified, but until now, no official memorial to that reunification has been erected in the country. Soon, however, that will change. As Catherine Hickley reports for The Art Newspaper, the German Memorial to Freedom and Unity in Berlin recently cleared its final hurdle—and its plans for its 2019 launch have been unveiled to the public.
Don't expect a static statue to commemorate Germany's fraught reunification. Entitled "Citizens in Motion," the monument is a huge seesaw. It's made of steel and shaped like a bowl that can hold up to 1,400 people. When more than 20 people stand on one side or another, it moves, explains Hickley.
Milla & Partner, the German firm that will construct the memorial, explains that the concept was designed to represent the effects single people and groups can have on the world. As people weigh down and bring the "social sculpture" into balance, the firm writes on its website, they will also participate in an "aesthetically ambitious, continually changing choreographic expression of the Peaceful Revolution of 1989." 
That revolution—one that led to the end of the German Democratic Republic and enabled the country's reunification—was bloodless, but hardly easy. As the USSR slowly abandoned its hold on Eastern Europe in the late 1980s, East Germany's economy began to crumble and people fled West en masse. In October 1989, just in time for the GDR's 40th anniversary, people began to hold gigantic, non-violent, pro-democracy demonstrations.
Eventually, the GDR stopped controlling its borders and the Berlin Wall—and the socialist government—fell. But a gigantic task faced the German people: reconstructing a democracy and bringing together two groups of people who, despite a common language and origin, lived in dramatically different cultures and economic realities. Today, large disparities still exist in former East and West, from wealth to health, and the refugee crisis has caused additional tension in a Germany that still can't fully agree on whether reunification was a success.
The road to a reunification monument hasn't been smooth, either. As Deutsche Welle's Jefferson Chase reports, everything from the location to the cost has been controversial. The German parliament couldn't decide on a design, then faced the relocation of a colony of rare bats, then halted construction to debate project costs. But for now, those problems all seem to have been overcome, and the monument will go live in time for the 30th anniversary of the fall of the Berlin Wall.
Can a single moving bowl help overcome decades of tensions? Probably not. But it's somehow appropriate that a work of art emblazoned with the words "We are the people. We are one people"—words that took on special significance as Germany joined back together again—is moving forward despite the odds.