Discovery of Unexploded WWII Bomb Forces Massive Evacuation in Frankfurt
On Sunday, residents living within a mile of the site left their homes while the 4,000-pound "Blockbuster" was defused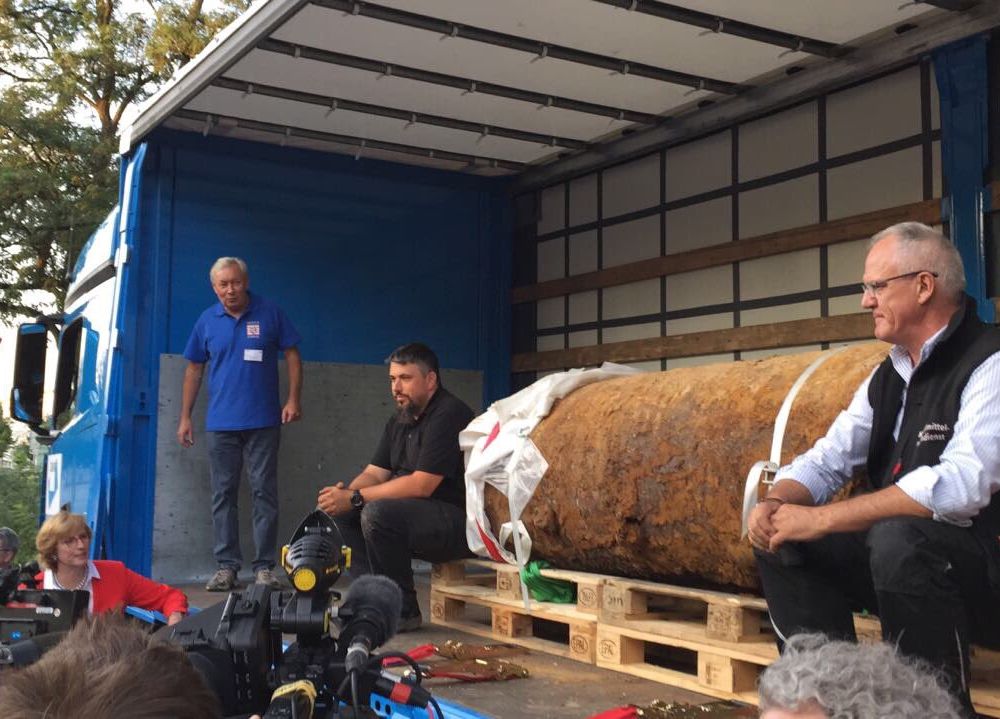 Early on Sunday morning, 60,000 people in Frankfurt, Germany, had to leave their homes while technicians defused a 4,000-pound bomb discovered at a building site on the edge of Goethe University, reports Edmund Heaphy at The New York Times. It's believed to be the largest evacuation in Germany since World War II.
Authorities identified the explosive as an HC 4000, Heaphy reports. Also known as a "Blockbuster," these types of explosives are thought to be powerful enough to obliterate a city block. This particular bomb was likely dropped by the Royal Air Force more than 70 years ago. But despite its age, there was still the potential for the bomb to detonate. The bomb was discovered this past Tuesday and authorities scheduled the evacuation for Sunday morning to give residents time to prepare and to cause minimal disruption to businesses and schools.
During WWII, the U.S. and British air forces peppered Europe with explosives, dropping some 2.7 million tons of bombs, about half of those in Germany alone, Adam Higginbotham wrote for Smithsonian Magazine last year. Some estimates suggest that around 10 percent of those bombs failed to explode. But in their haste to rebuild, reports Heaphy, Germans did not remove or defuse the bombs—often burying them deeper and building right over them.
Although the latest bomb was fairly large, the discovery of these unexploded WWII relics are not rare. And they're a major headache.
Each year, 2,000 tons of unexploded ammunition is found across Germany. In fact, Sunday's evacuation was not even the first this week. Three days before in the city of Koblenz, 21,000 people were evacuated as bomb disposal units disarmed a U.S. bomb. In July, a kindergartener brought an incendiary bomb he found in the woods to class, causing an evacuation, and in May, 50,000 people were evacuated from Hanover after the discovery of three large bombs. In 2014, one worker was killed and two critically injured when they hit a bomb during excavations in North Rhine-Westphalia. There are countless other examples, and there will likely be many more to come.
"Undetonated World War II bombs, of which there are thousands still buried around Germany, are becoming more dangerous with time because of components breaking down," reports NPR's Soraya Sarhadi Nelson.
Bomb disposal experts are using aerial photos from the war years and digital maps to try and find areas that may contain unexploded bombs, but the process is labor intensive and slow, according to Higginbotham. "There will still be bombs 200 years from now," Horst Reinhardt, a veteran bomb-disposal official, tells him. "It's becoming increasingly difficult. At this point, we've dealt with all the open spaces. But now it's the houses, the factories. We have to look directly underneath the houses."
The evacuation order on Sunday morning covered areas within one mile of the bomb, including a wealthy suburb and the nation's central bank, which holds $70 billion in gold. According to Reuters, police went door to door to make sure everyone left their homes and used helicopters and heat-sensing cameras before the bomb squad began defusing the device. As Heaphy reports, the evacuation was orderly and that the city's convention center was set up to receive the evacuees and that museums and public areas opened early to give residents a place to go, offering free admission. 
Amy Held at NPR reports that police tweeted out an image of the defused bomb around 12:30 calling it the "defeated beast" and allowed residents to return home before 8 P.M. Sunday night.