4,500 Newly Discovered Fragments Help Piece Together Massive Psamtik I Statue
The pieces gave researchers a better idea of the size and shape of the colossus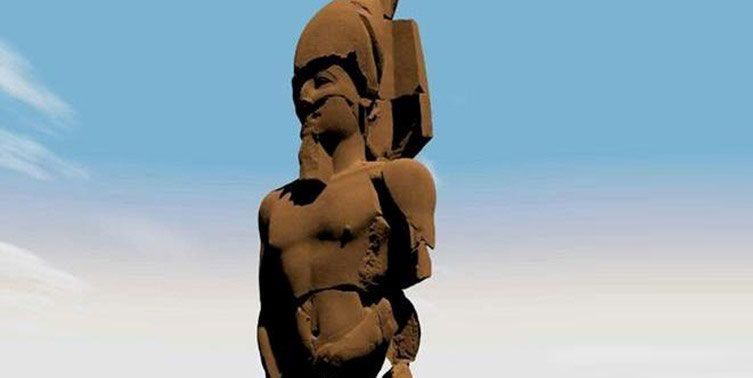 In March 2017, part of an ancient colossus was uncovered in the northeast Cairo neighborhood that was once the ancient city of Heliopolis. Though it was originally believed to depict Ramses II, antiquities minister Khaled Al-Anani later announced that hieroglyphics indicated it was likely of Psamtik I, a lesser-known pharaoh who ruled Egypt from 664 to 610 B.C.
Now, as Nevine El-Aref of the state-owned outlet Ahram Online reports, researchers at a Egyptian-German excavation have puzzled together new information about the statue after discovering 4,500 more of its fragments.
"The new fragments confirm that the colossus once depicted King Psamtik I standing, but it also reveals that his left arm was held in front of the body, an unusual feature. A very carefully carved scene on the back-pillar shows the kneeling king Psamtek I in front of the creator-god Atum of Heliopolis," Ayman Ashmawy, head of the ministry of antiquities' ancient Egyptian sector, tells El-Aref.
The researchers have created a digital rendering of the colossus based on the now- 6,400 known fragments of it. The depiction reveals what part of the upper half of the statue of Psamtek would look like.
In a statement, the ministry of antiquities says it believes the statue was at some point deliberately destroyed. Most of the new fragments were found in a pit located to the south of the statue's pedestal, which may have been created during the Fatimid period in Egypt, circa 969 to 1171 C.E., when temple walls were removed from the city to construct other buildings.
According to the staff of Egypt Today, Dietrich Raue head of the German mission says that the excavation also uncovered a quartzite gate from the temple the colossus was once part of in the recent dig. The temple itself dates to the eras of Ramses II and Nektanebo I and was remodeled by later pharaohs until it was dismantled sometime in the 10th- or 11th-century C.E., reports Archaeology.org.
Among the other artifacts discovered, Raue highlights an "exceptional" piece of a giant red granite sphinx from the so-called Ramesside period, which spanned 1292 to 1069 B.C.
El-Aref reports that the newly discovered fragments are set to join their counterparts discovered in 2017 at the Egyptian Museum in Cairo.