Four Men Charged With 2019 Theft of $6 Million Gold Toilet
Titled "America," the infamous 18-karat loo was created by Italian artist Maurizio Cattelan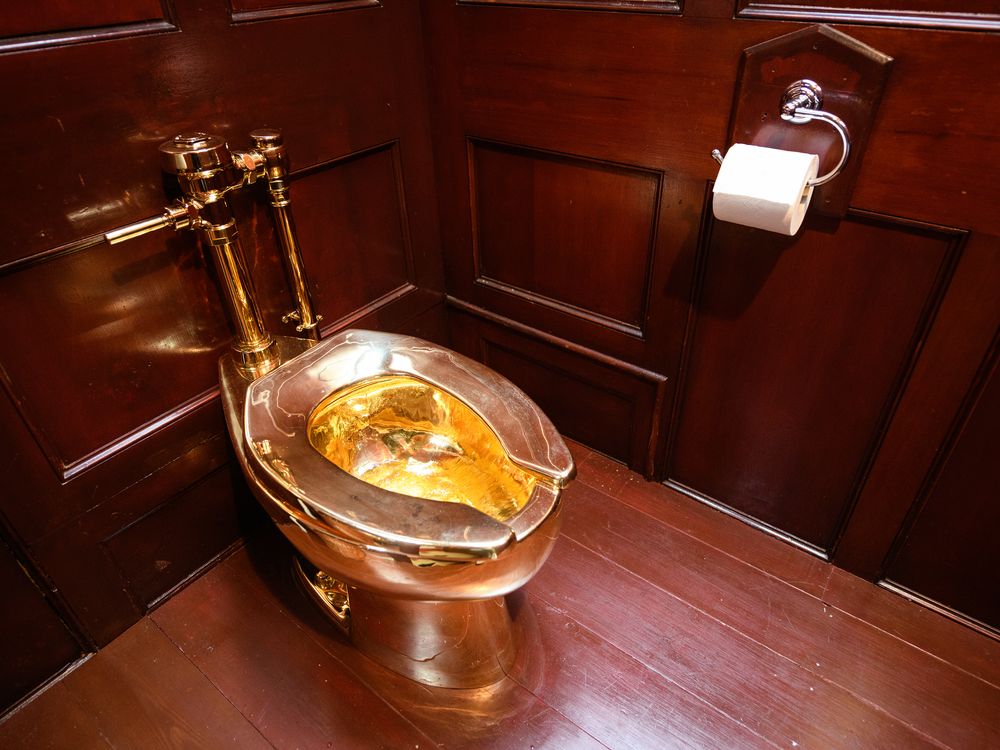 Four men have been charged with stealing an 18-karat gold toilet four years ago, Britain's Crown Prosecution Service announced this week.
The heist took place in 2019 at Blenheim Palace, the birthplace of former British Prime Minister Winston Churchill, in Oxfordshire, England. At the time, the fully functioning toilet—a work of art titled America by Italian artist Maurizio Cattelan—was on display as part of an exhibition called Victory Is Not An Option.
The piece weighed 200 pounds and was valued at around $6 million. It had been installed in one of the palace's bathrooms, where visitors could book a short appointment to use it.
In the early morning hours of September 14, 2019, thieves ripped out the toilet and fled the scene. The heist caused flooding and water damage, and insurers offered a sizable reward for information about the crime.
When Cattelan first heard about the crime, he thought it was a prank.
"Who's so stupid to steal a toilet?" he told the New York Times' Kaly Soto at the time. "I had forgotten for a second that it was made out of gold."
He also described the heist as "a kind of Robin Hood-inspired action" and denied claims that he'd stolen the piece himself as a prank—something he'd done in the past.
In the immediate aftermath of the theft, police arrested two suspects: a 66-year-old man and a 36-year-old man. A few weeks later, they arrested three additional suspects.
In August, police handed over their evidence to the Crown Prosecution Service, which ultimately decided on the charges. In the end, they charged four suspects: James Sheen, 39; Michael Jones, 38; Fred Doe, 35; and Bora Guccuk, 39.
Sheen was charged with one count each of burglary, conspiracy to transfer criminal property and transferring criminal property. Jones faces one count of burglary, while Doe and Guccuk each face one count of conspiracy to transfer criminal property.
All four men are scheduled to appear in court on November 28.
Whether the gold toilet will ever be recovered remains to be seen, but police say it's highly unlikely. The thieves may have melted it down.
"Personally, I wonder if it's in the shape of a toilet," said Matthew Barber, the Thames Valley police and crime commissioner, to BBC News in 2021. "If you have that large amount of gold … it seems likely that someone has already managed to dispose of it one way or another."
Cattelan initially unveiled the piece in September 2016 at the Guggenheim Museum in New York. It was installed in a bathroom on the museum's fifth floor, and museum-goers were invited to use it like any other toilet—with one exception. "The seat doesn't lift more than a few inches," wrote former columnist Ralph Gardner Jr. for the Wall Street Journal after using the toilet in 2016. He also noted that the gold seat "conducts cold a lot better than wood does."
The piece "offers a wink to the excesses of the art market" and allows the public to use "an extravagant luxury product seemingly intended for the 1 percent," according to the museum.
For his gilded toilet, Cattelan drew inspiration from Fountain, a 1917 sculpture depicting a urinal by French artist Marcel Duchamp, according to a Guggenheim interview with Cattelan from 2016.