Found: The Earliest Cinematic Depiction of a Black Couple Kissing
The recently surfaced 19th-century nitrate print has been inducted into the Library of Congress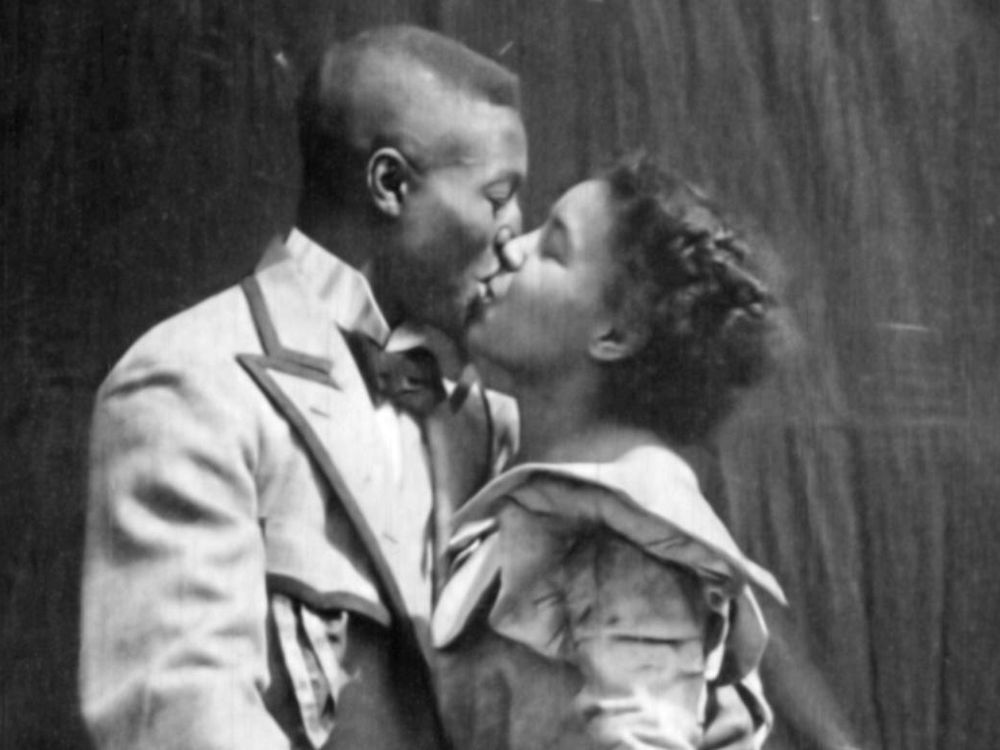 The snippet of black-and-white, silent footage begins with a kiss. As they break apart, the young couple laughs joyfully, their hands still clasped together. They kiss again. Then again. Then a fourth time in a full-on smooch. Though it's less than 30 seconds, this clip may hold a very special place in movie history. It is, experts believe, the earliest known cinematic depiction of intimacy between African-Americans.
Something Good‑Negro Kiss, as the 1898 film is titled, was among 25 movies recently inducted to the National Film Registry of the Library of Congress. Chosen for their "cultural, historic and aesthetic importance to the nation's film heritage," many of the selections are classics of Western cinema: The Shining, Cinderella, Jurassic Park and My Fair Lady, for example, are included in the list of new inductees. Something Good‑Negro Kiss, by contrast, was only recently rescued from obscurity.
As Jasmine Weber reports for Hyperallergic, the footage was discovered by Dino Everett, an archivist at the University of Southern California. He found the 19th-century nitrate print amid a batch of silent movies once owned by a Louisiana collector. The type of perforation marks on the film led Everett to suspect that the clip had been filmed some time before 1903. But he wasn't entirely sure what to make of it.
"I told students, 'I think this is one of the most important films I've come across,'" Everett recalled, according to Jack Wang of UChicago News. "But my expertise is not in African-American cinema. I didn't know if something like this was already out there."
So Everett brought the footage to the attention of Allyson Nadia Field, an associate professor at the University of Chicago's Department of Cinema and Media Studies, who specializes in silent and contemporary African-American film. Using inventor and distribution catalogues, Field traced Something Good-Negro Kiss to the Chicago studio of William Selig, a vaudeville performer and pioneer of early cinema; his Chicago-based Selig Polyscope Co. was one of the first motion-picture studios in America. Field was even able to identify the actors in the film: Saint Suttle and Gertie Brown.
Their costumes are consistent with those worn in minstrel shows, a popular form of musical entertainment rooted in exaggerated racial stereotypes. Early minstrel shows were performed by white actors in blackface. In the wake of the American Civil War, minstrelsy expanded to include black performers, who sought to balance the genre's racist conventions with more nuanced depictions of African-American identity.
Something Good-Negro Kiss was inspired by "The Kiss" an 18-second film by Thomas Edison in 1896. One of the first films to be publicly shown, it boasts the distinction of containing the first ever on-screen kiss. In the early years of American cinema, filmmakers tried to entice audiences to this new form of entertainment by offering more titillating subject matter, according to the Library of Congress. Edison's film spawned a spate of imitators, but Something Good-Negro Kiss is set apart by the chemistry between its actors.
Crucially, in contrast to other films of its time, Something Good-Negro Kiss is also devoid of racist caricatures. It is simply, as Field says, "a moving and powerful image of genuine affection."