New Clues Emerge in Search for Stolen Caravaggio
The nativity scene taken from Sicilian chapel in 1969 may have ended up in Switzerland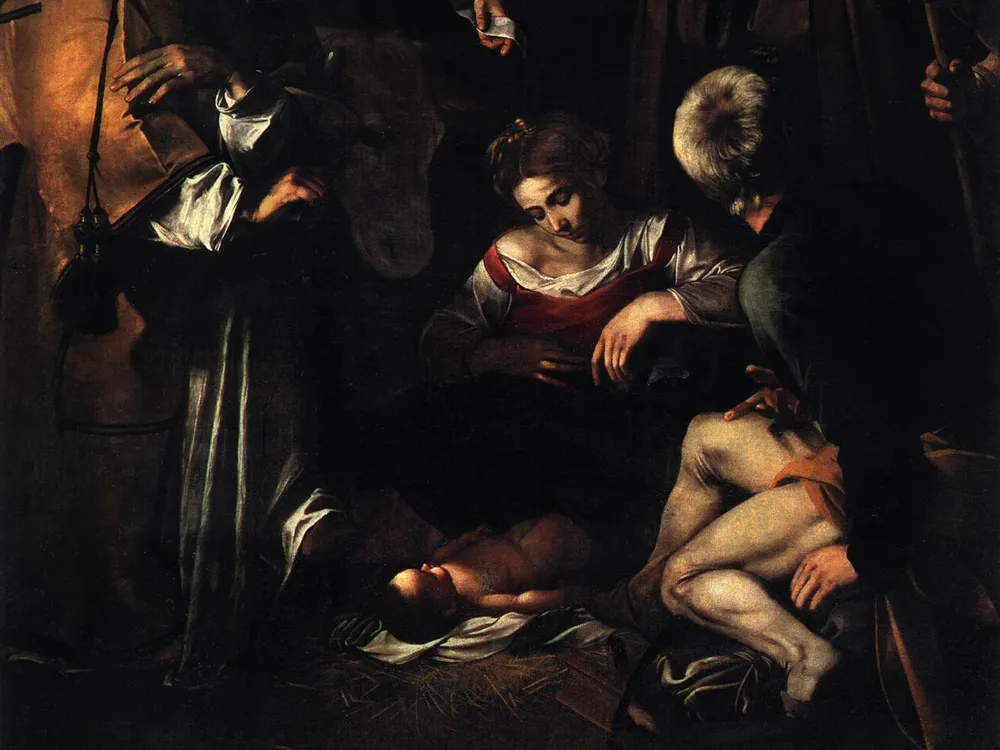 In October 1969, two thieves wielding razor blades removed a Caravaggio nativity scene from its frame above the altar of a Sicilian oratory. The stolen masterpiece is ranked among the F.B.I.'s list of top 10 international art crimes. In the almost 50 years that have passed since the robbery, theories as to its whereabouts have run rampant. The work — widely believed to have been stolen by local mafia — was rumored to have suffered irreparable damage by fire, been left in an abandoned farmhouse and gnawed up by rats, or simply cosied up in a mobster's bedroom.
Last week, however, Italian investigators announced a new lead in the cold case, reigniting hopes of recovering the early 17th-century work, "Nativity with St. Francis and St. Lawrence" intact.
According to the New York Times' Elisabetta Povoledo, former mobster Gaetano Grado revealed last year that days after the theft, he tracked down the culprits at the request of Sicilian mob boss Gaetano Badalamenti. Badalamenti, according to Grado, eventually acquired the painting himself and sold it to a Swiss art dealer, who Grado said "sat and cried, and cried" upon seeing the work before announcing that in order to sell it, he would have to divide it into pieces.
Rosy Bindi, head of Italy's anti-mafia commission, tells The Guardian's Stephanie Kirchgaessner and Lorenzo Tondo, however, that new evidence suggests the painting remains intact.
"We have collected enough evidence to launch a new investigation and ask the collaboration of foreign authorities, especially to the Swiss ones," Bindi says. "We hope to find it and bring it back to its home in Palermo."
The theft's Mafia ties are not a sure thing. Povoledo writes that during a presentation on the lost masterpiece, the president of Palermo cultural association Amici dei Musei Siciliani told attendees he believed the theft was commissioned by professionals. The extraction, he says, was undertaken "without leaving a milligram of paint behind," an act of "surgical precision."
Caravaggio's "Nativity" is emblematic of the Italian artist's chiaroscuro technique, which contrasts light and shade for dramatic effect. It depicts the infant Christ resting on a bed of straw as his mother gazes at him adoringly, unaware of the angel hovering above the pair's heads. Dated between 1600 and 1609, the work hung in Palermo's Oratory of San Lorenzo for centuries. Following the painting's disappearance, an enlarged photographic reproduction took its place. In December 2015, a replica painting created by digital restoration laboratory Factum Arte replaced the photograph.
Factum Arte director Adam Lowe told The Telegraph's Nick Squires that the replica was intended to serve as a patch in the absence of the masterwork. "I would hope that whoever took the original would now be prompted to return it, prompted by the degree of care and affection lavished on this project," he said at the time.